Importance of Digital Marketing for the Travel And Tourism Industry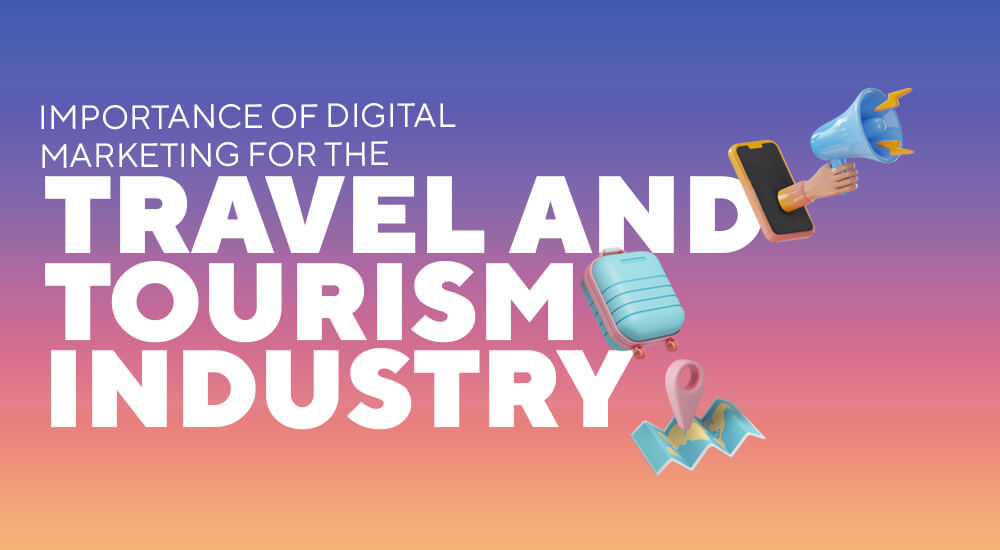 In today's digital age, the importance of digital marketing in the travel and tourism industry cannot be overstated. The world is becoming increasingly connected, and consumers are relying more and more on digital channels to plan and book their travel experiences.
As a result, digital marketing has become a crucial component of any successful travel and tourism marketing strategy. Subsequently, there's been a surge in tourism digital marketing agencies.
If you work in the travel and tourism sector, you already understand directly how important digital marketing is to the success of your company.
Reviews on websites like Yatra, MakeMyTrip, and Ixigo have long been crucial to the promotion of travel. However, focusing only on managing your reputation on those platforms as part of your digital marketing plan is a defensive move. In your off-seasons, it does very little to bring in revenue.
Successful digital marketing for tourism and hospitality helps to entice clients during peak times and even extends peak times to increase company all year long.
Here in this article, we'll demonstrate how. Continue reading to learn about the importance of digital marketing for tourism and hospitality businesses can use to increase brand recognition, draw clients, and prolong the busy season.
Why is digital marketing important for the travel and tourism Industry?
Digital marketing for travel and tourism encompasses a broad range of tactics and channels, from social media and search engine optimization (SEO) to email marketing and content marketing.
By leveraging these tools, travel and tourism businesses can reach new audiences, build brand awareness, and drive more bookings. The ability to precisely target specific groups is one of the biggest advantages of digital marketing. With the help of data analytics and digital advertising platforms, businesses can identify and target travellers based on their interests, demographics, and behaviour.
For example, a travel company like redBus or EaseMyTrip might use Meta's advertising platform to target users who have shown an interest in adventure travel, hiking, or camping. Digital marketing also allows travel and tourism businesses to build relationships with customers over time. By providing valuable content, engaging with customers on social media, and offering personalized promotions, businesses can build brand loyalty and generate repeat business.
In addition, by leveraging customer data, businesses can tailor their marketing messages to specific segments of their customer base, further increasing the effectiveness of their campaigns. Perhaps most importantly, digital marketing enables travel and tourism businesses to measure and track their marketing efforts with greater accuracy than traditional marketing channels.
By tracking website traffic, engagement rates, and booking conversions, businesses can optimize their marketing strategies in real-time, making data-driven decisions that lead to better results. The importance of digital marketing in the travel and tourism industry cannot be overstated.
From targeting specific audiences with precision to building brand loyalty and measuring results, digital marketing offers a broad range of benefits that can help businesses succeed in today's increasingly connected world. By embracing digital marketing and staying ahead of the latest trends and technologies, travel and tourism businesses can reach new heights of success and continue to thrive in the years to come.
The 5 Major Challenges of Tourism Marketing
Tourism and hospitality marketing is an essential aspect of the travel and tourism industry, and it plays a crucial role in promoting destinations, accommodations, attractions, offers, and experiences to potential travellers.
However, despite its importance, tourism marketing is not without its challenges. Let's explore some of the main challenges of tourism marketing and their impact on the industry.
1) Competition
One of the biggest challenges facing tourism marketing is competition. There are thousands of destinations worldwide, each vying for attention and trying to attract tourists.
With so many options available, it can be difficult for a particular destination to stand out and capture the attention of potential travellers.
2) Changing consumer preferences
Another challenge facing tourism marketing is changing consumer preferences. What was popular last year may not be as popular this year, and destinations and tourism operators must adapt to these changes.
For example, the growing trend of sustainable and responsible tourism has led to increasing demand for eco-tourism and other environmentally friendly travel options.
3) Technological evolution
Technology has transformed the way we travel and the way tourism businesses market their products and services. Despite the many opportunities provided by technology, such as social media, online booking platforms, and mobile applications, they also present challenges for tourism marketing.
For example, the vast amount of information available online can be overwhelming for travellers, and it can be difficult for businesses to cut through the noise and get their message heard.
4) Economic instability
Economic instability can also pose challenges for tourism marketing. A recession, for example, can lead to a decrease in travel and tourism spending as people tighten their belts.
Additionally, political instability and security concerns in a destination can discourage travellers, which lowers tourism revenue.
5) Seasonal fluctuations
Seasonal fluctuations in travel demand can also pose challenges for tourism marketing. For example, some destinations may experience a high demand for tourism during the summer months but struggle to attract visitors during the winter.
This can create challenges for tourism businesses that need to maintain a steady stream of revenue throughout the year. In order to overcome tourism marketing challenges, you must be creative, adaptable, and willing to embrace change.
How can Digital Marketing Help the Tourism and travel industry?
1) Convey Information & Shaping perception with a Single Click
The emergence of social media has simplified the process of sharing information globally, compared to earlier times when there were no practical or quick methods for doing so.
Due to their accessibility on mobile devices, mobile applications of brands with a broad reach, such as TripAdvisor, MakeMyTrip, and Clear Trip, are a continuous resource for tourists as they choose an experience.
Anyone can now obtain information about travel and tourism using a variety of social media tools.
Not only has trip planning become easier, but more educated choices have been made, as a result. That helps a lot of tour companies because it helps them comprehend their customers better.
2) Use Google for dedicated digital marketing for tourists
The undisputed leader in all things Internet, Google has sophisticated algorithms for determining a site's SEO value in addition to hotel reservations and weather forecasts.
It also provides opportunities for hotel reservations, flights, and weather forecasts for numerous locations.
Due to this, Google plays an even bigger role in publicizing your tourism company and encouraging customers to make reservations through you. You must also maintain a correct and up-to-date Google My Business listing to help users find you easily.
Make sure you're updating your material consistently and effectively. An updated website and informative yet immersive blog can work wonders with Google wizards to keep your site ranking well.
3) Utilize data to design a tailored trip experience
You can more effectively gather and evaluate your data with the help of digital marketing and digital tools in general.
You can track every client interaction with you through the sales pipeline and service duration with a streamlined channel.
In order to provide a more customized experience for your customers on a bigger scale and to spot trends that might have a negative impact on your services, the collected data can be analyzed.
Then, you'll be in a superior position to comprehend your client's needs and provide them with the ideal travel experience.
4) Identify and choose the right travel Influencers
In addition to content marketing on your own blog, consider identifying and working with influencers your target audience already follows and respects.
Together, you can produce blogs, videos, or social media pieces that will raise your profile and boost sales both in and out of season.
However, approach with caution. Consider using a contract to protect your company. Define the influencer's obligations and the compensation schedule.
Also keep in mind that if the travel influencer you're working with gets into trouble, it might hurt the image of your own brand. Choose your influencer smartly.
5) Provide offers, information, and full-circle benefits in weekly newsletters
Email marketing is essential when discussing internet marketing for the travel and tourism sector.
Email marketing is a digital marketing tactic that is well worth your time and effort, regardless of whether you already have a large list of email contacts or want to make that an objective in the upcoming months.
Email newsletters are a fantastic way to keep in touch with your audience, build brand awareness, and let people know about exclusive deals or brand-new attractions.
Keep this in mind as you plan the substance of your emails: Successful email newsletters never feel spammy. Yes, offer discounts, but don't confine your email marketing to just sales.
Instead, add value by giving visitors to your region advice on what to see and skip new restaurant reviews, and hotel recommendations.
What are the best kinds of content travel and tourism businesses can produce?
There are various types of content that travel and tourist businesses can produce for marketing purposes.
Travelers often research extensively before choosing a destination. You as a tourism and hospitality company can create destination guides that provide detailed information about the location, such as the best places to stay, eat, and visit.
Travel blogs are a great way to share personal experiences, tips, and recommendations with potential travelers. They can help build a sense of community and establish your transport and travel business as a trusted source of information.
Social media platforms like Instagram and Facebook are excellent for showcasing visually appealing content, such as stunning photographs and videos of destinations, hotels, and activities.
User-generated content such as reviews, photos, and videos from satisfied customers can be a powerful marketing tool. This type of content can help potential travellers get a better sense of what to expect from your tourism company and the destination too.
Vlogs and videos are an engaging way to showcase destinations, hotels, and activities. They can help potential travellers visualize their trip and provide a more immersive experience.
By creating a marketing mix of different types of content, travel and tourism businesses can reach a wider audience and increase their chances of success.
How Litmus branding can help you develop a marketing mix for tourism?
To no one's surprise, the tourism industry is highly competitive, and a well-designed marketing mix can help tourism businesses effectively promote their products or services to potential customers.
A marketing mix refers to the combination of different marketing tactics that a business uses to achieve its marketing goals.
Your travel business's digital marketing mix should include the following components for remarkable results:
Product: Referring to the actual tourism service being offered, such as hotel accommodations, guided tours, or adventure activities. If you are to taste success in the travel industry, you need to design your products or services to be attractive to potential customers.
Price: For your tourism business, you need to set prices that are competitive, yet also reflect the value for money that your tourism business offers.
Place: This alludes to the sales/distribution channels used to market travel-related services, such as city-wise located travel agencies and/or online booking platforms.
To reach your target market, your tourism & travel company must make sure that your services are accessible through the proper channels in a proper manner.