Marketing Strategy to Grow Online Jewellery Business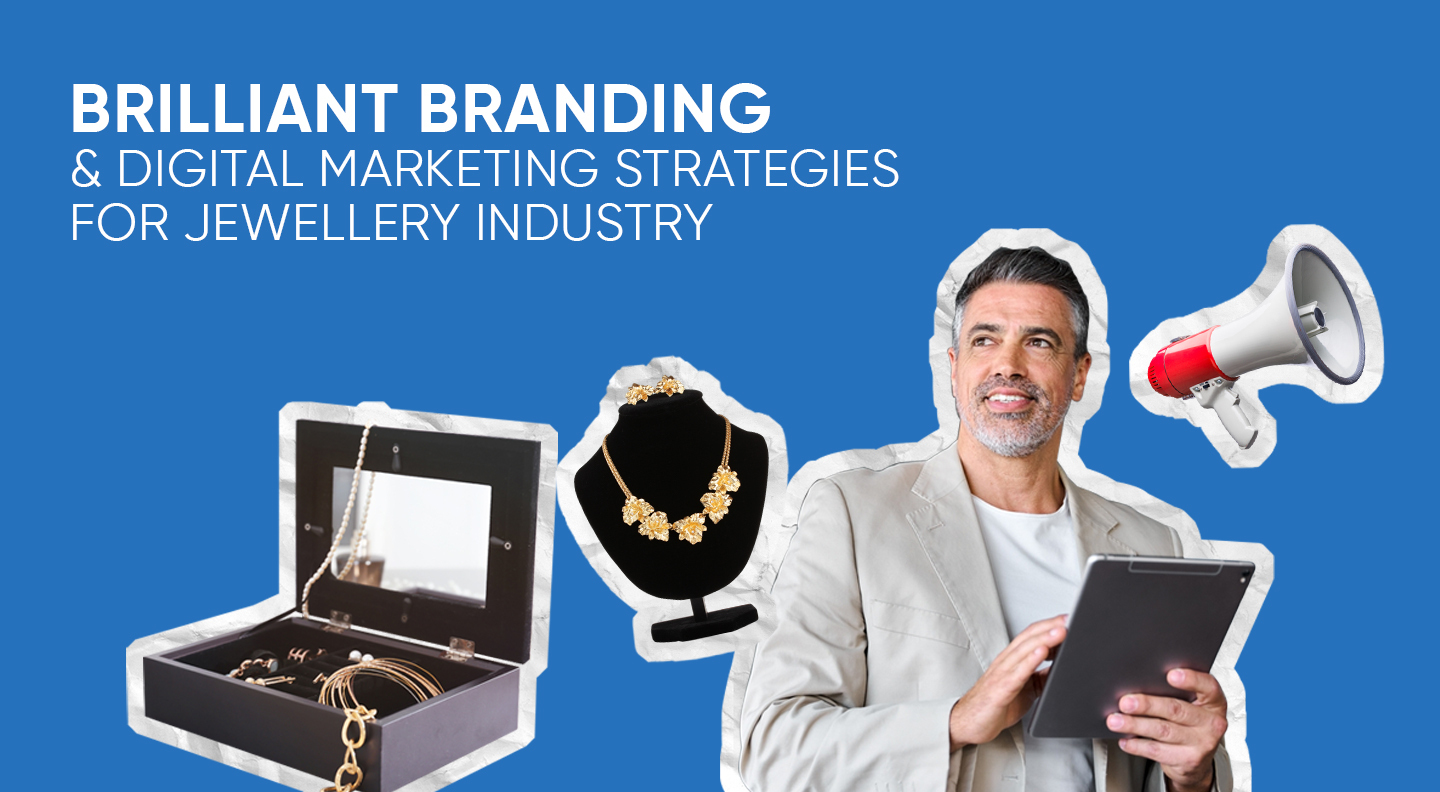 In the glamorous world of the jewellery industry, where every shiny piece tells a story, the craftsmanship of branding and marketing is essential. Jewellery is just not about precious gems and metals, it is much more than that. It is about the emotions, memories and individuality attached to it.
Imagine the glistening eyes of customers when they wish to make a piece of jewellery a part of their precious possessions. The radiant smile that comes with putting on a delicate statement piece and instantly feeling more confident and elegant. To evoke these emotions and stand out in this glittering market, jewellery businesses need a brilliant branding plan that sets them apart.
In this blog, we'll unfold jewellery marketing ideas and ultimate branding strategies while analysing a few of the greatest branding stories of leading jewellery brands.
How to Start an Online Jewellery Business?
Starting an online jewellery business begins with thorough market research to identify your niche and competition. Create a detailed business plan outlining goals, budget, and pricing. Register your business, secure reliable suppliers, and build a user-fr
Friendly e-commerce website with high-quality product photography. Develop a strong brand identity and utilise digital marketing to reach your target audience. Provide excellent customer service and launch a marketing campaign. Continuously monitor performance, adapt to feedback and market trends, and consider expanding your product range or exploring new markets as your business grows. With dedication and a customer-centric approach, you can succeed in the competitive online jewellery market.
Here are a few simple steps you can take to have a successful online jewellery business:
A) Thorough market research
B) Create a foolproof business plan
C) Take care of all the legalities and registrations
D) Source quality suppliers
E) Build an e-commerce website
F) Product photography
G) Develop compelling content and branding
H) Utilise jewellery marketing campaigns
I) Provide exceptional client services
J) Launch and promote with offers
K) Analyse, monitor and adapt the website's performance
L) Expand and diversify by tapping new markets and expanding the product line
Effective Marketing Strategies for Jewellery Brands:
1. Build a Great Website
Your website is what will represent your company 24*7. Whether you have an offline presence online presence or maybe both, having a user-friendly website with optimum design and functionality is essential.
2. Make Your Website SEO-Friendly
Utilising effective SEO strategies will help you have higher Google rankings. This is important for you to have increased visibility and makes it easier to find.
3. Social Media Presence
Increasing the awareness about your product line, there is no better way than utilising social media platforms to do so. Grab multiple marketing and sales opportunities offered by multiple social media platforms and distinguish your brand from the rest.
4. Create Compelling Content
Creating content that captures, retains, and converts your target audience's attention will take your business to another level. Increased content engagement and communication will ultimately help you build brand identity and loyalty.
5. Blog
Blogs are a great tool to drive traffic to your website, and they play a crucial role in improving your website's search engine optimization (SEO) by providing fresh and relevant content for search engines to index.
6. Advertisements
Pay-per-click advertisements and digital advertisements can be an efficient tool in targeting your audience. You can come up with a strategy concerning who you want to target, where you want to target, different factors on the basis of which you want to target, and when your ads should be shown.
7. Email Marketing
Every email you write comes with an opportunity to add a personal touch to the communication experience with your target audience. Emails are a very powerful point of communication to retain customer engagement. A few customisable email examples are emails addressing issues and showing a solution, and birthday greetings with exclusive discount offers. People love feeling special and emails can help you make them feel that way.
Every company needs jewellery marketing campaigns and strategies to shine brighter than other jewellery houses. It is a compass that guides your brand towards success. The art of jewellery marketing is much more than promoting your jewellery and advertising. It is about telling your brand story, showcasing your unique product line and collection, connecting with your audience, and driving sales.
In today's digital age, social media is your key to reaching a greater pool of audience. Social media platforms like Instagram and Pinterest can be your gems for showcasing your statement pieces in a visually appealing way. Utilise this marketing strategy for jewellery brands and see an increase in traffic, sales and brand recognition.

When Litmus works with Classic Time in establishing its unique branding presence on social media platforms, we ensure bringing out the true essence of its brand in each post.
Effective social media communication can help you share stories. Stories of your client's experience, stories about your brand, stories about the craftsmanship, and any stories that entail with your brand.
The Jewellery Branding Agency: Your Creative Gem
A jewellery branding agency is your creative partner in crafting a compelling brand identity. You know how to design and make the most beautiful statement pieces and they know how to craft a distinctive brand identity. They understand the preciousness of your jewellery and know how to transcend its value into a visual and emotional experience for your customers.
Why Work with Jewellery Branding And Marketing Services?
Expertise and Experience
Branding agencies hold expertise and experience in designing the best branding blueprint for your company. You can focus on what you do the best, which is designing and producing the finest jewellery, and let them do what they do the best, which is establishing your brand and reaching your target audience with the right communication.
Consistency
The branding agency can ensure a consistent tone of message and communication throughout all channels of marketing.
If you try to communicate with your audience, but there is a lack of synchronisation, your brand may suffer.
Maintaining a consistent brand image across all touchpoints, from your website to your packaging can help you gain brand loyalty and trust.
Cartier, renowned for its luxury jewellery and watches, are expert in maintaining a consistent brand image. Their Signature red boxes and timeless panther motif exude elegance across the globe.
Brand Development
They can help you establish your unique brand identity. This includes creating a compelling brand story, logo, colour palette, and messaging that resonates with your target customers.
Crafting a Unique Brand Identity
Crafting a unique brand identity that resonates with your brand is very important. Imagine you are a young jewellery business specialising in handmade, sustainable antiques. A branding agency can establish your brand as an eco-conscious jewellery manufacturer. For instance, the agency may design a logo that blends in the inspiration from nature and antique jewellery. This immediately conveys your brand's values and unique selling proposition.
Tiffany & Co. is a shining example of effective jewellery branding. Whenever you think about Tiffany and Co. you'll think about their iconic blue box and their logo which truly defines luxury. The branding is so influential that the colour 'Tiffany Blue' is associated with luxury and sophistication. This finest demonstration shows how a well-crafted brand identity can become a symbol of excellence in the industry.
Litmus Branding's Brand Establishment Experience With Bharatji Jewellers
We associated with Bharatji Jewellers to establish their brand from scratch. The first branding challenge was to establish a niche brand image of Bharat Jewellers amidst existing players in the jewellery hub of Ahmedabad.
Since the time we started working with them we knew, that Bharatji Jewellers are targeting niche consumers who just don't indulge in the process of buying jewellery, but appreciate the finest pieces designed by the artisans.
Our consumer-centric communication was adopted into our photography and communication techniques for capturing the fine intricacies of each jewellery statement. This led to a high level of customer engagement on digital platforms, higher footfall, greater sales, and most importantly ultimate brand loyalty.
Get a glimpse into the brilliant branding blueprint we utilised for establishing Bharatji Jewellers as the finest designer diamond jeweller in our Clientele Project.

The process of establishing and sustaining a brand image is very crucial for all types of companies. Whether you're a young brand, establishing your position, or you're a company holding a legacy, effective branding can help you establish a unique branding identity, gain brand loyalty, and increase brand recognition.
In this ever-shining industry, brilliant branding strategies are the key to establishing a strong brand. If you wish to lay a branding blueprint for your Jewellery House, reach out to us at Litmus Branding. We can help you craft a unique brand identity while establishing communication which connects with your target audience. Combine these elements, and you'll be on your way to shining brightly in the world of jewellery.
Faqs Regarding Growing a Jewellery Business Online
1. How can I promote my jewellery business?
– Build a stunning website to showcase your jewellery.
– Use social media platforms like Instagram and Pinterest to share your jewellery creations.
– Attend local craft fairs or jewellery exhibitions to reach a wider audience.
– Collaborate with influencers or jewellery bloggers for product reviews.
2. How do I advertise my jewellery?
– Invest in eye-catching product photography.
– Run targeted Facebook and Instagram ads.
– Utilise Google Ads for online visibility.
– Send regular email newsletters to your customer list.
3. What is digital marketing in jewellery?
– Digital marketing for jewellery involves using online channels like social media, email, and search engines to promote your products.
– It helps you reach a larger audience, build brand awareness, and drive sales.
4. How can I sell my jewellery online fast?
– Optimise your website for mobile users.
– Offer secure payment options.
– Leverage e-commerce platforms like Etsy or Shopify.
– Implement effective SEO strategies to improve online visibility.