The complete guide to build and launch digital branding strategy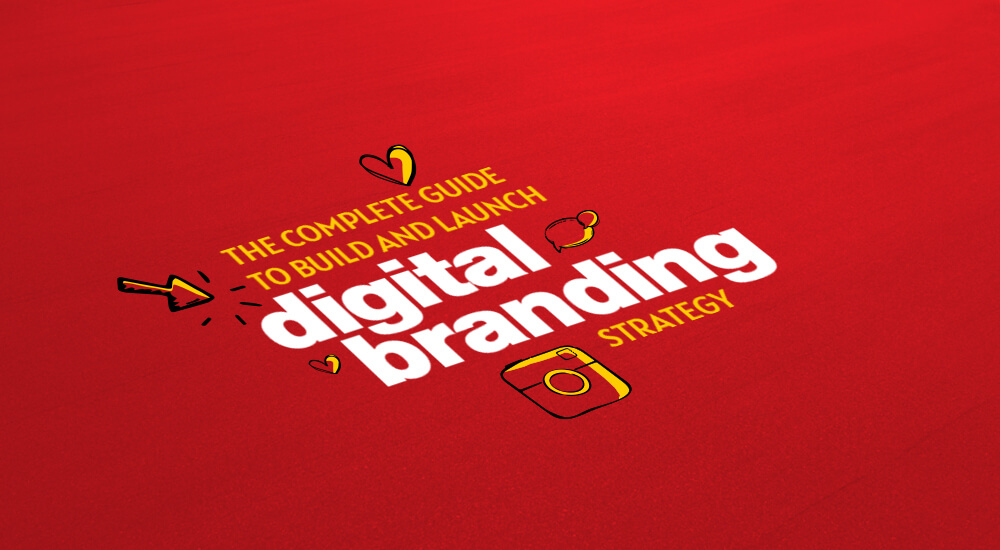 Branding is the creative and strategic process of building your presence, letting people know about your business, and telling them why they should buy your product or avail of your services. Digital branding is the process of doing exactly the same thing in cyberspace a.k.a. online. While the process is the same, its execution – or digital branding strategy – is different.
And if you are still asking why you need digital branding, well it's obvious. If everyone's going online that's where your business should go too because that's where you will find your customers and consumers.
The more important question is how digital branding is different from traditional branding or rather –
What are the essential elements of digital branding?
Logo
Your logo represents your brand and symbolizes it. That's a given and it's as true online as offline. So it should appear on all your digital marketing and branding collaterals. Need we say you should make it attractive and instantly recognizable? Just think of Apple, Nike, Mc. Donald's or any of your favourite brands.
Website
Your website serves as your online storefront in absence of – or complementing – your brick and mortar store. This, therefore, is the second most important element of digital branding. It's the place where all your online consumers go to get more information about you and your brand, view your products or services, and make inquiries. Indeed, your website provides more information than any shop window. Which brick and mortar shop for instance displays information about the founder, directors, and so on?
Any brand advertising company will tell you that your website should be simple, fast loading and easy to navigate without detracting from the aesthetics. Make sure everything works as it should and check for search engine indexing and ranking elements.
Your website is the most important part of the digital branding process. Litmus Branding, one of the top branding companies in India has you covered.
Brand messaging
What you say matters. How you say it matters more. It's not enough for your patisserie to make the best red velvet cheesecakes in town. You should tell people about it at every opportunity and drive the fact home. Coca Cola lets people know that they represent coolness not just physically but metamorphically too and their brand message says as much – Thanda matlab Coca Cola – Cool means CocaCola – and says it with pride and emphasis making sure users associate relief from the heat with the cool black drink in a transparent glass (or plastic) bottle.
Typically any brand message should convey what the brand is about, what it represents, and why it matters. The Coca Cola message does this and so should yours.
SEO
All your digital branding efforts are for nought if your website does not rank up there among the first few SERP (Search Engine Results Page) results because that's about all the millennial consumers see before clicking on one of them. According to Google's Webmaster Guidelines, SEO pages stand a better chance of featuring on the SERP if you:
Can link your page to another more easily findable page.
Limit the number of links on your page – Google recommends a thousand which should be more than sufficient.
Keep your consumers in mind while creating the pages.
Keep in mind the things that will attract and engage your consumers
Stand out from the crowd and provide value.
Google hates broken links so you should constantly check your website for broken links. You should also check for large media files that take time to load and optimize for a seamless user experience.
In short, SEO is not just about keyword ranking. It is about optimizing the entire experience of your consumer from finding your page or website right up to inquiry and sale.
Social media
From Facebook to Discord, Telegram, and Whatsapp, everyone these days is on one or more platforms actively chatting with friends and sharing experiences. It matters when these experiences are about your business and your brand. It also matters if people are not talking about your products or saying negative things about them. If your brand is on these platforms you can listen in and turn negative conversations into positive sales by subtly prodding users to discuss certain aspects of your product or service. Facebook is, of course, the biggest most versatile and intricate platform and for this reason, it should be your first choice.
You can use the social media automation tools like Hootsuite available online to gather insights and data or utilize the services of a digital marketing company in India or elsewhere.
Online advertising
If you entail the services of a brand advertising company they will use every available online advertising channel to make your presence felt online. Some of these channels include:
SERP – when a user searches for your product or service, your advertisement appears alongside his search results putting your product at the top of the page irrespective of keyword ranking while also suggesting that your brand is the best in the industry.
Banners or Display Ads – these appear on websites with whom you have a tie-up for the paid advertisement of your product or service.
Social Media Ads – advertisements that appear on the likes of Facebook, Twitter, or Instagram.
These are the most commonly used and aggressive digital marketing strategies but there are a few more that complement and enhance these strategies such as –
Content marketing
Content marketing helps you engage with your consumers and generate loyalty.
Influencer marketing
Similar to social media marketing, influencer marketing uses social media stars to convey your brand message and engage your consumers.
Brand Story
Unlike conventional marketing channels, your brand story assumes far more significance in your digital branding strategy. This is because you share a much more intimate relationship with your consumer when you engage them online through channels like social media. Your brand story should therefore be much more humane so that it touches the hearts of your consumers.
The visual elements of your brand – such as your logo, website, memes, and other marketing collaterals should be much more attractive and attention-grabbing than those in traditional marketing collaterals.
Competition in cyberspace is much keener and more intense therefore your digital marketing strategy should also be sharper and focused. Litmus Branding is here to help you in your efforts – all you need to do is reach out.