How to create a brand story?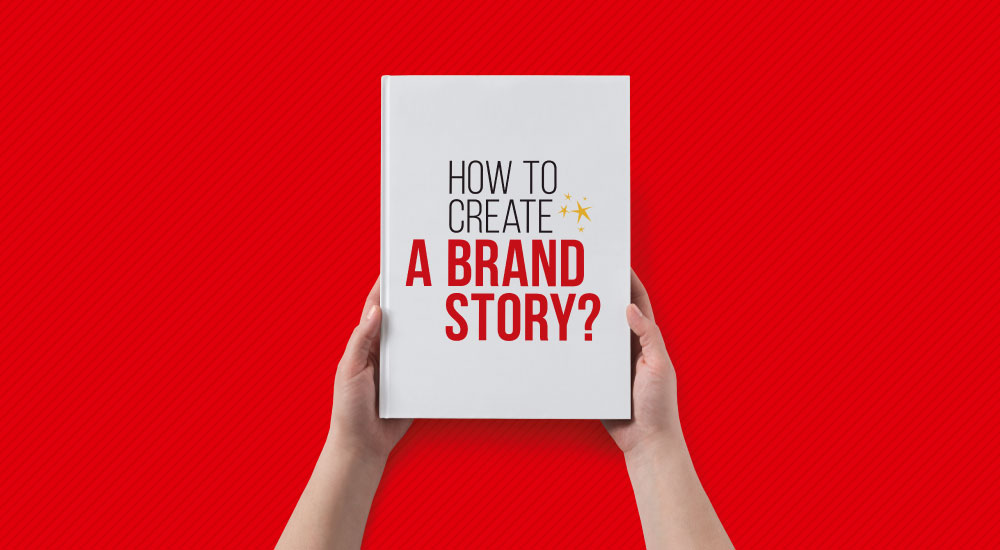 We all love stories! Don't we? Listening or telling, both hold the fervour of fascination. We make stories every day. Knowingly or unknowingly, we create our own version when we narrate the story we have already heard. We communicate ideas, educate and entertain people with storytelling to gain the attention of masses. But why not every story gets the attention? Because it is the work of creative experts who weave them artfully.
Why stories are so important? When the education or information is in a story format it flows inside like a tasty drink and gets digested easily. (Consider the prior line an exaggeration) We remember messages easily when it runs in a sequence of the story with entertainment. For brands, storytelling has become an essential part of their branding strategy as the story has a wider scope of engaging with the audience, especially emotionally. This infographic interestingly shares the insights on Brand Storytelling, its evolution and answers how brands connect with its audience successfully.

Share this Image On Your Site
[litmus imgSrc="https://www.litmusbranding.com/blog/wp-content/uploads/2018/10/LITMUS_INFOGRAPHIC_OCT19.jpg" imgTitle="Journey of packaging from conservation to communication" imgAlt="https://www.litmusbranding.com/blog/wp-content/uploads/2018/10/LITMUS_INFOGRAPHIC_OCT19.jpg" aBefore="Courtesy of: " aHref="https://www.litmusbranding.com/blog/how-to-create-a-brand-story" aText="Litmus Branding" ]
What is Brand Storytelling?
A brand story emotionally engages customers, employees and partners with the brand and brand storytelling di¬fferentiates the brand from many other similar brands.
Meet the Storytellers
Cavemen carved the hunting stories and rituals on the walls of the caves.
Travelers learned the stories from di¬erent regions and spread it wherever they travelled.
Playwrights wrote the plays that were performed to entertain people.
Magazines, newspapers, supplements etc. were used by businesses to tell stories.
Invention of electronic media like TV and Radio helped media, government and businesses in telling stories during programs and in between commercial breaks for mass communication.
With the emergence of Social Media Platforms, telling stories became easy. Now everyone can tell their stories through the cloud medium.
SECRETS THE BRAND STORYTELLERS KEEP WITHIN THEMSELVES
Use your story: Tell your audience who you were and how you became the one you are now. With this, audience's emotions will be invested in your brand.
Find the necessity gap: Let audience notice the gap that prevented them to achieve their goal, how you filled that necessity gap and how you will continue to do so in future.
Don't end like it's an end: Your story's end should not be like an end. It has to be the continuation or beginning of success or a promising future.
Say you care: Show that you care for the customers and say it with love and  emotions. Explain how you add value to their lives.
Do not complicate: Telling more than needed will lose the momentum the story has built. A story must have three rules – A problem, a solution and success.
Share your story everywhere: Find vehicles that can carry your story very well in all forms. Tell it wherever you go. Make it heard and register in audience's mind.
IMPACTS OF BRAND STORYTELLING
Increases brand awareness
Builds brand image
Appeals emotionally to consumers
Develops an easy recall value
Helps in realizing the need of a brand
A story has the potential to get viral
Gives powerful message in short time
Stories inspire to take an action
A STORY WORKS FOR EVERYBODY
Appeal the emotions of consumers. Tell them their own story.
Make strong relations with employees. Show ow being with each other is advantageous.
Build a trust bridge between you & clients. Depict how their business needs are met.
HOW YOUR STORY CAN 'STRIKE A CHORD'?
 Tell original stories
Your story has to be yours not copied
Use factual data
Research always proves us right
Establish brand as Protagonist in the story
Show the brand, product or service
Build strong headlines
Make them click-worthy and share-worthy
Give sensory experience
Let the hot exactly feel hot
Form an engaging structure
Weave the best fascinating story
Make it worth sharable
Choose a sharable medium
Humans have been communicating through stories for 40,800 years

Compared to text, human brain processes images 60X faster
Consumers who want story-based ads is 92% of Population
Effective content which creates engagement is 81.5 % of storytelling
"Human memory is story-based. Not all memories are stories." – Roger C. Schank
WHO TOLD BEST BRAND STORIES?
 Johnnie Walker's 'The Man Who Walked Around The World'
A six-minute masterpiece on brand's birth, growth and development shot in one take with an impressive copy.
Google
 Released a 2-minute film on most searched keywords to create footage of year's significant moments. It appeared in 1% of tested ads and 3rd out of 700 tested tech ads.
Paperboat
 Tells stories about childhood memories on Social Media; whether an everyday memory, festive or seasonal memory and creates nostalgia.
Conclusion:  Telling a story is easy but making an audience listen to the story is not everyone's expertise.
Find your expert storyteller on www.litmusbranding.com