Digital marketing strategies for transportation and logistics companies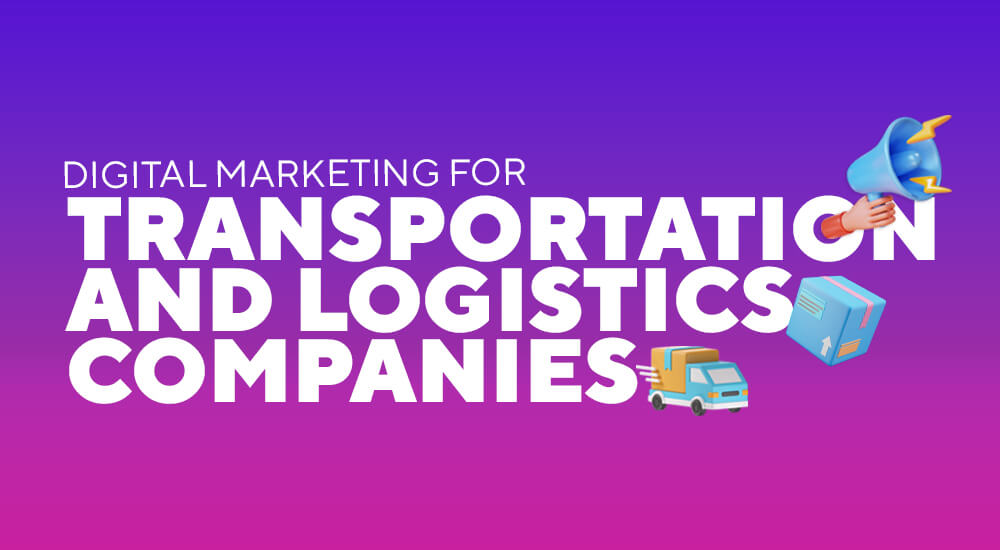 The internet is flooded with information about the power of B2B digital marketing. Still, there is little or no budget for digital marketing in the annual marketing plan for logistics company. The irony is that logistics is the ideal industry for digital marketing, which, if done correctly, can help achieve tremendous business growth. There are 2 reasons behind this:
Trust is essential in customer relationships. Digital marketing contributes to the development of trust.
Digital marketing allows you to distinguish yourself from the competition by establishing your expertise.
Your job as a member of a transportation and logistics company may require you to drive across the country. That will undoubtedly involve long road journeys.
What do you do when you see a billboard advertising your favourite restaurant at the next exit on this long drive? You will probably go there to eat, right? The same principle applies online. Users frequently come across marketing materials on the Internet that provide them with exactly what they're looking for — and the end result is that they often buy from that company.
But how do you grow your business when you don't have established relationships? Logistics marketing strategies come into play here. Using CRMs, marketing automation, or audience targeting software to build and grow relationships with potential (and existing) customers can help your business grow more sustainably than current practices.
The lack of investment in online marketing by logistics companies provides an opportunity for your company to use these strategies to stay ahead of the competition.
So, how can you use this to market your logistics company? Let us go through a few strategies for mastering digital marketing for transportation and logistics companies.
4 marketing strategies for logistics companies
There are several strategies you can employ to improve your logistics company's online marketing. Some involve the use of paid ads, while others rely on organic traffic — but they all aim to bring users to your site and convert them into customers.
Here are four digital marketing strategies for logistics company marketing-
1. Search engine marketing (SEO)
Search engine optimization (SEO) is a marketing strategy that involves optimizing your website's content so that it appears in Google searches. The idea is that when users search for something related to what you have on your website, they will find your page and visit it.
One of the success keys to a resultful SEO is to satisfy all of Google's ranking algorithms. First and foremost, this entails incorporating relevant keywords into your content. If you have a page about logistics, you could target the keyword regarding logistics.
Other SEO strategies include:
Obtaining high-quality backlinks
Making use of internal links on your website
Using HTTPS Image Optimization
Constructing a Google Business Profile
2. Marketing via social media
Don't be afraid to try Facebook, Instagram and Twitter as they can help reach out to new people.
Start by creating a social media account for your company and posting engaging content, such as infographics, reels, or videos. As you gain views and followers, use this attention to drive traffic to your website.
You can also use paid social media advertising to place ads directly on users' social media feeds. These ads allow you to target specific demographics and locations, ensuring you reach your TG.
3. PPC (pay-per-click) advertising
Organic search results aren't the only way to reach users via Google. You can also set up pay-per-click (PPC) advertising, which places advertisements at the top of Google's search engine results pages (SERPs).
Create ads and bid on targeted keywords and use Google Ads to launch this PPC campaign. Quality score and bid amount can help you achieve your goal sooner and with less spending.
With the right bidding strategy and a high enough quality score, you can get your ad to appear for all of the relevant searches, hopefully beating out your competitors. The best part of PPC ads is that you only pay for your ads when a user clicks on them.
Ultimately, your website is the place where almost all of your online marketing should point users. So, for any of this to work, your site should be well-designed. A well-designed website is user-friendly, functional, and visually appealing.
Here are some of the most effective strategies-
Create a mobile-friendly version of your website.
Improve the speed of your web pages.
Make your navigation easier.
Minimal website
Clear images and content on your website
A site that fails to meet these requirements will almost certainly have a high bounce rate, which means that many of its visitors will have clicked the "back" button shortly after arriving at the page.
4. Content promotion
Content marketing is another effective transportation marketing strategy that involves creating informative web content to attract users to your site. The content you create can be, such as blog posts on the logistic services or pricing or any new trends in the industry, or it can be multimedia, such as video.
Whatever content style you use, your web content must provide users with useful information. This knowledge can be about the transportation company or about the logistics, but in either case, each piece should be built around a specific keyword. Make certain that your content always corresponds to the user search intent that is searched for it in the first place. If you create a page to address a particular question like 'what are the important factors to be considered when building a logistics network?' then the page should actually answer it rather than simply promoting your services or pricing. Users will quickly realize the value and the information of the page and they might also leave if don't find it useful. When enough people do this, Google notices and ranks you lower in search results.
Content marketing also has email marketing as one of the options. Along with this, you can also try paid social media advertising for your content.
Summary
One thing is certain: logistics companies gain (and keep) customers through trust-based relationships. They will not use you if they cannot trust you. While these four tactics represent only a small portion of the ways digital marketing can help you build trust, they are crucial first steps in logistics marketing.
Furthermore, with the proper synchronized technology, and help from a transportation marketing agency, you can achieve a good market through digital marketing. Get in touch with us; we can help you figure out the best business strategy for logistics company.