Plan a successful social media B2C Marketing Strategy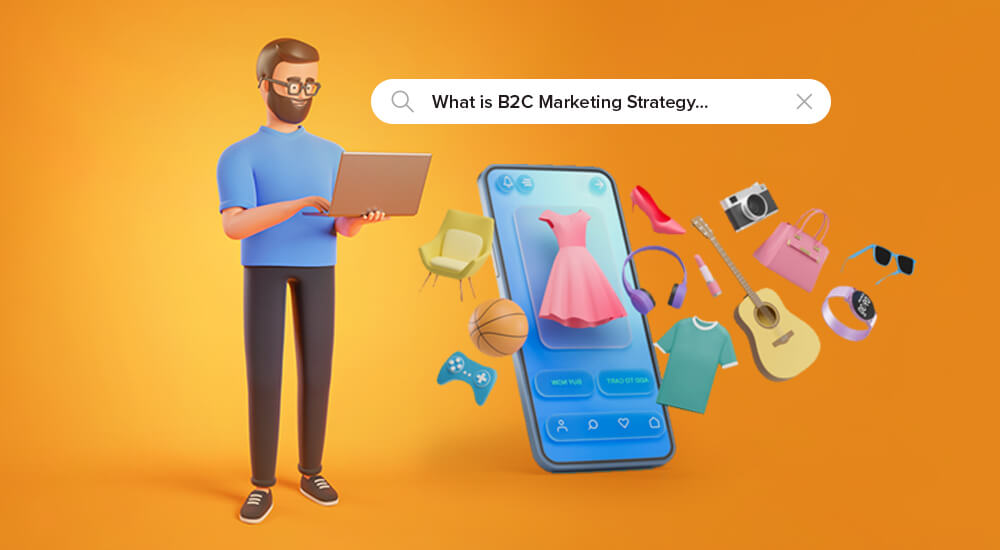 Have you considered developing a social media marketing strategy for your company? Right now, you might be thinking about your company's Twitter handle and Facebook page. That, however, is insufficient. When was the last time you posted on either of these platforms? Perhaps you haven't had the opportunity to develop marketing strategies for b2c brands. Some brands and entrepreneurs talk about their social media presence and how it has helped them turn things around.
First and foremost, it does not occur on a whim. Most successful brands, influencers, and entrepreneurs spend a significant amount of time creating useful content and engaging with like-minded audiences through their content.
As a result, we decided to shed some light on developing social media marketing for B2C business so that small and mid-sized businesses could take control of the growth opportunities that were presented to them.
Before we get into the meat of the matter, here's a primer on B2C social media marketing strategy.
What is B2C marketing?
B2C marketing refers to the process of selling goods, products, and services to consumers. B2C (business-to-consumer) marketing differs from B2B (Business-to-Business) marketing in that it typically (but not always) involves more emotional, lower involvement purchases.
The following are the objectives of a B2C marketing strategy:
Increasing brand recognition
Increasing participation
Increasing the number of leads
Increasing sales
Staying connected to existing and potential customers
Building a customer community
Increasing customer loyalty, retention and lifetime value
Most consumer purchases today are made through digital devices — 51% of Americans prefer to shop online, and 96% have made an online purchase in their lifetime (Source: BigCommerce), so this guide will primarily focus on online B2C marketing.
Before planning your B2C marketing strategy, consider finding answers to the following:
What issues do your products address?
What drives your customers to purchase your products?
What motivates them to choose your competitors' products over yours?
How old are your clients?
Where can you find them?
Create a B2C marketing funnel
Many brands base their marketing funnel on the traditional marketing and sales funnel structure, which will provide you with a solid foundation for your B2C marketing strategy. Let's go over the three stages you'll need in your funnel, as well as the best practices to follow:
Top (awareness): Introduce your brand to your target audience for the first time. Your target audience may have never heard of your brand at this point in their journey, and they may not even be aware that they require your products. This is commonly referred to as the research phase because your target customers will most likely begin by looking for solutions to problems they are experiencing.
Center (consideration): At this point in the funnel, your target customers have clearly defined their problem and are considering products to solve that problem. This is the funnel stage in which you target your audience with content that demonstrates how your products solve that problem.
Bottom (conversion): When your customers reach the bottom of your marketing funnel, they are ready to buy. This is the place to push the sale hard, using marketing techniques such as urgency, FOMO, and discount incentives. Work to differentiate your brand from competitors, and use social proof such as customer testimonials and reviews to set your product apart.
Once you've determined how this B2C marketing funnel could benefit your company, it's time to devise a strategy to get the ball rolling and begin attracting new customers.
Steps to build marketing strategies for B2C brands
Making emotional connections with customers is essential for B2C marketing success. Today, online commerce is booming. So, B2C commerce is synonymous with e-commerce — and a number of critical steps must be taken if you want to build a best-of-breed e-commerce website.
Determine Your Strengths
When it comes to developing a social media marketing strategy, your strengths come in handy regardless of the category in which your company operates.
Your business type/category, such as B2B or B2C, will be determined later in the process. The advantages you have over competitors are referred to as your strengths. As a result, identifying your strengths entails determining the value proposition your brand has to offer. It could be anything that gives you a competitive advantage over the next brand, such as:
Personal enthusiasm for the subject
Your brands expertise
Growth of the brand
Identifying your brand's strengths is not rocket science, but it may lead to a stronger foundation B2C marketing plan.
Develop a Customer Persona
Now is the time to create a customer persona. The persona denotes characteristics, values, and individuality. A customer persona is an imaginary audience type that is thought to be similar to the target audience.
A brand persona can include demographics and interests.
Select the Best Social Media Platforms
Because a B2B business sells directly to customers, there is little to no middleman between them. Unlike B2B businesses, which may include wholesalers, distributors, and retailers. The key to this step is to get off on the right foot. Many people make the mistake of selecting the incorrect social media platform or signing up for multiple social media platforms at the same time, resulting in frustration. For example, if an FMCG brand is planning an engagement campaign, it can use Instagram and Facebook for promotion.
Create a Social Media Content Strategy
After determining the best social media platform, a b2c company must recognize that a social media presence is meaningless without publishing content.
As a result, creating a social media content plan to increase your b2c business's social media reach is unavoidable.
Because B2C businesses are inextricably linked to end users, social media content must also revolve around them. Good content can help you gain popularity, brand awareness and also sales.
Create a Social Media Workflow
Set up a social media workflow.
Social media workflow is a popular term in the digital marketing industry, and it usually refers to social media marketing automation. The key to creating social media workflows is by creating a system for planning, creating, launching, and measuring social media marketing activities.
It covers several stages of social media content and helps the social media management team oversee or manage the content publishing process. Creating a social media workflow essentially means creating a social media management plan to implement the strategies, SOPs, and distribution of social media content. Here are the six stages of social media workflow:
The brainstorming stage
Creating media and assets
Content creation
Workflow for approval
Increase productivity by publishing or scheduling
Analyze data and produce meaningful reporting
There are many ways and many more strategies that brands and agencies use. What else would you do to build a B2C social media marketing strategy? Let's have a talk over a cup of coffee at our office, and we too can help you build a successful brand.