Benefits of Influencer Marketing for b2c brands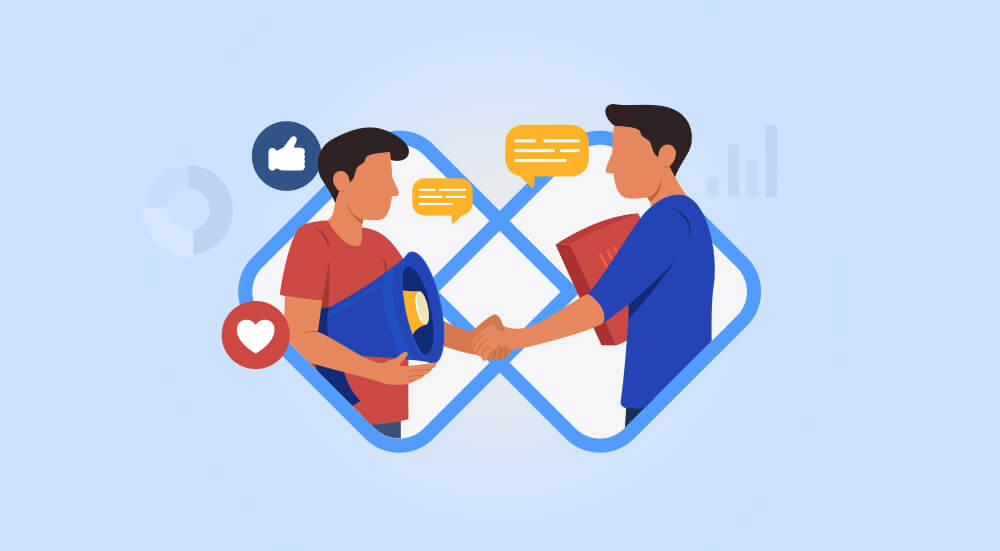 Over the past few years, there has been a drastic change in how social media platforms like Facebook and Instagram operate. Apart from the metaverse, which is still relatively unknown, influencer marketing is popular and yields excellent results for brands.
Influencer marketing is one of the most effective ways to quickly build your brand online and raise awareness among your target audience. According to Forbes, an emphasis on leveraging the followers of industry leaders to foster growth in business means influencer marketing is growing faster than digital ads.
The beauty of influencer marketing is that the audience is already there; all you have to do is create a win-win partnership in which both parties provide incredible value to each audience. To get your content in front of your TG's eyes, bring brand awareness & engagement, and generate new leads, an influencer marketing strategy should be an active tactic in your social media marketing plan.
What Is Influencer Marketing?
Influencer marketing is one of the routes or types of social media marketing. It includes the endorsement of a product/service from individuals who have a reasonable amount of social impact in their field. This is a type of marketing in which you can drive your brand messages to your target audience through influencers.
Influencer marketing is similar to word-of-mouth marketing, but it does not rely solely on specific recommendations. An influencer can be any individual, any group, any brand, or any location. These pages are usually followed by engaged audiences. Through buyer personas, your company can broaden its reach, raise brand awareness, and generate new leads for your sales funnel by advertising to them across multiple social media platforms. Influencer marketing can be used as a tool that can complement other marketing campaigns.
Significance of influencer marketing for e-commerce brands
Influencer marketing allows e-commerce brands to get their target buyers' attention. It increases social proof and sales. When your target audience sees your products shared by people they know and trust (i.e influencers), they are more likely to purchase them. Nykaa Beauty can be a perfect influencer marketing example. There are small and big influencers who helped the brand gain popularity on social media platforms.
Let's dive deep into the key benefits of influencer marketing for the company.
1. Improves Brand Awareness
Influencer marketing broadens your market reach and positioning. Your TG can learn more about your brand, its story, and the products or services provided. One of the major advantages of social media marketing is the role influencers play in increasing brand awareness. Further, influencers are capable of moving the needle that communicates to people about your brand and help you become a leader in your industry.
2. Helps Establish Trust and Demonstrate Authority
The philosophy underlying influencer endorsements are straightforward. When a social media personality, celebrity, or industry expert shares content about a brand on social media platforms, the brand they promote gains credibility. Simply put, if an organization can get an individual with industry authority to notice and recognize its brand, it fosters a perception that the brand is a reliable company and an industry leader, based on the content, sentiment, and influencer endorsement. In today's business environment, developing trust and authority is critical.
3. Increases Visibility and Reach
Influencer marketing assists brands in overcoming many challenges that other marketing mediums face today. With the widespread use of ad blockers and people's general dislike of obvious advertisements, influencer marketing provides organizations with a non-intrusive way to interact with customers.
By creating a marketing plan involving the right influencers, marketers can make highly effective influencer campaigns that reach millions. Tactfully screening influencers using both qualitative and quantitative criteria assists brands in selecting the best candidates for their campaigns.
4. Offers Long-Term Advantages
Influencer marketing, like SEO, is a long-term strategy. You shouldn't expect a significant increase in sales from a single influencer post. Influencer marketing should be viewed by brands as a long-term strategy based on relationship building, rather than a one-time promotion. It takes time to build trust between your brand and your customers, and the same holds true for influencers and influencer marketing.
5. Influencers Reach Your Target Audience and Drive Purchase Decisions
Without a doubt, social media influencers who mention your brand drive sales. Consumers check and rely on influencers for advice on which are the best products or services to buy. As social media marketing has grown in popularity, so has its ability to reach the target audience. If your company is looking to increase sales, influencer marketing companies can significantly help you choose the right influencer that can help enhance your sales figures.
6. Introduces Brand to Millennials and Generation Z Consumers
Millennials and GenZ are increasingly using digital media which contributes to its rising popularity. In today's digital-first world, influencer marketing is almost mandatory if you want to appeal to the millennial or Gen-Z market. Attracting customers from these demographics adds tremendous value to your brand and provides you with invaluable access to one of the most profitable demographics.
7. Helps in Conversions
Influencers can steer their followers toward products or services. Consumers are increasingly turning to influencers for advice on which products or services to invest in. Nearly half of today's consumers rely on "influencer" recommendations, and 40% have said they made a purchase after seeing it promoted or endorsed on Instagram, YouTube, or Twitter.
8. Trend Setters
You can create a campaign based on an influencer's review of your cool new product to highlight your brand. Influencers are the go-to sources for new product information in their industry. Audiences respect and often idolize the opinions of the influencers they follow, whether in fashion, gaming, beauty, or fitness. This is also one of the reasons, why influencer marketing is so powerful and effective.
9. Helps in lead generation
Lead generation is a practice that has evolved significantly in recent years, as the role of social media in connecting brands with customers and clients has grown rapidly. Social media provides a simple platform for consumers to express interest in your brand and the products or services it provides.
Most social media platforms now provide advertising formats that are specifically tailored and designed to collect leads and assist brands in generating both web traffic and social media presence.
10.Relationships with Influencers
An influencer campaign is more than just about numbers, it also helps in developing long-term relationships. A strong relationship with an influencer establishes a bond for a long-term partnership that can help drive long-term results for both the influencer and the brand.
Conclusion
Influencer marketing has gone increasingly popular for brands as social media marketing has grown in popularity. You will have a comprehensive understanding of one of the most popular marketing methods for the future if you thoroughly understand what influencer marketing is, how it works, and what it brings back.
Influencers provide an excellent way to meet new customers, raise brand awareness, and increase conversions through their daily-engaged content and the limitless sharing potential of their followers. By selecting the right influencers and developing an effective influencer marketing strategy, you can take your social media marketing campaigns to the next level, especially for startup brands that have been struggling to gain traction.
Litmus branding has done many successful influencer marketing campaigns. We are a reliable influencer marketing agency. Get in touch with us for all your influencer marketing requirements.