Can Digital Marketing Help the Traditional Textile Industry Accelerate Business?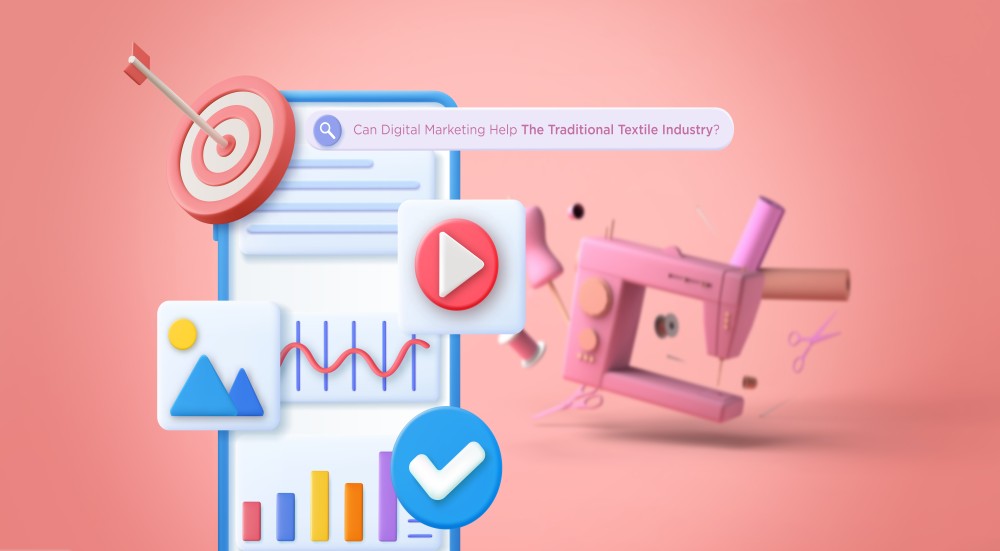 Yes, digital marketing for Textile industry is now a must.
The traditional textile/fabric industry has been around for centuries, but in recent times, it has faced a lot of competition from the rapidly growing fast-fashion industry. In the midst of this competition, the industry has realized that it needs to adapt to modern marketing techniques in order to stay relevant and competitive. One of these modern techniques is digital marketing. In this blog post, we will explore how digital marketing can help the traditional textile/fabric industry accelerate its business.
Manufacturing appears to be very different from retail or service industries in terms of marketing. Textile marketing, particularly for MSMEs (Micro, Small, and Medium Enterprises), is a far cry from the visually appealing promotional materials or catchy copy that we see as consumers. Textile marketing, like that of many manufacturing-oriented businesses, is goal-oriented. Price, product, and sales are the focal points.
As an MSME, all you want to do is increase your users, generate profits, generate leads, and expand your business. But we all know how difficult it is to acquire new users nowadays. Many businesses now operate online, making the competition fierce. Textile MSMEs can greatly benefit from digital marketing in terms of expanding their reach, gaining new customers, and competing.
Firstly, it's important to understand what digital marketing is. Digital marketing refers to the use of digital platforms like search engines, Instagram, Facebook, Youtube, email, and websites, to promote a product or a brand. With the rise of the internet, digital marketing has become an increasingly important part of digital marketing strategies for Textile industry and other businesses of all sizes and industries.
One of the major advantages of digital marketing is that it allows a brand to target specific audiences. For the traditional textile/fabric industry, this means being able to target customers who are interested in the unique features and benefits of traditional textiles and fabrics. This could include customers who are interested in eco-friendly or sustainable products or customers who are interested in products with a unique cultural heritage.
One way to target these audiences is through search engine optimization (SEO). SEO involves optimizing a website's content and structure to make it more visible and appealing to search engines like Google. By using keywords and phrases that are relevant to the traditional textile/fabric industry, businesses can increase their visibility on search engines and attract more targeted traffic to their website.
Another way to target specific audiences is through social media marketing. Social media platforms like Facebook, Instagram, and Twitter allow businesses to reach a large number of potential customers in a targeted way. By creating engaging content that showcases the unique features and benefits of traditional textiles and fabrics, businesses can attract followers and build a loyal community of customers.
In addition to targeting specific audiences, digital marketing allows businesses to track and measure their marketing efforts. This means businesses can see what is working and what is not and adjust their strategies accordingly. For the traditional textile/fabric industry, this means being able to track which products are popular, which marketing channels are driving the most traffic, and which campaigns are generating the most sales.
One way to track and measure digital marketing efforts is through website analytics. Website analytics tools like Google Analytics provide businesses with valuable data on website traffic, user behaviour, and conversion rates. By analyzing this data, businesses can gain insights into how customers interact with their websites and identify areas for improvement.
Another way to track and measure digital marketing efforts is through email marketing. Email marketing involves sending emails to a list of targeted users who have opted-in to receive communications from the brand. By tracking open rates, click-through rates, and conversion rates, businesses can see which messages resonate with their audience and adjust their messaging accordingly.
Finally, digital marketing allows businesses to build relationships with customers over time. By engaging with customers through social media platforms, email communications, and other digital marketing platforms, businesses can build trust and loyalty with their audience. For the traditional textile/fabric industry, this could mean showcasing the unique cultural heritage and history behind their products or highlighting the eco-friendly and sustainable practices used in their production process.
Social Media for the Textile Industry
Companies must now become acquainted with social media because competition is a fact. People are so inundated with information and products that it is difficult to identify a brand as the best. People believe that businesses only see them as consumers, rather than as people with needs. As a result, developing a marketing strategy through social media is a good way to learn about the client's needs and preferences.
You can do three things with social media:
Engage: It is critical to maintain direct contact with the client in order to understand their needs and meet their expectations. You can have a two-way conversation with your niche using virtual platforms. It will be possible to measure if you set goals and review them on a regular basis to see where you can improve. Furthermore, you should identify your target niche and tailor your content to their needs and preferences. Otherwise, you will not see positive changes.
Textile MSMEs can meet their goals and position themselves as experts in the industry by means of digital marketing.
Enable: This is the process of planning campaigns to promote the product and create content. For the management of social networks in businesses, an expert is required. If you do not want to hire someone from outside, you will need resources to invest in employee training or the ability and creativity to manage the platform. The most important thing is to create alliances with other professionals or companies. That is, to find partners in order to make yourself known more quickly through commercial exchanges.
Evaluate: Social media platforms allow you to track engagement and traffic. These platforms give you the advantage of being able to monitor the behaviour of your niche and determine whether or not your strategies are successful. Statistics are essential for evaluating, and many tools, such as Google Analytics, make this work easier. You can use it to forecast the next steps in your marketing strategies.
Challenges of Digital Marketing
Textile marketing has evolved into a whole new journey where digital marketing can drive the vehicle forward, from attracting potential customers to generating quality conversions.
However, there are a few challenges that textile MSMEs face when it comes to digital marketing.
Budget: Digital marketing entails connecting with current and prospective customers via digital channels such as search engines, social media, email, or websites. Each of these digital channels necessitates a distinct set of capabilities as well as a distinct budget. Most textile MSMEs lack the resources to fund a large-scale digital marketing campaign. And, to be honest, digital marketing can be expensive at times.
Content Creation: Both content and creative expertise are required for effective digital marketing. However, some textile companies may lack the resources to support in-house marketing and branding teams.
Appropriate Social Exercise: Managing social media channels and optimizing them for promotion is not something that everyone is capable of. Textile MSMEs are preoccupied with routine operations and logistics to devote time to digital marketing. Furthermore, with constantly changing user dynamics and social media platform algorithms, staying on top of things is impossible unless you delegate it to experts.
In conclusion, digital marketing offers many opportunities for the traditional textile/fabric industry to accelerate its business. By targeting specific audiences, tracking and measuring marketing efforts, and building relationships with customers, businesses can increase their visibility, attract more targeted traffic, and build a loyal community of customers. As the industry continues to evolve, it is important for businesses to embrace digital marketing in order to stay competitive and relevant in today's fast-paced digital world. It is always a good idea to seek the advice or professional help of a digital marketing agency. We are here to help you. Let's connect over a call.