How Packaging has evolved over the years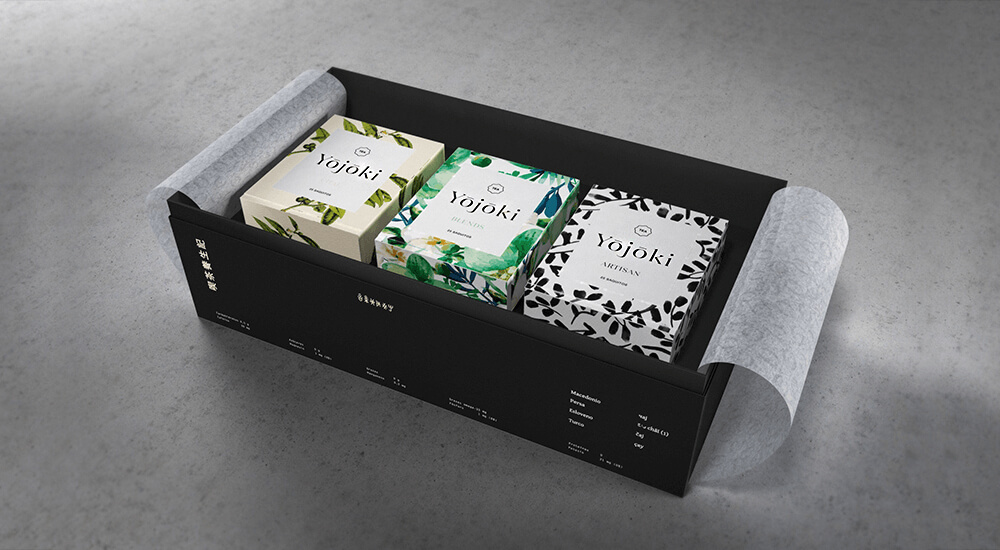 Did you know that Oreo cookie has been around for over 100 years now? A few years ago they had come out with a huge ad campaign. This was all about the existence of the cookie before things like Pac-Man (1980), the first man on the moon (1969), and the yo-yo (1928). They also came up with a special "100th Birthday" logo.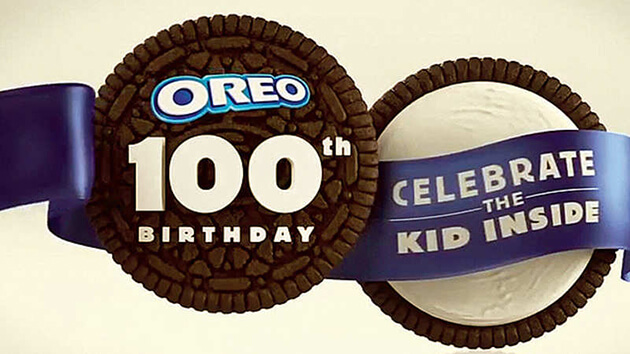 Source: Economictimes
Since its origin in 1912, we have seen a lot of growth and change in Oreo. But what is strange is that the product as such has changed only twice in all these years. It is only the packaging of the product that has undergone so many transitions. This shows what a wonderful job their marketing and branding departments have done. You can read all about these transitions in the article "Celebrate 100 Years of Oreo with a History of its Marketing" that was published in Business Insider.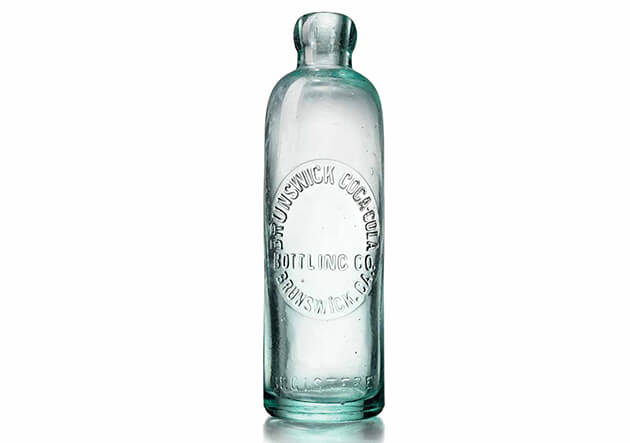 Source: Coca-colacompany.com

Asa Candler purchased the Coca-Cola Company in 1888. By 1895 Coca-Cola was sold and drunk in almost every state and territory of the United States. Chattanooga was the first city to bag the contract to bottle Coca-Cola.
The bottle design of 1900 came with a diamond-shaped paper label. This was when the company started associating with athletes to advertise their product.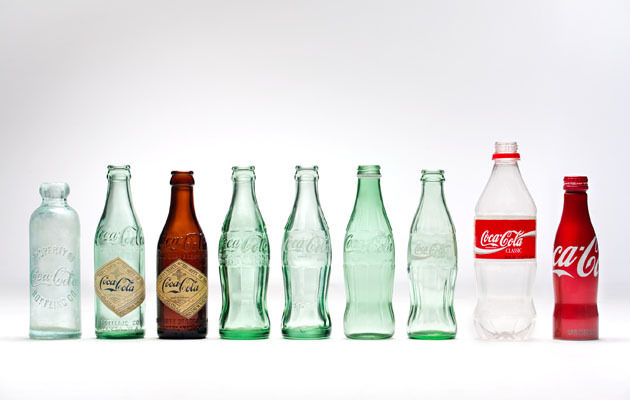 Source: Iconeye.com
Now check out the latest design of the Coca-Cola bottle. This was designed in 2011 when the product turned 125. From the straight shape that it was, it has gone through a number of changes to come to this contour shape that makes it easy to identify even in the dark. Designing this distinctive packaging was an excellent move by Coca-Cola Company to counter-attack the efforts of the competitors who were trying to imitate Coke.
There was an entirely different meaning to the word "packaging" about three decades ago. Back then a package was only a container that made it easy for people to carry their food, beverages, and other items from one place to the other. Its purpose was only functional. Today it is entirely different. Evolution of packaging has taken a completely different curve, putting the modern packaging industry under a lot of pressure.
Packaging is no more restricted to the 3Cs – Containing, Caring, and Conserving. It also includes Communication and Promotion. It is designed to trigger the perception and behavior of the consumers. With more and more innovations in the world of packaging design, there are many factors that have led to the evolution of packaging.
Environmental Issues
More and more brands have now started becoming environmental-friendly with their packaging design. Snact, the UK-based brand, recently made a powerful statement by including this line in their packaging design – 'Fighting waste with delicious snacks.' They made their packaging 100% compostable without any special conditions.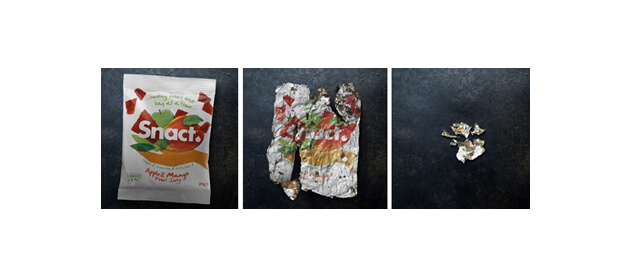 Source: Packagingnews.co.uk
With people getting more and more conscious about the need to be eco-friendly, the demand for reducing ecological footprints has been accelerating rapidly. The new breed of environmentally conscious consumers is constantly hunting for products that are sustainable. This trend has been well received by the packaging industry.
Many top packaging design companies in India have started leveraging technology to produce environmental-friendly products, which can be recycled easily. As one of top packaging design companies in India, we recommend sustainable packaging designs to promote your products with a suitable logo.
Health Issues
One other factor that has had an impact on the evolution of food packaging pertains to health issues. In 1994 it became mandatory to include Government-approved nutrition labels on the packaging of food products. This was to help the consumers understand what is in their food and find out how this product fits into their recommended daily allowances (RDAs). This would make it easier for consumers to make decisions regarding the food they wish to buy and consume.
Another thing that made its appearance in this domain over the past 20 years is modified atmosphere packaging. Food-based companies adopted this trend to prolong the shelf-life of their products and ensure that the food doesn't get damaged if left unopened for long.
Design Innovations
If you consider the packaging of products of the yesteryears, you will see that most of them have gone through huge transformations over the years. Until 2003, Kit Kat bars came wrapped in silver foils with a paper covering the top. This was replaced by plastic to give the product, a more contemporary appearance.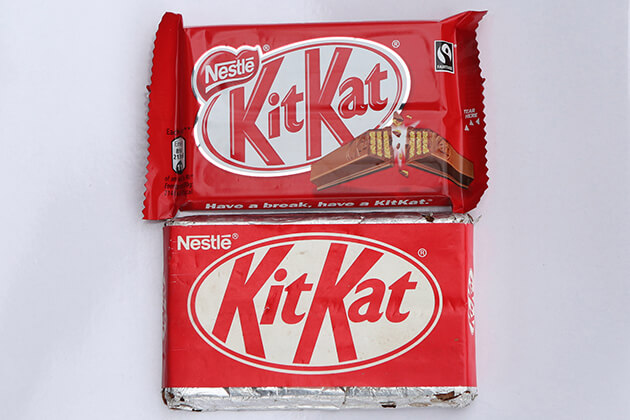 Source: Nypost.com
Many perfume bottles too have gone through such drastic transformations. Gone are those days when perfume was sold only in those traditional pear-shaped bottles. Today you will find them in all shapes and colors. Yet the objective behind designing all of them is the same – to attract the customer's undivided attention.
The entire process of unboxing has now been transformed into an experience for the customers. More and more brands are now giving a lot of importance to the shapes, labels, and colors of their packaging. They are being as creative and innovative as possible with their packaging designs. In fact some of them are even hiring professional graphic designers to attract maximum number of customers.
Now that you have understood what factors led to the evolution of packaging, it is important to find out why you should give importance to your packaging design. Here are a few reasons:
Packaging is a silent salesman
Having an efficient sales team is very important if you want to sell your products. It is your salesmen who make sure your products reach the right shelves that target the right people. However, it is not necessary that your sales team has to comprise only of people; your packaging can be a salesman too – a silent salesman.
Your sales team members might get in touch with your potential customers or speak about your product at various events; but they can't be there on the shelf next to the products of your competitors. This is where your packaging helps. Although silent, it can still be the most powerful member of your sales team that single-handedly tackles your competition.
Things in the marketplace are not how they were a few years ago. Consumers of today are spoilt for choices. If you want your product to resonate with them, you will have to make sure you cut through the noise created by your competition. This is possible only through creative and innovative packaging.
Packaging increases the visual appeal of your product
"Never judge a book by its cover" is an adage most of us have heard. Nevertheless, this rule doesn't apply when it comes to making everyday shopping and purchasing decisions. The mantra is simple and straightforward here – if it looks good it will be sold.
So would it be worth investing on packaging even if your product is visually appealing? Of course it is! Brands like Apple have proven this fact.
Packaging plays a very important role in the success of a product. It is the first thing a customer sees before he holds the product in his hand. It enhances the visual appeal of your product and makes the customer choose your product over others.
Packaging adds to the convenience
In today's world where people are struggling to maintain their hectic schedules, good packaging can come as a boon. By including features such as portability, reusable closures and microwavable bags, you can increase the convenience of your customers. Not only will this drive repurchases, it will also build brand loyalty. Apart from the convenience features, make it a point to use a few graphic elements to demonstrate the use of your product.
Apart from the above, there is another advantage of designing the packaging of your product. It saves up on billing time.
The barcode label that you include on the packaging of your product makes it faster to bill it at the counters, reducing the waiting time of your customers.
These narrow and wide parallel lines with numbers and letters at the bottoms have become one of the most trusted marks in the world. They are there everywhere – on products at grocery stores, patients in hospitals, prescriptions, flight tickets – you name it.
The Rise of Barcodes
Barcodes have been in existence since the 1950s. But it was only in 1974 that the first commercial U.P.C scanner was installed. This was at a Marsh's supermarket in Troy, Ohio. Wrigley's Gum was the first ever product to have a bar code on its packaging. Since then, barcodes have come a long way in becoming the default checkout processing technology, revolutionizing the entire retail industry. They help in meeting industry standards when it comes to quality and improve customer satisfaction.
For years now companies have been reviewing and renewing their packaging, putting in lots of capital into the process. There has been a huge evolution of packaging, as an industry. It is now time to take advantage of this evolution.
With expertise across industries, Litmus can help you come up with the perfect packaging design for your product. We will work with you and help you through every step of your packaging designing process.