Everything you need to know about logo designing that undermine your expertise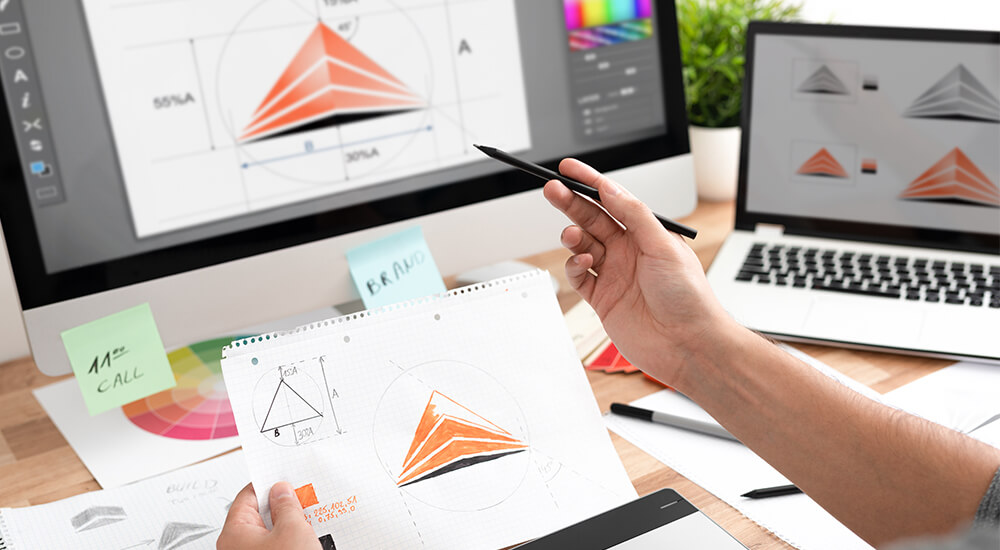 Your logo explains to your consumers, customers, and others what your business and brand are all about. If done right, your logo is all people need to see before putting the product into the shopping cart. That's the power of good – or effective – logo design. The question is, how to do it right? Or how do you design the most effective logo that works? Do you need to hire a logo design company in India – or closer to home?
Let's look at what makes up an effective logo – the characteristics of a good logo – and what you should or should not do to achieve that. So here goes:
The Shape
Shapes can speak volumes. Did you know that different shapes represent different moods? For instance, round shapes like ovals or circles symbolise a friendly, casual attitude inviting to one and all. Wavy lines may depict rest, intrigue, or impish mischievousness, while horizontal straight lines show stability and dependability. Vertical lines show prosperity. Triangles are firm structures with sharp corners representing leadership and authority, while four-sided figures are more stable, symbolising security, trust, and efficiency. In comparison, these moods are not set in stone. You can freely use any combination of these shapes or create your own.
Think of the McDonald's logo, for instance. The rounded M is a cross between triangular and circular shapes, telling the viewer that we are an authority in fast food but also friendly.
The Color
Taking the McDonald's analogy a step further, While they convey friendliness through their rounded shape, the bright red and yellow contract attracts children and tells parents that this is a fun place where you can whet your appetite, get a substantial meal, and have a good time.
So colour is the second most crucial component. Now consider for a moment if Mcdonald's had used blue and green or violet and red, for instance. Violet is classy. It symbolises wealth, nobility, and royalty.
A violet M would send the message that this is a place for the wealthy and prosperous only – keeping out the middle class and cutting off a significant portion of their customer base. Blue is associated with openness and freedom. That's not what the fast-food giant is about, nor is it about envy which is what green stands for.
Both colour and shape evoke primal reactions, which must be taken into account when designing your logo.
Read More: Know more about Logo Color Schemes
The Cue
The whole purpose of designing your logo is so that it can communicate your brand message. It should tell everyone what your brand is all about. That's precisely what the McDonald's logo does. Ask any logo design firm, and they'll let you know your logo can do in seconds what even the briefest press release or blog will do in minutes.
Read More: HOW DOES A PROFESSIONAL LOGO AFFECT THE BRANDING OF YOUR BUSINESS?
The Hyundai logo, for instance, is more than just an H in a circle. It shows friendliness and dependability through the circle and the square shapes. The straight vertical lines of the H represent progress. And above all, a closer look reveals that the two sides of the H are two individuals shaking hands – on a deal.
And that's the cue. We are friendly, stable, and trustworthy, so come to us and strike a deal. That's the message the logo conveys.
Cues are an essential part of your brand logo, and branding companies in India understand this. That said, if you want to get creative and go with something more abstract, a catchy tagline that is visible on all creative can support your logo. Or you can go the simplistic route like our favourite McD or FedEx. The idea is for your logo to communicate correctly.
The Tone
You must communicate your message through your logo – and communicate it correctly. Kinder Joy wouldn't sell much if it came in black, dark blue, or even mustard boxes. The red and white eggshells shaped like a reverse Q are part of the charm.
Your logo is an integral part of your brand strategy. It is a big part of the appeal to your consumers. That's why the Burger King logo is radically different from the McDonald's logo – because both respectively appeal to a different class of consumers.
Your logo has to say your message and say it right. So ask yourself who are you trying to attract? What is their social status? What brands do they identify with for products other than your own? Answering such questions will help you determine the various elements of your logo design and the tone or mood you want to set.
We've been talking about McDonald's a lot. They set a friendly, easy-going mood where children can enjoy. When you enter an McD outlet, you can "let your kids go" without fear. Not so with Burger King, which has a more dignified approach. That's why McD launched the slogan we love to see you smile, inviting families with kids, while Burger King came out with Be Your Way appealing to the millennial youth.
Read More: HOW TO DEVELOP BRAND IDENTITY
The Typography
While visuals are a great attraction and mood builder, they'll work best when accompanied by the right typography. By typography, we mean the way your font looks. Imagine if FedEx had the words in a colourful cursive font? It would be disastrous. So too, can you imagine the Leggo logo in Times New Roman font? It would detract from the charm.
Typography is not limited to your brand name. It covers everything from your tagline to the product description. Apart from font face, you should also consider weight, size, boldness, and other formatting. Also, bear in mind what we said about shapes. As we noted, Leggo in a sharper and clearer font would not be as effective.
Here are some basic thumb rules for typography and fonts:
Serifs are formal
Scripts are fanciful, graceful, and inviting
Bigger fonts lay stress upon the word and accent – they're great for puns and pause.
Use different fonts for different messages.
Get creative with your brand name or logo but keep the informative text simple.
While handwritten fonts are not professional, they are friendlier and can make a more profound connection if done right.
Do not compromise readability for the look and feel – because if they can't read it – they won't.
Set the Trend
With all these rules and structures, we're not saying you should not get creative. It's perfectly fine to start a new trend in logo design. Indeed, it may endear you to your consumers – depending, of course, on what your brand is about. Trends keep changing. The history of logo design reveals an evolution from manual logo creation in the pre-printing era to geometric shapes and deep symbolism to human figures and portraits. All aspects of logo design involve including the use of shapes and colours to typography and language.
As a designer, you should know what's trending and what the other logo design firms and industry leaders are doing.
The Size
Traditionally, logos were designed in a single size and used everywhere. Come digitisation, that trend is changing – didn't we say logo design trends evolve? Marketers and branding agencies realise that the one size fits all logo of yore doesn't work anymore. For instance, a large logo may not fit on your web page, while a small logo may become invisible on a brochure or billboard. Industry veterans call this responsive logo design.
The LG logo, for instance, is simple – the two alphabets of its name. This may or may not be accompanied by the brand's tagline – Life's Good – depending on where the logo is used. It's a great example of a responsive and straightforward logo.
But remember, you cannot change your logo. Only alter its size. This means that the text on your logo should still be legible despite the small size. True, the general shape will tell the story, but legibility is essential. So start with the smallest possible size. Then gradually scale up, adding elements as you go until you arrive at an optimal design that will work in small and large sizes. Remember all elements should be consistent irrespective of size, as should the overall effect, which brings us to the next most important characteristic of logos.
The Impact
You may have all the elements that make up a good logo, but they won't have the effect you want if they are not put together correctly. Your goal for branding is to create a logo that has a powerful first impact and a lasting one to imprint it in the consumer's minds. That's why this is considered the trickiest part of logo design.
The trick is to make the logo unique, easily distinguishable, impactful, and memorable – no easy task. There are a few other factors, such as culture and symbolism. Here's where you can read more about that.
At Litmus Branding, we have a wealth of branding industry-related information, so if you are struggling with logo design, all you need to do is reach out. We offer the full spectrum of branding and marketing services. Interested? Contact us now.