Learn from 11 Worst Marketing Campaigns in the History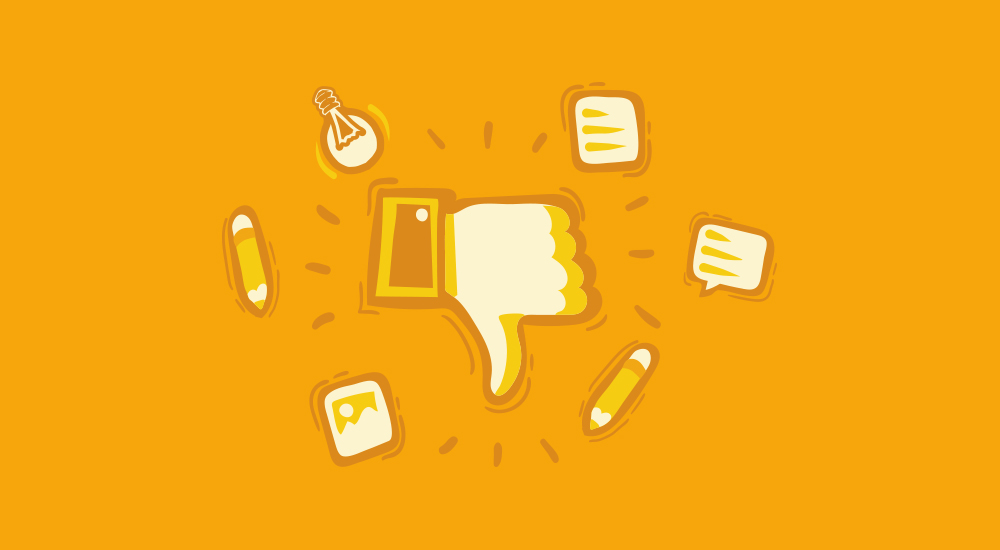 All of us have made mistakes in our lives. It happens all the time. Even the biggest of the businesses end up making terrible mistakes that can lead to failed marketing campaigns.
However, when these mistakes happen on a large scale, it might risk the reputation of the brand.
Every ad, whether it is from a retailer, a restaurant, or any consumer brand, goes through a lot of scrutiny by the members of the ad agency team as well as the company's internal marketing team. Yet, in their efforts to sound funny or hip, they end up offending numerous prospective customers.
It might take a while for these marketing managers and advertisers to realize, set right (if possible), and learn from their mistakes. But you have a clear advantage over them. You can learn from their mistakes and ensure the success of your marketing campaign, even if it is your first.
Here are a few of the worst marketing campaigns for you to learn from:
Zomato's Outdoor Banner Ad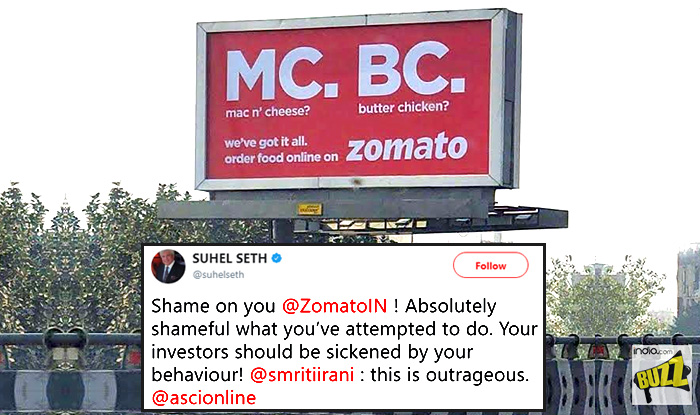 Image Credit: India.com
The food tech startup recently placed an outdoor banner ad with the abbreviations BC and MC.
Although Zomato'sversions of these abbreviations were Butter Chicken (BC) and Mac N Cheese (MC), they did incite people in a wrong way since they were the short forms of some expletives in Hindi.
A few looked at this as a sexist attempt, and the others termed it as something cheap, shameful, and crass.
All in all, there was a huge public outrage that Zomato had to face because of its failed campaign.
Takeaway: To avoid misinterpretations and ambiguity always make use of full forms of terms instead of abbreviations.
Parker Pen's Slogan
"It won't leak in your pocket and embarrass you" – This was the slogan Parker Pen company came up for their ball-point pen.
They sure meant it in a fun way; but in Spanish, the verb "embarrass" takes a very complicated meaning. When the slogan was translated, it read as "it won't leak in your pocket and make you pregnant."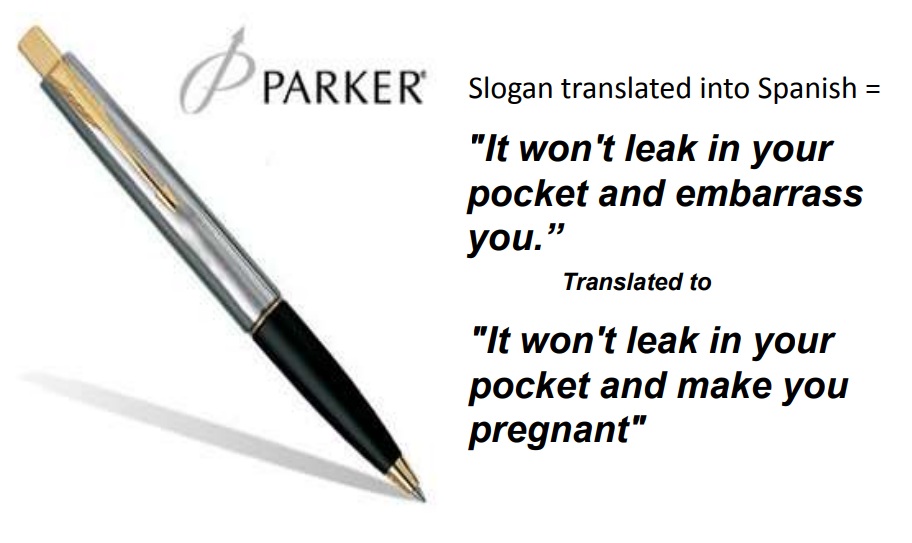 Image Source: Graham McInnes
The word 'embarrass' sure did embarrass Parker Pen Company when they realized what it meant to their target audience.
Takeaway: Check the meanings of the words that you use, in dictionaries of other languages, before you publish your slogan.
Hoover's Free Flights Promotion
Hoover,UK, offered two return tickets to any European Destination to clear a backlog of cleaners. However, they failed to get their small print right.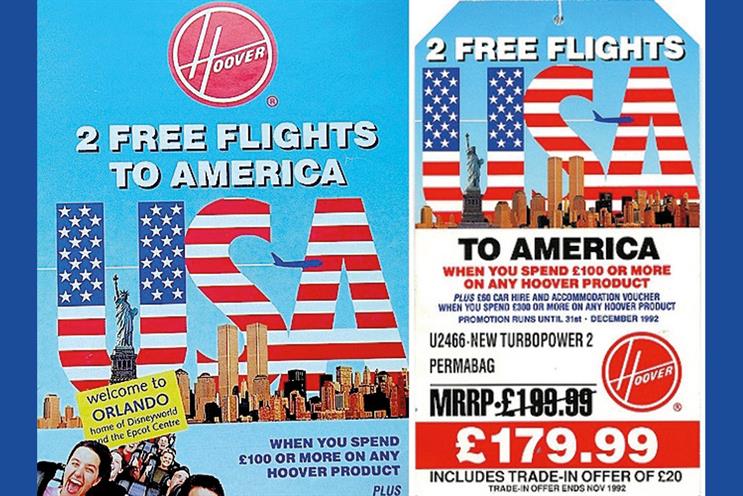 This mistake ended up as a real costly one, costing the company about £48m. If you Google it up, you may even find a Wikipedia page of 'how Hoover free flights promotion failed.'
Takeaway: Fine print is a very important part of your promotions. Your customers may ignore it; but you can't.
Recommended: Creative Marketing – The Need of the Hour
The Kendall Jenner-Pepsi Cola Blunder
The amount of press attention that the Kardashian/Jenner clan gets lured Pepsi Cola to use Kendall Jenner in their expensive advertising campaign that supported "Black Lives Matter" movement.
https://www.youtube.com/watch?v=dA5Yq1DLSmQ
In order to diffuse tensions at the protest, the celebrity was seen handing over a can of Pepsi to a police officer. Although done with a good intention the gesture backfired sensationally.
The commercial's suggestion of Jenner and Pepsi as a saviour in troubled times didn't bode well with the viewers. They called it vague and crass, and they hated it.
Pepsi Cola instantly realized their mistake, offered their sincere apologies, and withdrew the ad from the circulation. It was never seen again.
Takeaway: See what matters to your audience the most and respect their feelings.
Amul Macho's 2007 ad
It was this ad that launched the model Sana Khan, wherein she was seen washing a man's underwear and exhibiting some sexually suggestive expressions with the words, "yeh toh bada toing hain," repeated in the background.
Although the then IB Minister of India had banned its screening, it got cleared for public viewing by the Advertising Standards Council of India.
Takeaway: Get different perspectives of how people might see your ad. Identify and correct your mistakes, before the world comes to know.
Tuff Shoes Footwear's controversial print ad
In this print ad, the then allegedly dating couple – the models Milind Soman and Madhu Sapre, were shown caressing each other and posing nude with a python wrapped around their bodies.
A case of obscenity was obviously filed against the ad; but it also faced another case filed by animal right protestors under the Wildlife Protection Act for using the python illegally. Of course the hoarding was off the street in no time.
Takeaway: The last thing you want is the wrath of your audience. Stay away from obscenities and illegal use of animals.
The Creepy King of Burger King
In their efforts to make fast food sound cool, Burger King ended up sounding creepy to its audience.
The Bobble-head King doll shown in its commercials didn't really set a good precedent since no American would ever want to 'wake up in bed next to a guy with a head, the size of an Elephant's'.
BK's sales in the first quarter of 2011 were down by six percent, and so the campaign finally saw its end in August 2011.
Takeaway: Show things the way they are. Don't go overboard just to sound cool.
Recommended: Design Your Own Marketing Formula for Success
Hershey's Kiss Turned Flat
Rebranding can do some good; but not for all brands, and especially not when it is not done right.
Hershey's logo that once featured a 3-D Hershey's kiss was changed by the brand, to a 2-D kiss alongside the company's name, in 2014.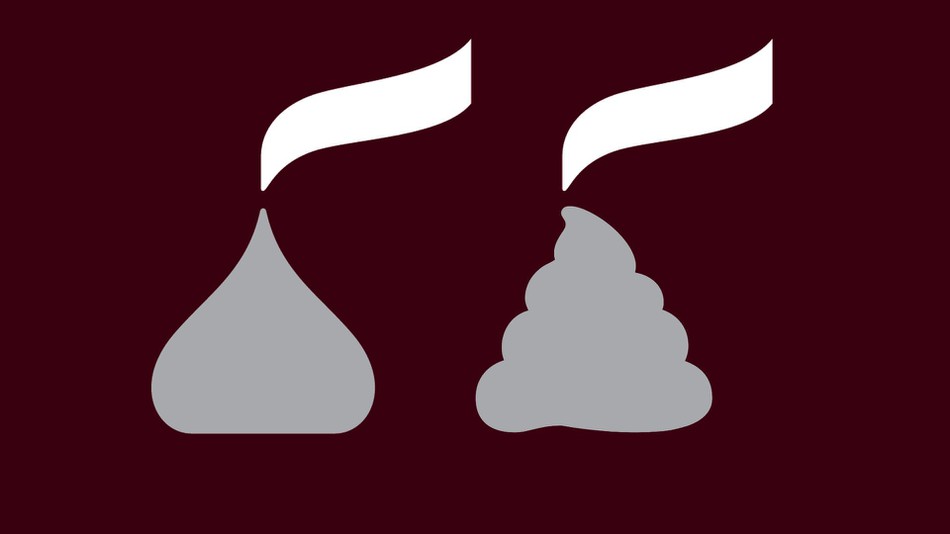 The aim of the company was to flatten their design; but the new logo failed to impress the internet. Many saw this new flattened kiss logo as a 'steaming pile of poo,'which obviously didn't do good for the classic chocolate brand.
Takeaway: If you have to rebrand, make sure you do it the right way. Try and test your logo before changing.
Honda's new fit
The car launched by Honda in 2001 was marketed in Asian markets as the Honda Fit; but it went as Honda Fitta in the European markets.
At the time they didn't realize that 'fitta' actually meant female genitalia in Swedish.
Image Source: Adland.tv
Thankfully the brand did realize their mistake and renamed the car as Honda Jazz. In this case rebranding definitely helped them earn some points, since it corrected their mistake.
Takeaway: The faster you correct and learn from your mistakes, the better it will be for your brand.
Starbucks' bold act
Howard Schultz, the CEO of Starbucks, has never shied away from getting his company involved in controversial debates, be it about gun control, US government gridlock or same-sex marriage.
This time they touched the most polarizing of the political debates – The Race relations. The brownie points were nowhere in vision; instead, all that the move earned for Starbucks, was ridicule and brickbats.
It was too hot an issue for people to debate about. The campaign survived; but only for six days.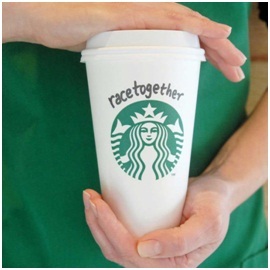 Image Source: www.eater.com
Takeaway: It is always better to stay away from controversial topics, especially if it is not one that your audience would want to discuss about.
Ayds' wrong product concept
Pronounced as aids, Ayds is actually a candy company from the 1970s.
The 'appetite suppressant candy' was all famous until the public became aware of Aids in the 1980s. The phonetic similarity of names started causing problems to Ayds in more than one way.
The 'appetite suppressant candy'got connected with weight loss, which was a symptom of AIDS. Although the company changed its name to Diet Ayds, the audience only saw the product as a cruel joke. Eventually the company had to withdraw from the market.
Takeaway: Rebrand when necessary and make sure you achieve your purpose.
There is one lesson that all these unsuccessful marketing campaigns teach us –get a thorough understanding of your target market.
In case your brand is a local one, the research that you may need is not much. Nevertheless, if you are on your way to become a global brand, you will have to employ an entire team to research your new target markets.
Not only should you gather information about the product elements or terms that might cause offense to your audience, you will also have to understand the product marketing techniques that work for them.
Mistakes are inevitable in marketing. But by paying attention to the mistakes that others have committed and understanding the reason behind failed advertising campaigns you can prevent a lot such mistakes from happening.