10 signs that indicate your website needs a redesign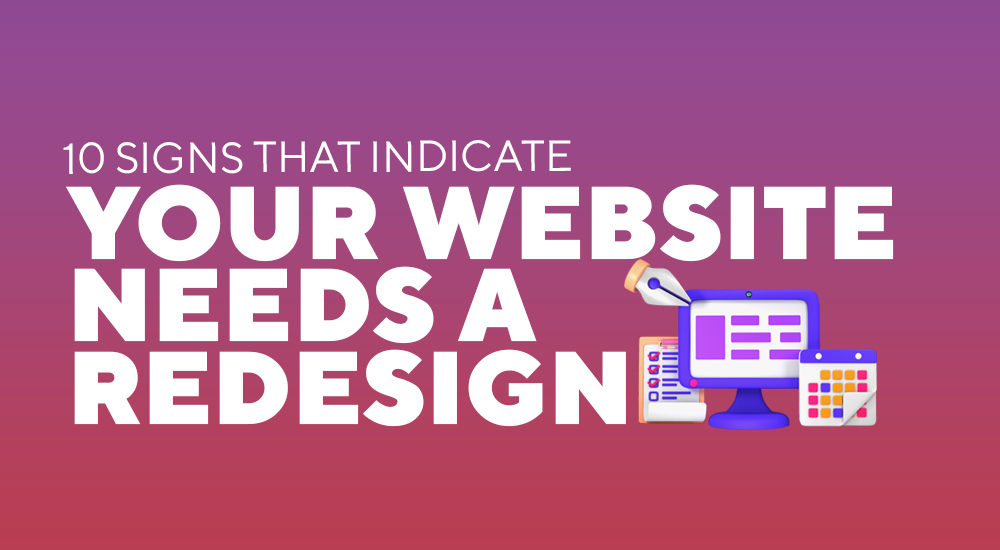 With the advancement in the tech world, almost every business wishes to establish a strong digital presence. According to research done in 2022 by the OECD (Organization for Economic Co-operation and Development), about 71% of businesses have a web presence. This number keeps increasing every year as more and more businesses understand the essentiality of having an online presence.
However, according to another research which took place in 2021 by Contentsquare, only 20% of websites are effective. This shows that the majority of websites are not functioning at their true potential.
This makes it extremely crucial for all companies to redesign and revamp their website to make sure the website is functioning optimally and is keeping up with all technological advancements.
Do you think you have an optimum website marketing strategy? Do you think your website is functioning at its true potential? Is it resonating with your company?  If not, Here is a 10-step guide for you to audit your website design.
Are your website conversion rates low?
If the visitors are not taking the next step after coming to your website, it is pointless to even have one. The whole point of having a website is to aim at high conversion rates in the form of generating leads, buying your products, or exploring your website. Establishing a clear call-to-action is crucial to increase the rate of conversion and if the conversions are low, it's time for a website redesign.
Does your website have an outdated user experience?
Is it easy for your users to easily navigate through your website? Is your website interactive enough to catch the interest of your users? Is your content clear and comprehensible? Is your website visually appealing? Is your page loading speed fast or is it lagging? Evaluate the overall user satisfaction with these parameters to determine the user experience.
Does your website resonate with your company?
Sometimes your website might seem great but feels like it belongs to another company, this indicates you need a website redesign. It is very important that the website clearly establishes the company's personality. Only when this is taken care of, the users who land on your website can connect with your company. Do a website SWOT analysis to determine if it resonates with your company or not.
Does your website utilize keywords?
If your website conversion rate is low, one primary reason for that might be that you are not utilizing keywords. If you want your website to rank higher, it is essential for you to optimize search engines. Firstly, conducting thorough keyword research to identify relevant keywords and later placing them strategically in various areas of your website can go a long way.
Is your website mobile-friendly?
According to research conducted by explodingtopics.com in 2023, 56.96% of all website traffic comes from mobile devices. This means that more than half of the people who visit websites use their smartphones to do so. Test your website over multiple devices to determine if the design is responsive enough to automatically adjust the layout and content according to the user's screen size and device. Make sure that the text and font are easily readable on small screens and simplify the navigation for mobile users. Assuring a convenient web experience for mobile users can go a long way.
Is your website working towards your direct goal?
Every website has a specific goal they are trying to achieve. Some might want to educate their users about their brand, while some might aim to generate sales. It is very important for the company to focus on its primary goal before being concerned about aesthetics and other aspects. If your primary focus lacks this, ultimately when you evaluate your return on investments, you'll surely be disappointed. Here your company needs a website redesign to align it with your company goals.
Is your website slow?
Imagine you go to your favourite website to buy some outfits, but the website is too slow and it keeps buffering. You'll show patience to some level because you are fascinated with the brand but after a point, it will get so frustrating for you that you will give up and you won't shop. Agitating a customer can have huge repercussions on your brand image. It is very important to ensure your website functions smoothly with a fast loading speed.
Do your competitors have newer websites?
Do your competitor's websites function better than yours? Are their websites more appealing and convenient to navigate? Do they have an upper notch over you when it comes to digital presence? It's high time you take this into serious consideration otherwise it can result in a massive loss for you. Evaluate your competitor's websites and come up with a design strategy to differentiate your brand from theirs.
Is making changes to your website complicated?
Whenever someone from your staff wants to make little changes to the website, like editing blogs, updating an event, changing some information, or maybe changing a product description. Does it get complicated and time-consuming? If so, you should change the functionalities of the website.
Is your business ready to grow?
Your website might seem great just the way it is right now, but does it match the growth rate of your company? As your company grows, the perception about it keeps shifting and the expectations that come along with them also keep growing. Your website should work as hard as the company, so if your company has considerably grown, it is time for a website redesign.
Your company website is your company's virtual representation 24*7. Since it is very easy for users to access your company from anywhere at any time, your website should also always be updated and functioning at a level that provides the ultimate level of consumer satisfaction.
Audit your company website on the above-given parameters to determine if you need to revamp your website or not. If that is confusing for you, you know we are here as your web design agency. For the last 22 years, we have been providing solutions for an optimized website. Let us be your website development agency to revamp or launch your website.