B2B Branding: Crafting a Resonant Business-to-Business Image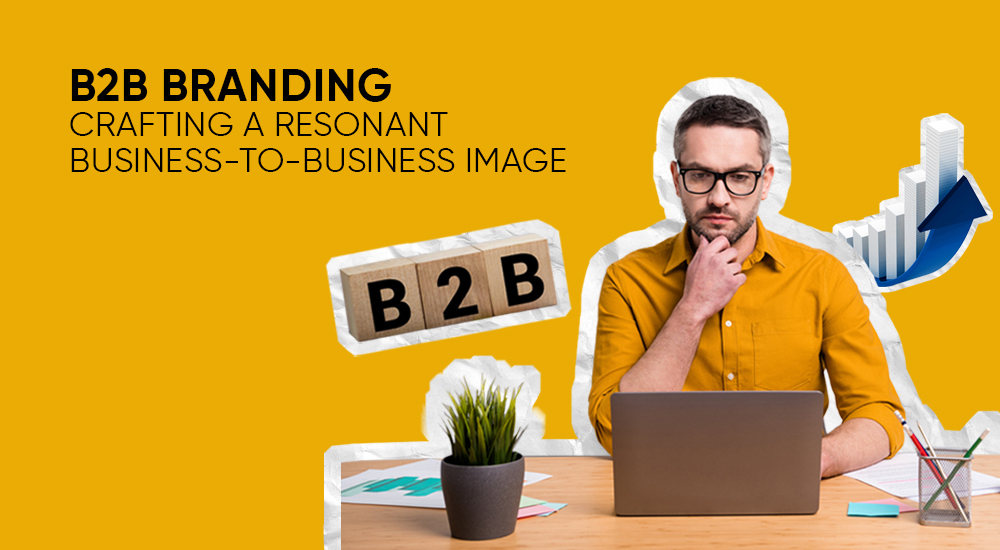 In the dynamic landscape of business-to-business interactions, where relationships hold the key to success, the vitality of branding rises more than ever before. B-2-B branding is all about creating, developing, and managing brand identity for businesses whose target audience is other businesses. Unlike consumer-focused branding in B2C, where the business goal is to connect with individual customers, in B2B, branding resonates with the needs, preferences and decision-making process of other organisations.
In the realm of B2B branding, the emphasis is on establishing a strong and trustworthy brand image that conveys value, expertise, and solutions to other businesses. Throughout our blog we will navigate through B2B branding strategies, How it is different from B2C branding, and the crucial role played by a branding agency in establishing an effective B2B branding strategy blueprint.
B2B and B2C branding have some distinctive differentiations due to a major difference in the type of target audience.
Here are some key differentiations between B2B branding from B2C branding:
Audience complexity:
In B2B the major branding decisions are often influenced by multiple decision-makers within an organisation. Whereas in a B2C the dealing is mostly with individuals which makes the process much simpler.
Purchase Volume:
In a B2B the purchasing is done in bulk quantities, whereas in B2C the purchasing is done on the basis of individual units.
Rational v/s Emotional approach:
In B2B purchasing decisions are taken more practically keeping emotions aside. The focus is primarily on the usage, quality, pricing, etc. Whereas in B2C consumers do indulge into emotional buying.
Relationship duration:
The magnitude of losing one customer in B2C in comparison to losing one entire business in B2B is incomparable. It is crucial to maintain deep, long-lasting relations with businesses in B2B businesses.
B2B branding is often neglected by many business groups, but we see how impactful effective branding strategies can be in fostering the growth of an organisation. It is very crucial for B2B businesses to ensure consistent branding efforts to maintain relations with clients, retain loyalty, and further grow the business.
Here are some b2b branding strategies to elevate your B2B business:
Define your value proposition:
Clearly define the value your company is offering to other businesses. Focus on what differentiates your offerings from the rest in the industry. Branding what your company stands for goes a long way in determining growth and success. Your unique selling proposition can be the price you are offering, the unmatchable quality, your unique offering, or anything that your customers can get from you they can't get from anywhere else.
Personalised marketing:
Personalise all your marketing messages to optimise the communication with your customers. Branding messages should be tailored according to the solution your client is seeking from you. If the personalised messages are accurate, the sales conversion rates can increase too.
Segmentation and targeting:
Identify and segment your B2B audience based on industry, company size, company type, company size, pain points, and needs. After segmenting, target each segment with different branding efforts.
Build trust and credibility:
Show your client success stories, show testimonies of your satisfied consumer base, showcase the projects you have undertaken, and show the trust other businesses have in you. This brand strategy can help you establish a reputed position in the market.
Invest in thought leadership and industry events:
Position your key employees as your thought leaders. Someone who would represent the ideologies and vision of your company. They can represent your company in conferences, industrial exhibitions, and panel discussions.
Consistent b2b branding over multiple channels:
Another B2B branding strategy is keeping consistency in communicating brand identity over multiple marketing channels. The messages, branding tone, details, brand persona, information should be the same over all platforms. This will keep intact the brand identity.
There are end number of branding strategies for establishing your brand identity but sometimes it is difficult for a company to come up with a branding blueprint due to lack of expertise, lack of time which is required to be devoted to developing it, lack of intellectual resources, and due to lack of proper understanding of everything that goes into coming up with a full proof branding plan for your organisation.
Here is when you need expert help from a B2B branding agency. With their branding acumen, along with their years of experience, they can deeply study your organisation and come up with the best branding blueprint for you.
Here are some key considerations that a branding agency should keep in mind while working on B2B branding projects:
Deep analysis of B2B branding landscape:
A branding agency should deeply analyse the internal and external forces that have an impact on the business. Analysing the target audience, business dynamics, competitors, and every other aspect can give you insights into what the branding strategy should revolve around.
Audience research:
In-Depth analysis undertaken by the agency relating to the psychographic, geographic, and demographic landscape of the consumer base is crucial for formulating branding strategies. The audience base can consist of decision-makers, influencers, and end users.
Creating value proposition:
The branding agency can help the B2B in creating a compelling value proposition. It should clearly establish the unique solution the company is offering that no one else has to offer.
Establish distinctive mental associations:
Your branding agency is responsible for establishing unique mental associations the target audience will make relating to the brand. By effective branding strategy, various mental associations can be established. Just how you always think about Colgate whenever you think about toothpaste.
Long-term vision:
B2B branding is always done with a vision of maintaining long-term relations with your clients. The focus is always centered on establishing a long-term relationship rather than short-term gains.
Here we have discussed a few key responsibilities undertaken by branding agencies, but this is just the tip of the iceberg. A lot more goes into the process of establishing a branding blueprint for a B2B organisation.
In the ever-evolving landscape of business-to-business interactions, the journey of creating a B2B branding blueprint will always be crucial. Remember, B2B branding isn't just about a logo or a tagline, it's the embodiment of your company's essence, values, and commitment to your client's success. Whether you've been in the industry for a long or you've just embarked on your B2B journey, the strategies we've delved into can be your toolkit to elevate your brand presence.
In the dynamic world of B2B branding, the journey is ongoing. Get in touch with us so that we can embark on your journey to come up with a branding blueprint to elevate your business after analysing your organisation in and out.