Website ROI- Why is it important for your business?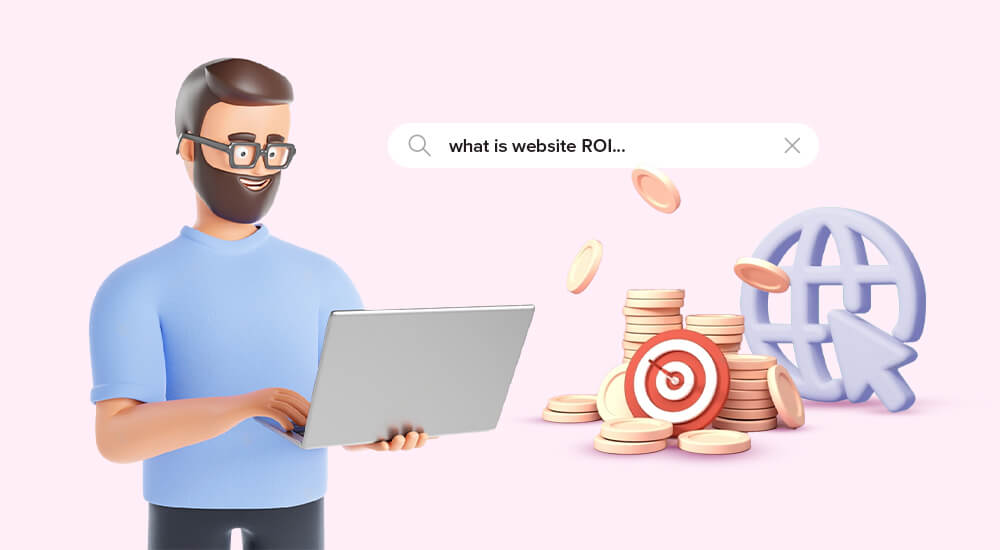 Many people consider their website to be the cornerstone of their marketing strategy and their first significant business cost. Your website is an expense, but also an investment because it serves as the central location for generating leads and closing sales. 
Your website should have a good return on investment (ROI) and help your company grow financially.
Based on the results you receive, ROI, or return on investment, can be used as a metric to assess the effectiveness of your SEO and marketing campaigns.
The term "return on investment" (ROI) refers to a comparison between the money you put into a website and the amount you may expect to receive in return for your money.
Your website is a valuable resource for your business that should ideally keep your current clients while bringing in fresh ones.
Finding out what your ROI is can be more challenging when you invest in a new website or scale up an existing one since you have to determine whether the benefits you are getting are worth the money you invested.
It can be challenging to determine this ROI in practice. Even though ROI for eCommerce sites can be more simply calculated based on sales, not everyone has one. 
Fortunately, there are several objectives that apply to all websites, like growing brand visibility, and engagement, generating more leads and boosting income. Your website's messaging and layout will play a key role in it too.
What is Website ROI?
Simply said, a website's ROI is a metric used to assess a website's productivity. It evaluates a website's return on investment in relation to its price. The worth of a website should not be confused with its profitability.
The success of your marketing approach has a big impact on the ROI your website generates. While the value of your website is its entire worth, which depends on a number of things, including its revenue (ROI).
What Makes Website ROI a Vital Metric?
ROI is the optimum key performance indicator (KPI) for gauging an investment's success. Since it is an important asset intended to produce income, this is similar to your website.
If your website's objectives are to raise brand awareness, create leads, or improve interaction, as with a blog, estimating your ROI is much more important. To enhance profit while meeting your website goals, you would need to regularly monitor your website's ROI.
A website's return on investment calculation provides insightful information that can help your company in the long term. Some of them consist of:
1. Helps you improve your marketing strategy
You can identify parts of your approach that need to be adjusted and optimised for better outcomes by calculating the ROI of your website. This is heavily influenced by the kind of website you run and your business objectives.
Your ROI will quickly show you if your website is a successful marketing channel, regardless of whether your goal is to increase sales or brand awareness.
2. Specific areas to spend money on
You must be aware of where to invest more or less if you want to boost the productivity of your website. You can recruit the necessary experts for the job by evaluating your website ROI because it will show you what aspects of your website need to be improved.
For instance, your website's interface, content, or design may be to blame if you observe a progressive decline in ROI over time. So, you might need to hire a seasoned web designer.
3. Crucial for maintaining your marketing budget
Being a business owner, managing your total finances depends on you staying within your budget. This is why it's crucial to determine the ROI of your website.
A website can be expensive to develop, redesign, and maintain. The ROI of your website must therefore be monitored to ensure its effectiveness.
4. More effective use of marketing techniques
When operating a website, you learn to experiment with several tools made to help track and evaluate your ROI. Various tools are accessible, and their complexity can vary based on your business and budget.
How Can Website ROI Be Measured?
You must be aware of the best analytic tools to utilise before you can begin tracking your website. Google Analytics is the most well-liked.
Most website owners use it since it is free, simple to use, and enables you to relate your website to particular objectives and assess its effectiveness.
Especially if your website is powered by WordPress, tracking it with Google Analytics may be rather simple. 
For access to additional features and the ability to integrate Google Analytics, you must sign up for a WordPress.com Pro account.
Professional websites maintain a number of components, including:
1. Calculate the Overall Costs
A user-friendly user interface designed to enhance the client experience.
A customer care chatbot that works to turn site visitors into leads and later, paying customers.
A lead-generating SaaS and mobile app sector.
High-quality content that informs users about the brand's products
All of these website elements require maintenance, which can cost anywhere between ₹10,000 to ₹10,00,000 depending on the type of website.
Consider the following measures to begin monitoring the ROI of your website:
Prior to calculating the ROI of your website, it is critical to ascertain your overall costs. This is an important aspect that must be taken seriously.
When you factor in the upfront costs of the website, such as the domain, site design, site development, maintenance, and support, you can determine your true ROI. Make sure to list and calculate all of your expenses.
If your website design is intricate or if you need more sales to see a return on investment, you'll probably have to spend more money.
A less complex website, on the other hand, might be less expensive to develop and maintain but might not be as effective at luring visitors or turning them into leads.
Project management, client communication, content management, and a content management system are some additional cost considerations.
2. Set Specific Website Goals
Your tracking approach is guided by the objectives of your website. It directs you toward achieving your website goals.
The most typical objectives of most websites are as follows:
A rise in sales
Increased brand engagement
An increase in conversions & leads
Increase in brand recognition
While some websites aim to boost sales, others could be made to increase brand awareness and encourage advocacy. ROI might not always be expressed in dollars.
3. Observe website features
Google Analytics is the most popular programme used to keep track of a website's operations. It monitors particular measures known as Key Performance Indicators (KPIs). 
You may decide how to achieve your goals with the time and resources at your disposal using website KPIs. They aid in defining, assessing, and improving the strategies you have to achieve your objectives.
Website Traffic/Visitor Tracking
Conversion Rates
Bounce Rate
4. Monitoring Search Ranking
SEO is a key element that can increase the return on investment (ROI) of your website. Your website is more likely to receive visitors and leads the higher it ranks.
You can determine your website's visibility and how simple it is for your target audience to locate it by monitoring its search engine rating. It will also provide you with advice on the tactics you should use to accomplish the objectives of your website.
Once your website is created or redesigned, be sure to regularly update and optimise your posts to improve search engine ranking. A website with a high ranking will enhance conversions, attract the correct audience, and improve user experience.
5. Monitor your sales funnel
Simply said, a sales funnel is the process your clients go through to make a transaction. Your website should have as one of its objectives nurturing your customers through these stages until they purchase your goods.
It's crucial to define your sales funnel after you've assessed your monthly traffic. Turning visitors into leads will enable you to gauge the effectiveness of your sales funnel.
A sales funnel moves from consumer awareness through the development of interest, desire, and finally, action (making the purchase).
Your sales funnel should be a part of the objective you have for your website. In this manner, you can track it via your website to calculate your website ROI. If you receive a lot of traffic but no conversions, you must rework your sales funnel from scratch.
6. Your Website's Duration
A good website can last for at least five years, yet a website cannot exist indefinitely. A website's lifespan is typically between two and three years, however, if properly maintained, it may last longer.
Your website's lifespan is an important indicator to take into account because it may help you calculate the maintenance costs, which can have an impact on your overall ROI. Redesigning your website might increase its lifespan and enhance its features.
It's critical to monitor your website's age in comparison to that of your rivals and search engines. This will assist you in staying up to current on redesign deadlines.
Conclusion- How to Calculate your Website ROI?
Let's go over a basic formula that will help you more accurately assess the ROI of your website while keeping the aforementioned advice in mind.
Say, for instance-
Your website receives 500 visitors each month, or 6000 each year.
Your website generates 300 leads each year if 5% of average visits convert to leads.
The main objective is to use the conversion rate to turn these leads into new clients. Therefore, if 10% of the leads generated turn into customers, you will get 30 new clients per year.
You must be aware of the lifetime value of your typical customer in order to calculate the final ROI for your website (CLV).
If the typical client value is ₹5,000, multiplying that figure by 30 will result in annual revenue of ₹150,000 for your website.
You would need to take into account other variables in real-world scenarios that would impact total cost and revenue. However, if you have a solid marketing strategy, it should turn your website into a priceless asset.
If you are looking for website development & design and marketing services, we can provide you with all of them under the same roof. Contact Litmus, today.