YouTube Ads: Best Platform for brand awareness and conversions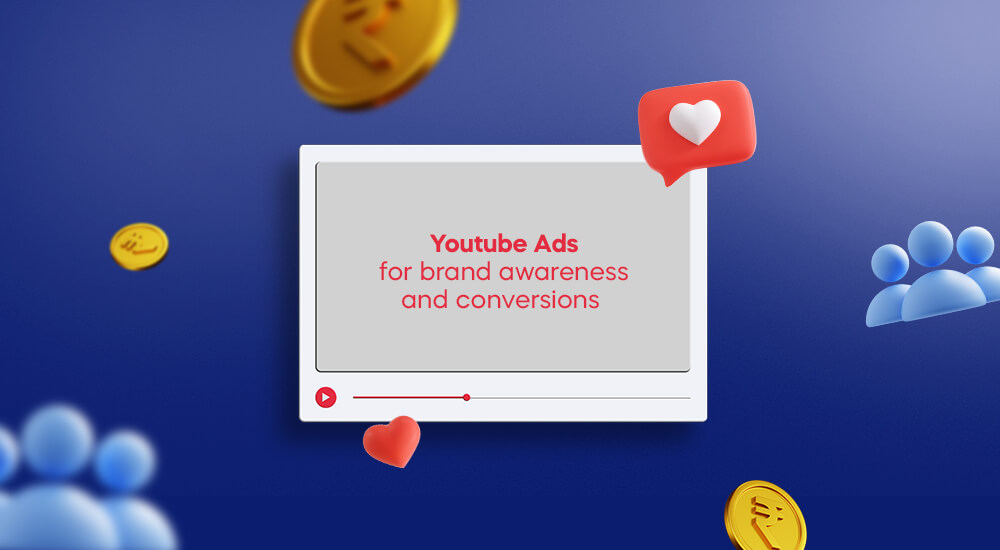 As brand managers or marketers, we always look for new platforms to promote our brands and get the best results. Paid Search is often the first thing that comes to mind when we think about the brand awareness platform to drive efficiency within Google Ads, and it's no surprise because it has proven to be a great channel that gets strong results. However, the video advertising opportunities provided by YouTube ads have grown to such an extent in recent years that implementing a YouTube marketing strategy is now one of the best moves you can make as an online advertiser.
What is a YouTube Ad?
YouTube advertising uses Google Ads to promote video content on social media platforms. Individuals and businesses can use YouTube business ads to increase the reach of their video content. Ads can be set up to increase video viewership and impact.
Individuals who use YouTube for free are frequently shown video advertisements. For example, an ad may appear before the user's desired video begins. Alternatively, multiple advertisements could be interspersed throughout longer videos. These are examples of YouTube advertisements.
The Advantages of YouTube Ads
Using YouTube Ads for your business has several distinct advantages. Here's a rundown of why you should use YouTube ads for better business development:
Amplify your reach
YouTube has over 2 billion monthly logged-in users. This figure is expected to rise further. As a result, YouTube advertising can reach a large number of people. There is a widespread misconception that YouTube is only for millennials and Generation Z. However, the platform's popularity has grown significantly across all age groups, with baby boomers representing the fastest-growing demographic. According to Google, baby boomers use YouTube for the same reasons as other age groups: to save time, to get help and learn about a product or service, and to be entertained. So, while the platform remains the obvious place to find the younger generations, advertisers have plenty of opportunities to reach members of the other generations as well.
Simple optimization
YouTube Ads provide helpful optimization options. Your video ad can be targeted based on its topic, relevant category of user interest, keywords, and demographics (e.g., age and gender). You can also place ads that are relevant to a specific YouTube page.
Return on Ad Spend
YouTube marketing formats typically use a cost-per-view (CPV) or cost-per-thousand-impressions (CPM) bidding system. Video ads are known to have an attractive ROAS when planned strategically, and they are even more cost-effective when compared to TV campaigns.
However, the effectiveness of YouTube ads is derived in large part by ensuring that they are shown to the right users. Targeting audiences, topics or channels that are in high demand with other advertisers may result in a higher price as a result of the bidding system. Targeting the same categories on Search or other platforms such as Facebook, on the other hand, is usually more cost-effective.
Converts interest into action
Once the marketing objectives have been established and the target audience has been identified, the ad format that best fits the desired business outcome must be chosen. Google Ads provide a variety of video ad formats to help achieve various goals, such as brand awareness, website traffic, and conversions. TrueView for action is one ad type that stands out for its ability to overcome the limitations of traditional video advertising. This is an in-stream ad format that can be skipped and allows viewers to take action directly from the ad.
YouTube Ads offer useful optimization options. Your video ad can be targeted based on its topic, relevant category of user interests, keywords, and demographics (e.g., age and gender). You can also place ads that are relevant to a specific YouTube page.
Advanced Targeting
According to Google, YouTube has the most attentive and engaged audience on the web, making it a very appealing platform for advertisers. However, we all know that ensuring that the right ads are shown to the right people is critical to achieving any marketing objectives. Fortunately, YouTube marketing benefits from the full suite of targeting options available on Google Ads, and others that go above and beyond what is available on Search. Given the variety of targeting options available with video ads, it is possible to provide users with a truly bespoke advertising experience. These include demographic targeting, life events, personal interests, video topics, and customer data manually uploaded via the Google Ads interface.
'Custom intent' is a powerful targeting option worth mentioning. This audience type was designed with performance in mind, allowing advertisers to reach YouTube viewers based on keywords they've recently searched for on Google properties (such as Google.com and YouTube). This means it's an excellent tool for reaching out to a large number of undecided customers and serving them the most relevant ads (hopefully positively influencing their decision). Custom intent audiences are also quite versatile in that they can be used to target competitors' keywords as well as people who browse websites similar to the URLs added for that specific audience, assisting in the identification of ideal customers who have yet to be converted.
How do I use YouTube ads to grow my business?
YouTube, with its massive reach and impressive growth, provides incredible advertising potential and overcomes the historical challenges associated with television and video advertising, namely the lack of direct control over performance. The budget flexibility and low CPV and CPM (in comparison to search and other platforms) are added bonuses, allowing businesses to test the potential of this channel without committing to a large investment.
YouTube majorly has 5 types of ads-
Masthead Ads
Bumper Ads
Non-Skippable Ads
Video Discovery Ads
Skippable Ads
So, choose the best form according to your requirements. However, YouTube can cost more if not done strategically. So, choose a YouTube video ad agency like Litmus Branding. We come with experience and have delivered great results to our clients. Get in touch to know more.