Understanding Experiential Marketing: Best Practices, Types & Examples
Technology and social media have made it simpler for companies to market directly to their consumers in all sorts of innovative ways. However, these marketing tactics still lack the engagement quotient of conventional media.
Just think about the number of pop-ups you see flit across your small screen that you cross and kill in a day.  Chances are you probably won't recall any because what they lack is a component of experiential marketing.
Experiential marketing is a strategy that engages the consumer fully by giving him/her a feel of real-life exposure to the brand or a service. It produces an immersive experience as rich in texture, as you may have felt during a live event or a musical concert.
Other names for experiential marketing are "live marketing," "participation marketing" or "brand activation," because it draws the consumer deep into the brand in real time.
Types of Experiential Marketing
As one of the most creative, albeitchallenging marketing strategy, it's also a lot of fun. Let's begin the discussion by examining some of the most creative examples of experiential marketing.
Zappos: "Google Cupcake Ambush"
To help promote its new photo app, Google began rolling a cupcake truck down the busy lanes and bylanes of the streets of Austin in Texas. The unique thing was people didn't have to pay in dollars for the cupcakes – only have their photo taken with the Google app and in lieu, claim a cupcake that came in a Zappos-branded gift box. And because no one ever says 'NO' to a free lunch, prospects are willing to stop and experience the new app. Once this initial hurdle, they are hooked.
It's obvious that to have people hooked to your product in this manner; it has to be damn good in the first place!
And in this clever trade-off, Zappos, an online shoe and clothing retailer based out of Las Vegas, was no loser either! A box-on-feet was a clever idea at positioning their product line next to Google and sharing the spoils from this kind of ambush, experiential co-marketing efforts.
Takeaways for Marketers
Use experiential marketing as a co-branding opportunity.
Pick a partner in a brand who is targeting the same audience but may be in a different product line
Conduct a Class or a Workshop
Doc McStuffin is a Disney Channel TV show about a six-year-old girl who plays doctor-doctor with toys at her imaginary clinic.
To promote the second series, run in 2014 Disney recreated a doc's clinic in Tesco, Smyths and Toys R Us in the UK. Children walking into the mock-up clinic store were given a 10-minute immersive experience. As doctors they had to figure out what was wrong with Big Ted.
The outcome?
Nearly, 8,000 children took part in the experience, 75% of whom rated it as 'excellent' and it resulted in 5.3% increase in the branded merchandise sale.
This was a lot like Bollywood celebrity-star Salman Khan invested KidZania, where children of all ages get to experience top brands in a highly innovative, experiential way. After the first successful launch of a store in Mexico in 1999, today there are 24 KidZania Parks operational around the world with 10 more to be launched by 2020.
KidZania reportedly has received over 35 million guests around and ranks as one of the fastest growing global edutainment brands in the world. Read more about KidZania's experiential marketing activities targeting children here.
Takeaway for Marketers
Since it's next to impossible for a brand to satisfy every unique need of a customer, marketers can at least identify common needs in customers of similar demographics to accurately segment them and tweak their brands accordingly.
Live Demonstration of a Product's Features
Cosmetics brand Lush runs an annual Creative Showcase to showcase its fresh line of products and build up sales. Many cosmetic brands across the world give this kind of an immersive experience by having their staff give product demonstrations and give "make-overs" to interested customers. Automotive brands do this by offering test drives.
Takeaway for Marketers
Despite the digital age, which does not support touch-and-feel, people, especially in India, still prefer to buy from stands and look for an opportunity to try before they buy.
Brand Activations
For about three years now, lifestyle brand Refinery29 has been hosting the 29Rooms event or what it dubs as "an interactive funhouse of style, culture, & technology." Each year, 29Rooms has a different theme for the event. Once it was "Turn It Into Art," where participants were invited to saunter through various rooms and create something. One room, for instance, invited guests to on pull on gloves and hit punching bags to produce different sounds to create a symphony of sorts. Watch it now.
Takeaways for Marketers
Go nuts, to make it a fun experience for the guests and have them attend it, otherwise what's the point?
Guerrilla Marketing
Experiential marketing might sound a bit like event marketing, but it's a tad different.
Coca Cola celebrated the start of the 2018 Fifa World Cup with an augmented reality (AR) experience outside of Zurich train station.  Participants could show off their skills on screen with Switzerland's Xherdan Shaqiri, take a photo with The Powercube and enter a competition to win the official match ball of the Fifa World Cup, arguably one of the world's grandest sporting events
Takeaway for Marketers
Guerrilla marketing has also gone digital. Think about where your audience already exists digitally — then, give them a flavour of your brand.
Build a Buzz for the Brand
A premium jewellery brand in Ahmedabad, Bharatji creates a lot of buzz and excitement through social media before the launch of a new collection. Check out their Facebook posts and You Tube video here.
Takeaway for Marketers
In experiential marketing pre-buzz is almost as effective as post-buzz.
Experiential Marketing's Best-Kept Secret
In today's time and age, its worthwhile going social with your experiential marketing. Let them go viral. A recent, Harris Group study found that over three in four millennials (78%) choose to spend money on an experience or event over actually buying something desirable, and 55% of say they're spending more on events and live experiences than ever before.
Top tips on experiential marketing
Build a Buzz for the Brand
Cleverly embed your brand into the experiential activity
Set pre-defined marketing goals and measure your success
Know what action you want users to take
Emphasize on the exclusiveness of the experience
Make the experience ultra-memorable
Benefits of Experiential Marketing
Experiential marketing sells when a product perfectly matches a target's lifestyle and not just serves a functional need. This should give you lot of ideas to exercise your creativity. Also remember that:
Experiential marketing dramatically increases social media shares
Experiential marketing can create a huge buzz for your brand
Engagement builds brand loyalty
Experiential marketing campaigns make news, as we did for Bharatji. See below image: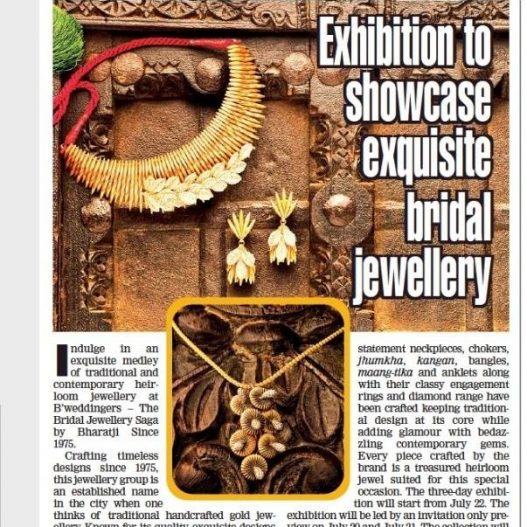 In conclusion, experiential marketing should not just aim at entertaining a consumer but also informing him/her about your product attributes. Finally, just throw a splash of color into your strategy to leave a strong memory of the brand experience.
For more, log on to https://www.litmusbranding.com/blog/blog/long-live-experience/.
A Few Coolest Experiential Marketing Examples
Fashion Revolution: CreatesTrust
Fashion Revolution's 2-euro T-shirt stunt in Berlin was a great example of a brand using experiential marketing to promote their T-shirts. Watch it now.
British Airways & VisitBritain: Go big!
The #OMGB (Oh My GREAT Britain) 'Home of Amazing Moments' print and digital campaign effectively showcases the incredible experiences a tourist can expect to have in Britain. As part of the campaign strategy, British Airways offered discounted airfares of up to 20%, along with a competition to win a trip for two from South Africa to the UK.
Vitamin Water: Make It a Game
Vitamin Water set up a simple game inspired by playground games in London, which turned out to be a fun way of associating visitors' signature with the brand's colours on a partner website.
Angry Birds: Make the Experience Fun
In Barcelona, Spain, T-Mobile set up a booth where people could use a new phone and play Angry Birds. Watch all the fun unfold here.