Most Memorable Digital Campaigns of 2018
Here is a recap of the best 2018 had in store for us in terms of digital delights
In the year gone by,
68% of brands leveraged digital marketing to promote their products and services online
42% of brands continue to use social media marketing as their primary form of digital marketing
33% allocated over 40% of their marketing budget to digital
40% went digital primary for lead generation
Not surprisingly, the Indian digital advertising industry is poised to grow at a CAGR of 32% to Rs 18,986 crore by 2020. This number may be small compared to TV, print and outdoor advertising, but considering the low base it started from, the pace of growth has been steadfast.
By one industry yardstick, digital ad spends will cross Rs 19,000 crore in three years which is almost same as the size of the print ad industry today. It is expected to grow at 3X on average. Of this, mobile alone is expected to corner a market share of 60%.
Increasingly, brands across sectors are being to have more digital in their marketing spends, compared to conventional media. Because of the innovative nature of the medium, the conception and execution of the campaign is fresh and out-of-the-box, with the power to impress and persuade new age consumers.
Here are few of the most memorable digital marketing campaigns of 2018 that are worth recounting:
During the flash floods in Kerala, one of the most notable campaigns to impact national consciousness was #Donate4Kerala. Zee Channel launched a TV & Digital campaign that invoked the memory of humble banana chips "Golden Coins" to nostalgically implore India to sink their differences and help God's own country recover from the crisis.
Next on our popularity chart was WROGN in 60 Seconds, starring cricket sensation Virat Kohli, besides Brendom McCullum, Ashish Nehra, Yuzvendra Chahal and Umesh Yadav all locked in a rapid-fire Q & A session that had audience in splits and was very high on entertainment quotient.
Guys, the madness has begun. Catch me and my #RCB pals in round one of #WrognIn60Seconds right here. #StayWrogn @StayWrogn pic.twitter.com/N3bxM58p4D

— Virat Kohli (@imVkohli) April 18, 2018
Then sports brand Adidas took a fresh and creative approach to digital marketing this April when they shot a video of 30,000 runners at the Boston Marathon to showcase its latest running apparel. A touch amateurish – which was deliberate –it gave a rich feel of the behind-the-scene buzz, presented against the backdrop of a peppy number, as each participant prepared for the run.
Next, UK-based charity, Children With Cancer came out with a very basic, motion graphic campaign 'Keeping Families Together', where the trick did not lie in the animation, or the technique, but in the simple idea of having a bell ring in the end, resonating with each cancer-ridden child's announcement of a disease-free existence. The bell tolled for those who had successfully completed their treatment. The campaign itself could have used slicker graphics, but the idea itself was good.
Then to announce the launch of its new running shoes, Epic React, Nike rolled out a 360 degree campaign, Reactland that invites users into the heart of a virtual video game to give them an experience of the brand's cutting-edge sole cushioning technology used in crafting the hot, new pair of sneakers. The buzz phrase for this tactic is immersive experiential marketing.
When social media platform LinkedIn wanted to break the myth that it was a business networking platform only for the "white collared" – guess what did it do?
It came out with this highly slick production of "In it Together" during the Golden Globes award show. , an advertising move uncharacteristic of the brand in the past. Read the full description of the campaign in this blog post that explains that LinkedIn is with you in whatever inspires you a career. The campaign has gone viral as an online video, digital display, paid social media, outdoor ads, podcasts, radio spots, partnerships, and through search engine marketing.
But our award for 2018's most moving digital campaign goes out to — this very creative spot by French telecom player Bouyges of a boy who after several years comes to appreciate his father's "dad dancing" in front of a Christmas tree, only when he becomes a dad. The campaign currently on air on French TV effortlessly embeds cell phones into the holiday mood, in a very emotion-laden manner.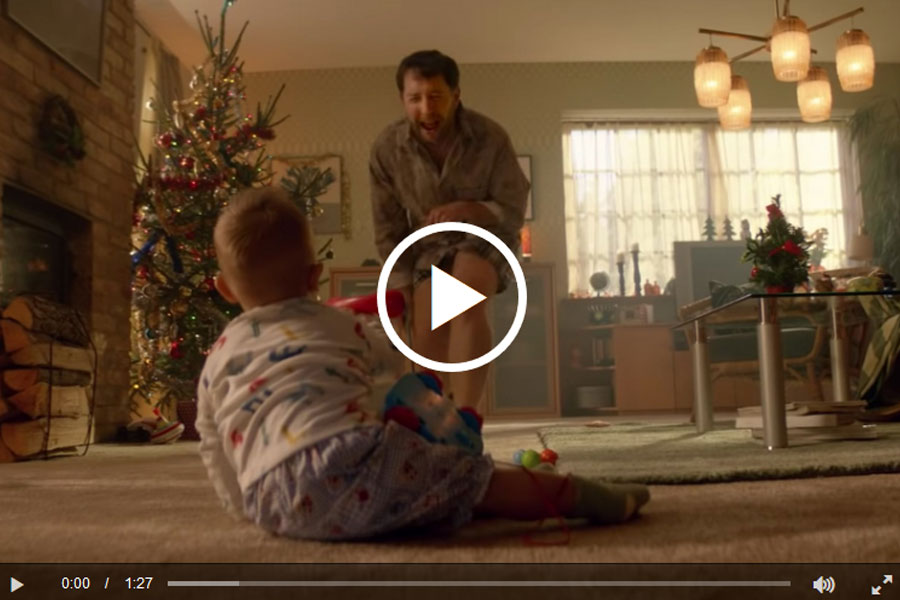 The winning line is "This Christmas, bring home much more than technology."
Awesome! Watch it. We bet it will bring a million-watt smile to your face.
Before we sign off, did you notice that all of these campaigns use loads of emotions and empathy? The sentiment that pulls heart strings remains the same, only the medium changes for more impact.
Happy New Year 2019!