Good Things Come in Small Packages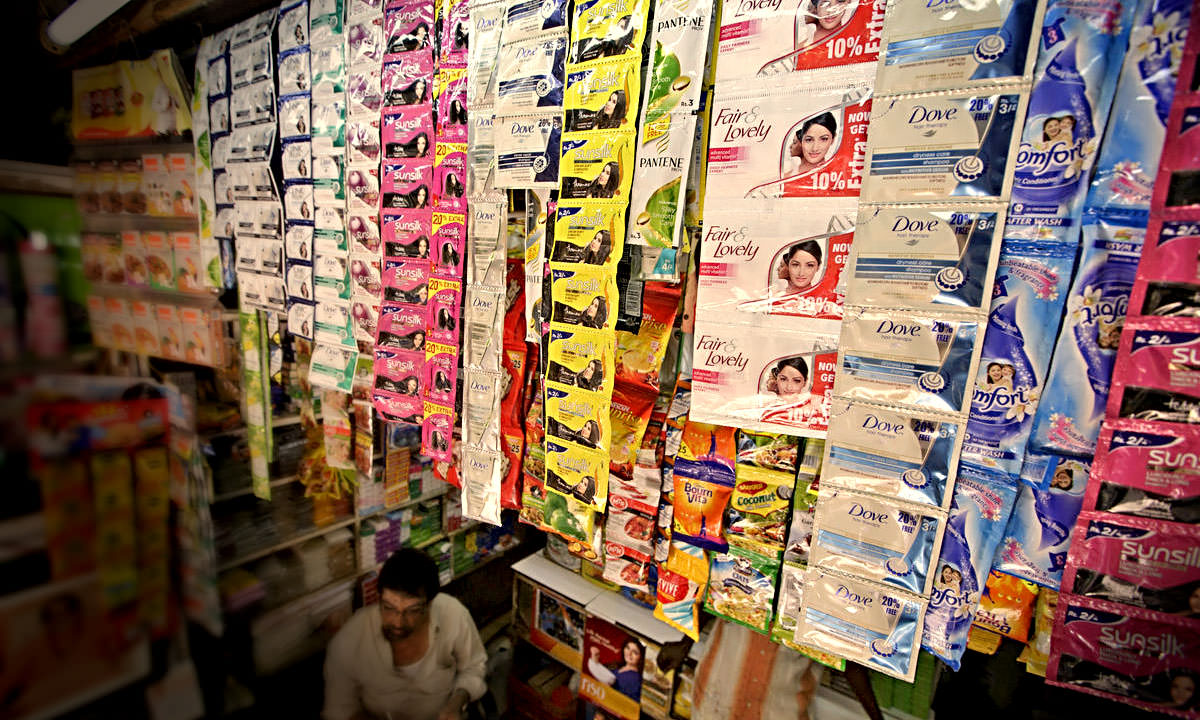 How pouch packaging changed the ground rules to help FMCG players penetrate the country's rural hinterland.
Packaging has never been as interesting or as innovative as it is today, and pouch packaging became a disruptive force to penetrate the rural market, some four decades ago.
I recall having a discussion recently with a client. They are a leading player in personal care industry, a manufacturer of various cosmetic brands and our topic of discussion was stock keeping unit (SKU) and its importance. Our client rightly felt that in his industry, size really matters and is intimately linked to a consumer's ability to pay, buying habits and general perception of hygiene.
Several years ago kirana shop owners would put tea, flour, powders and other commodities into paper bags fashioned out of old newspapers in their spare time by the store owner's family. Since then we have come a long way and packaging trends also reflect the need for convenience, speed and efficiency.
Consequently, there is a sharp rise in the demand for single-serve, ready-to-consume, rip-and-eat product packaging. It must also be luggable, wherever they go. The solution for that lies in miniature packaging; the single-use sachet, a simple flat pouch or stick pack for powders and other runny liquids and gels.
Although consumers generally associate the 'sachet' revolution with HLL brands, the trend got kicked off when an ophthalmologist by the name of C K Rajkumar established his small shampoo manufacturing unit M/s Pharma Care Pvt. Ltd. in Cuddalore, Tamil Nadu in 1979 and began selling sachet shampoos under the brand name Velvette.
The experiment proved so successful that it soon changed the whole dynamics of the shampoo industry in India. A new set of consumers from rural pockets could now afford shampoos and for the womenfolk it became their main cosmetic item. The choice of the retailing channel also paid a major role in its distribution. From chemist stores, the sachet moved out to pan-beedi hawkers to become even more of a regular, grooming habit for the rural folk for whom this SKU was rightly priced at Rs 3 per sachet, or even lesser.
Today, almost every FMCG product is available in small packs from facial creams to shampoos, detergents, tea, coffee, candies, you name it. Besides form differentiation, convenience, and affordability, distribution of sachet is also easy in the far-off, Godforsaken markets that are poorly-connected by roadways. Here are the main milestones in the sachet history:
Catering to the bottom of the pyramid
• HLL launched a liquid version of its flagship soap bar, Lifebuoy in a sachet, ridiculously priced at Rs. 2 for 50 gm. This was soon followed by Godrej's roll-out of Cinthol in 50 gm for Rs 4-5 per sachet.
• Coke & Pepsi rolled out their carbonated soft drinks in 200 ml.
• Cavin Kare launched Ruchi Pickles in sachets
• Feviquick came out in one-use pack
• Maggi Noodles introduced Rs 5 pack
• "Sun fill" a powdered soft drink concentrate is available in a single serve pack or sachet of 25 gm priced at Rs 2.
• Mysore sandal soap is available in a travel pack, aimed at the modern-day working woman
• P&G's whisper ultra sanitary napkins come in 10 unit pack size and occupy even less retail space on the shelf
Today, single-use sachets are hugely popular for their ease of use, aesthetic appeal, and portability. Coffee, tea, snacks and vitamins packed in small SKUs suit a hectic lifestyle lived out of suitcases. Powders and granulates (in place of tablets) are also increasingly being packed in friendly sachets for the same reason and are easier to absorb and work their magic faster.
While earlier, packaging's main purpose was to protect goods, today, it has evolved to become integral, defining feature of the product, as well as, reflects a lifestyle choice. Manufactures have the opportunity to profit from trend by investing in advanced sachet packaging technology thus increasing their market share and profitability, because, it appears to me that single-use packs and flat pouches are in the market for a long inning.