The Ever-Growing Industry of Mobile App Development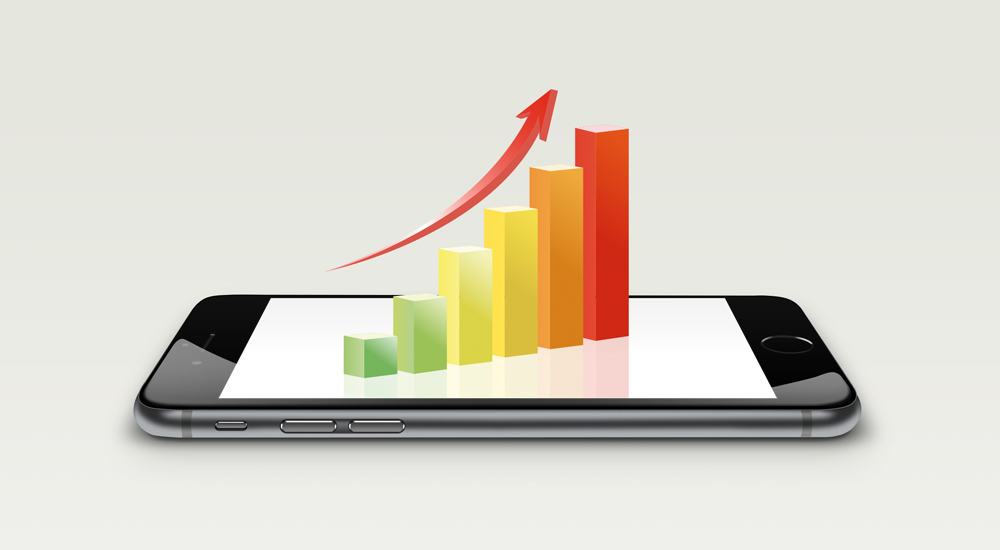 Mobile apps have become an integral part of our lives today. An average mobile user in India would spend about 155 minutes on mobile apps every day. This makes India the third largest mobile app user in the world.
Mobile app market in India is growing at a rapid rate, without any end coming into sight. This has quite expectedly created a boom in the population of mobile app developers. With the number of mobile apps hitting new heights in the market, the revenue generated by the mobile app industry as a whole, has also skyrocketed.
Smart phone users in India have resorted to mobile apps for many of their day-to-day functions. They use apps to connect and communicate with their friends, read books, recharge their phones, pay up their bills, make fund transfers, book hotels and flight tickets, purchase products and many other purposes.
It has not been too long since the Indian government came up with its demonetization plan. This endeavor to reduce corruption, boost growth and shrink the black economy did cause a bit of inconvenience to the residents. They had to stand for hours in the lines at the ATMs; and there was no guarantee that they would get the money, although it was theirs. Nevertheless, the results were truly amazing…
219 million people opened bank accounts
14 million downloaded banking apps
The use of digital payment method surged up to 80 fold
The existence of many mobile app developers, a competitive mobile market and the billion connections are a few factors that have led to a mobile app revolution in India. With the consumer interest increasing, there has been a remarkable boost in mobile apps related to mobile wallets, banking, budget and groceries. The 3G and 4G mobile networks have enabled the 260 million odd smart phone users of India carry out their transactions in a hassle-free way.
With all elements falling into place, it won't be too long for India to become the global leader of Digital revolution.
The telecom network is becoming more and more competitive by the day…
The costs of mobile handsets are going down…
There is Wi-Fi network available at many public spots including bus stands, railway stations, airports, cabs, restaurants and shopping malls…
Many Internet start-ups have emerged in India to cater to the ever-growing demand for digital services.
The Indian Government is coming up with response mobile apps to provide easy-to-access services. Not only do these apps help people in staying connected with the government, they also keep them updated with the latest and offer them an opportunity to participate in the government initiatives.
So, whether you want to ensure the cleanliness of the streets of your city or file an RTI, you can do so through the Government of India app.
Here is a list of a few popular mobile apps of India:
MakeMyTrip: The optimized browsing experience, the exclusive discounts, the rewards and the exciting travel deals – all of these count when it comes to making the MakeMyTrip app the most popular travel app of India. It makes travel planning loads of fun and absolutely hassle-free.
IRCTC:This app of Indian Railways makes it very easy to book railway tickets in India. You can also book exclusive tour packages. Apart from railway tickets, you can also book bus tickets and flight tickets.
Goibibo: Goibibo is another must-have travel app through which you can book flight tickets and hotels. Now every time any of your contacts book their tickets using Goibibo you get to earn 'goCash.' You can use this 'goCash' to book your own ticket, at a later date.
Gaana: If you are a music lover, Gaana is one app that offers unlimited access to Bollywood music and regional songs. By paying a nominal subscription of Rs.99 per month, you can download unlimited songs on to your device.
BookMyShow: Want to book a movie ticket? Download the BookMyShow app. You can also book your tickets for theatre plays and other events happening around you. The complete schedule of upcoming events makes it easy to book your tickets in advance. You will get prompt reminders regarding the show timings.
Wynk: Wynk is Airtel's own music streaming app with more than 2.5 million songs. The huge music library offered by the app covers all genres including Devotional, Rock, Pop, Party and Bhangra. If you buy a 3G or a 4G data pack from Airtel you can get a Wynk subscription absolutely free.
Paytm: Paytm is an online payment app that is among one of the fastest in India. Apart from letting you pay your bills, it also offers an online shopping experience. You can do many more things such as sending or receiving money, paying up your insurance premium and book cabs using Paytm.
FreeCharge: This is another online payment app like Paytm. Apart from shopping online and paying bills, you can use this app to send and receive money with your Whatsapp contacts. The amazing discounts and cashback offers have made this app very popular across India.
MobiKwik:Like FreeCharge, MobiKwik also gives you cashbacks whenever you shop cashless using the app. Apart from this MobiKwik helps you find buses, get information on ticket prices and routes and even pay for your journey.
Teen Patti:Gaming apps will never go out of style. This is true with this popular card game app Teen Patti too. It has managed to achieve over 5 million downloads by offering excellent gaming experience to its users.
Car Run: If you are interested in racing games, car run is one of the games you must play. Apart from being fast and action-packed, it tests your driving skills as you evade the chasing police cars.
Flipkart:Shopping need not be tiring with apps like Flipkart. You can shop for anything you want, right from the comfort of your home. The additional discount that you get for shopping through the app makes it more interesting and appealing.
Snapdeal: This is another e-commerce app that is popular for the online shopping experience that it provides to its users. You can get the same discount offers that you see on the Snapdeal website.
Infibeam: You can use Infibeam to buy any product from any category such as mobile phones, books, accessories and more. The 'magic box' and 'hot deals' offers help you get the best rates for the products that you buy through this app.
The apps are available in plenty for downloading on your mobile. Yet, the potential of the market still remains untapped.
While 88.5% people in America are connected to the internet, it is only 35% of the Indian population that enjoys the internet connection.
In spite of the untapped potential, the growth that is happening in the industry of mobile apps is something that is really worth taking notice of. Millions of apps are getting developed to cater to the needs of individuals, small businesses and the community at large.
Today, anyone in India can build his/her own mobile app and capitalize on the country's ever-expanding mobile market.
So, are you ready to jump the bandwagon yet?