21 Years and Counting…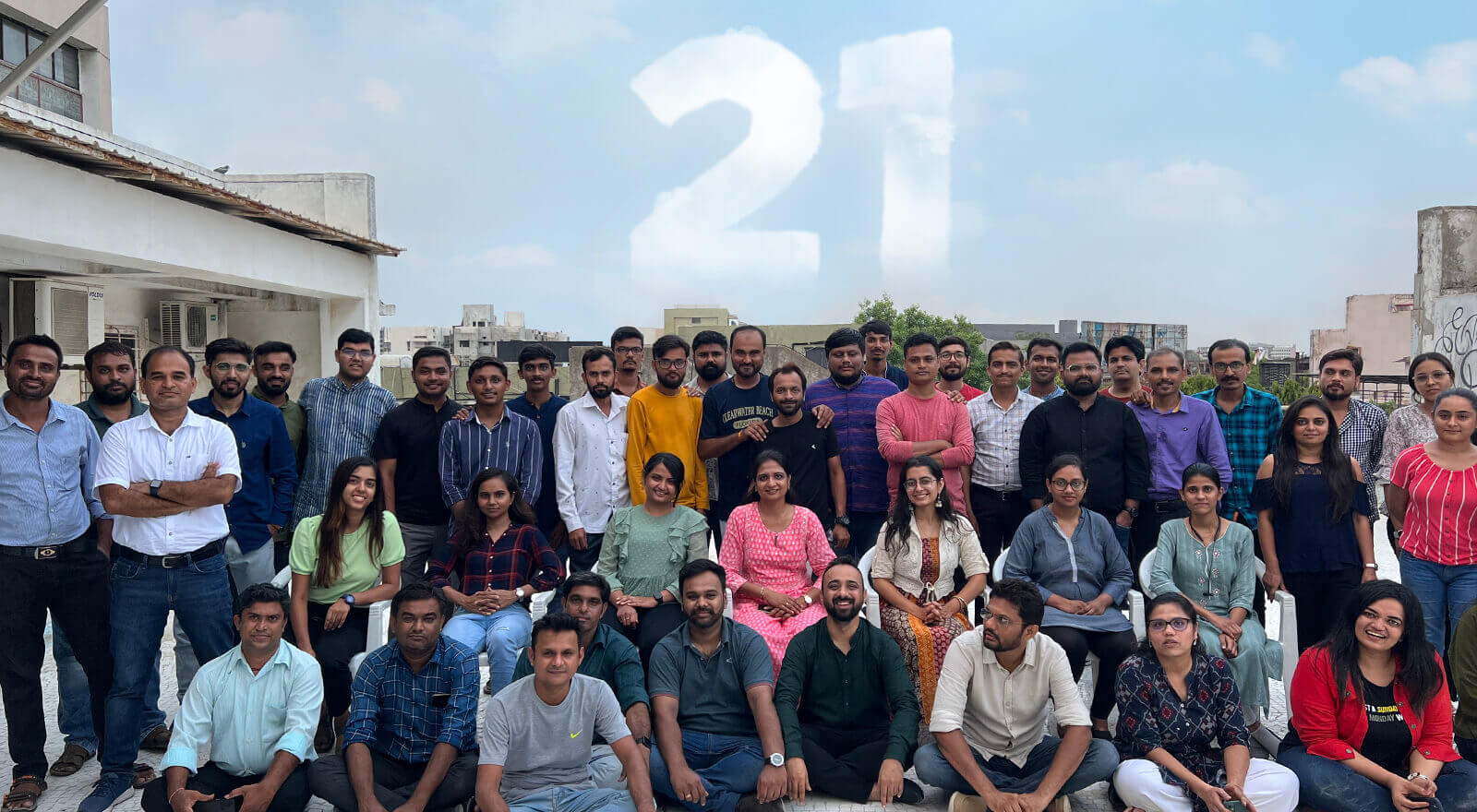 It feels like we just started this journey yesterday, on 27th June 2001. 21 years have gone in a jiffy and look, here we are, cutting the cake with '21 Years of Litmus' written on it.
So how has this journey been? Exciting, challenging, exemplary, memorable, eventful, joyous, the list is endless. And what has made this journey so?
There are so many possible answers to this question. We believe a journey is never lived alone. We have so many people and incidents to thank. Our clients, our associates, our ex-employees, and of course, our team and their families who support them back when they are at home. Every person who has ever been associated with litmus has brought something to the table that has made our journey easier, better and more interesting.
Over the years, we have built brands for clients and some for ourselves. We have seen the world move from 6-inch floppy disks to 6-inch screens, from pens to styluses, from speeches to podcasts, from spectacles to VR glasses, and from projector rooms to metaverse. And in all these transitions, there was one that we never spoke of, that is our own.
We remember that there were several occasions when the change was a necessity. And, we never resisted that change. That is what has made us last for the last 21 years.
What were some of the most iconic moments? Here's a quick recap-
Starting Litmus back in 2001 as a screen-printing and designing firm.
Winning an award for one of our screen printing projects.
And BAM, deciding to shut screen printing down to focus more on design projects.
From struggling to buy our first computer to hiring the first person in the web team.
Hiring a copywriter, for the first time.
Engaging with brands of national importance.
Going to Dubai for a food festival.
Making our first brand video & culture video and of course, the new website.
Working with International clients.
Revamping our website, bringing the little boy in.
Introducing our new business, Oilpixel, Digital Portrait Paintings.
Moving to a bigger office from our beautiful terrace office.
Introducing Bonasila Planters, the next product brand by Litmus.
Growing in team size and including more capable members in the management team.
Starting a new business, Pawstro for Digital Pet Portraits.
Not letting the Covid-19 Pandemic dim our spirit, but rather seeing it as a learning & growing curve.
Introducing HaveRaw, our organic foods brand.
Growing our already strong foothold as a digital advertising and branding agency.
Changing 7-8 different offices in all these years and now, having 2 offices.
Revamping our website yet again.
Turning 21.
To be continued…
How are the people who have seen Litmus grow from a toddler to an adult feeling today? Hear it straight from them-
Kapil Vaishnani, "I am the happiest on every birthday of Litmus. No other date actually means this much to me. With the launch of the new website, I can confidently say that a platform has been built. A platform to reach even bigger heights. I am excited, we all are."
Hiren Panchal, "I am overjoyed to see the light of day since there have been few enterprises, particularly in advertising, that have survived these 20 years. It's been a wild trip, but the excitement was well worth it. If I were to sum up the previous 20 years, it would be as follows: the sum of the tiny things is far more significant than the sum of the great things."
Shreyas Nair, "This is actually the beginning of something much bigger for all of us. In our entire journey so far, our people have played a very crucial role in helping us evolve as an agency, whether it was about making financial decisions, taking risks, managing workload, or, at times, just deciding what not to do. At this point, there is a lot of emotion and energy involved. There is a lot to learn, lots to be done, and nothing can stop us now."
Brinda Mehta, "Litmus has aged to gain fame and spread its wings in the digital world. I value it completely and will support it with my whole heart to grow further."
Robin, "I was waiting for this new website for so long. I think I am the happiest one that Litmus has turned 21. I have been here since the beginning and I know we are going to achieve so much and take the company to great heights. I love my company."
What next?
Well, we know and we don't. We know what kind of work we want to do, what kind of clients we are looking to onboard and what kind of talent we are going to grow with.
What we don't know is what route the world will take, in terms of technology, its advancements and the communication that will change with the changing times.
We have seen 2 decades and we have seen so much change, but we are certain of one thing. We will evolve. Do you know why?
Because,
We are Seekers. We are Limitless.