YouTube vs. Vimeo: Which is Better for Video Sharing?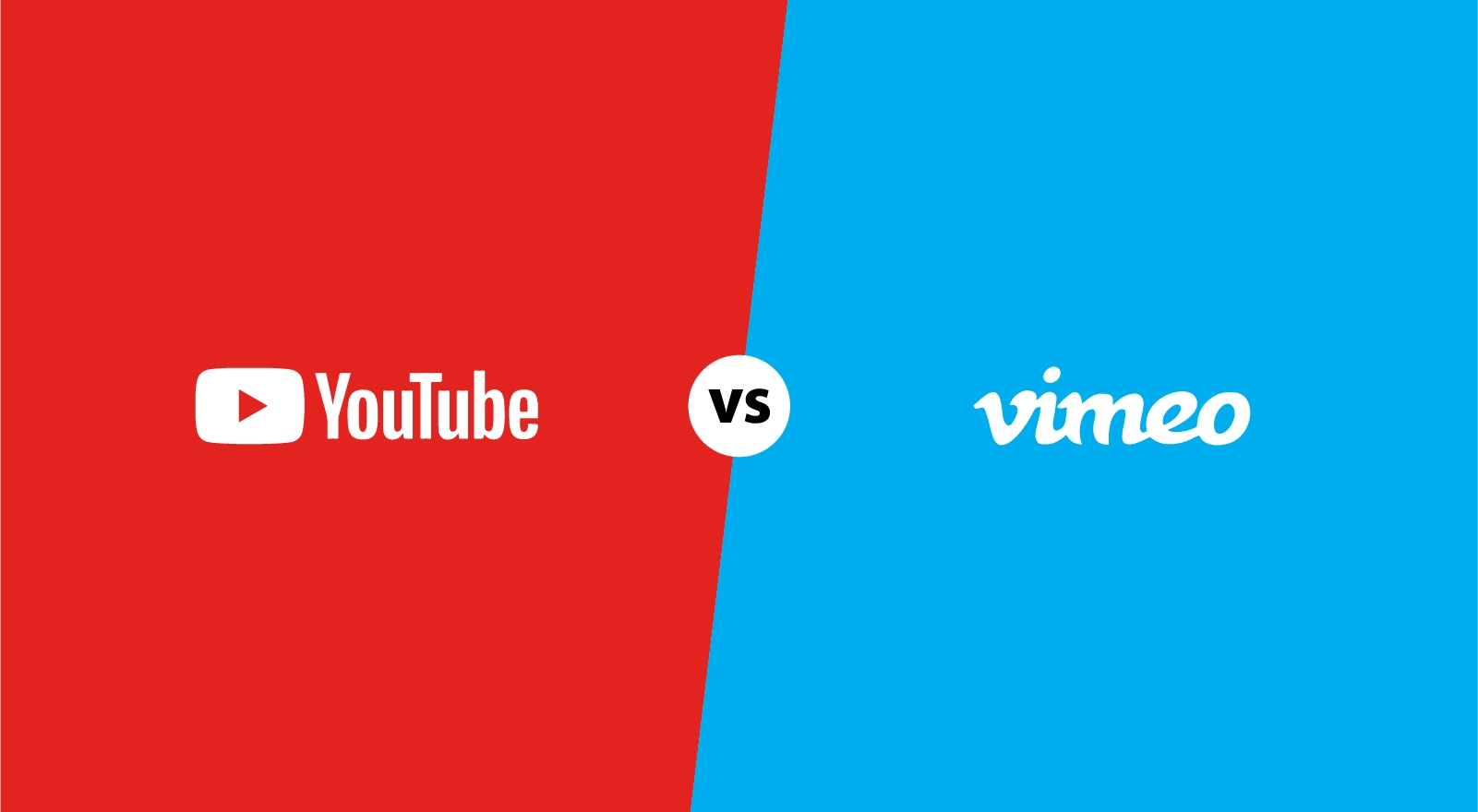 Video sharing is an essential element of marketing endeavours and hence video-sharing platforms have become indispensable to business owners and content creators across the world. The enormous growth with each passing year vouches for the reliance. Today's digital space is about creating influential content and choosing the right video sharing platform is necessary to ensure your efforts are in sync.
Speaking of video creation and sharing, there are two super-giants – YouTube and Vimeo and if like millions of content creators, you are also perplexed about which platform to go for, know that you are not alone. Millions of businesses are already leveraging YouTube marketing and on the other hand, there is a significant chunk of users who find Vimeo as their go-to video sharing platform.
In this post, we will help you get the scoop on the pros and cons of both platforms. This head-to-head comparison will give you detailed insights into what they have in store for you. We have made this detailed analysis across numerous factors to help you make the right pick.
So, without further ado, let's get the ball rolling.
1. No. of Users and Reach
With more than 2 billion monthly users, YouTube is far ahead in the competition as compared to Vimeo with 1.9 million paid subscribers and about 230 million monthly viewers.
The former clearly has an edge over the latter here and if you want to expand your content reach, you know which platform to go for. So, if you create and consistently promote your YouTube channel with engaging content, you could definitely reap the benefits of its vast audience.
YouTube's massive community is certainly advantageous in terms of outreach; however, the other side of the coin is that this community comprises offensive users as well who do not hold themselves back from telling you the truth about your video in your face.
In stark contrast, Vimeo cherishes a smaller community of users that has a repute for offering constructive feedback.
2. Pricing and storage
YouTube is absolutely free to use while Vimeo offers various membership plans. In other words, both of these for-profit companies have distinctively different business models based on how they make money.
YouTube makes money by showing advertisements while Vimeo offers an ad-free viewing experience. Yes, YouTube launched YouTube Red for those who do not appreciate ads interrupting their viewing experience and barring that YouTube is free to use for just anyone. YouTube Red also facilitates access to YouTube Originals.
YouTube allows content creators to post as many videos as they wish; however, the length of those videos cannot exceed 15 minutes unless you verify your account. YouTube has no cap on storage and it is not charged for either.
Unlike YouTube, Vimeo generates money by selling video hosting services. In this way, content creators can offer their target audience an ad-free and uninterrupted viewing experience.
Vimeo Basic plan comes for free with just 500 MB of storage. Vimeo Plus, Vimeo Pro, and Vimeo Business cost $7, $20, and $50 respectively. These three paid plans offer tons of benefits such as storage. Vimeo Plus, Pro, and Business plans offer 5 GB, 20GB, and unlimited storage respectively.
3. Technical support
If you are in the process of carving an actionable Vimeo or YouTube marketing strategy, you have to consider various elements and aspects before you make up your mind and the quality and promptness of technical support are a few of them.
Vimeo offers paid plans and hence gives you full value for your money. There are different levels of personalised technical support as opposed to YouTube which comes for free.
YouTube undoubtedly offers free documentation to get you started; however, their support lacks the level of personalization Vimeo offers.
4. Embedding videos on your website
Embedding videos is a great way to allow your audience to enjoy engaging videos without having to leave your website. It also leaves you with a bit of hard work as you grapple between the two tough choices – YouTube and Vimeo.
Vimeo is a great choice when it comes to hosting and embedding top-quality videos. Unlike YouTube, which automatically compresses the content for space-saving purposes, Vimeo doesn't alter video quality on its own. In fact, it puts users in total control when it comes to customization. YouTube video embedding isn't as customizable as Vimeo. Besides, random recommended videos are played at the end which isn't impressive at all for businesses looking to facilitate their users with a unique video playing experience.
Embedding responsive YouTube and Vimeo videos on your website helps your SEO interests. Besides, you can keep visitors engaged for longer periods. Improving your website traffic and keeping visitors on your page is one of your priorities as a marketer and the best part is that having responsive videos also helps you appear in the video results tab on Google which is an additional advantage.
5. Running your business ad campaigns
Are you looking to run your business ad campaigns?
Without a shadow of a doubt, YouTube is the clear winner here. Since Vimeo is not an ad-centric platform, you will not be able to purchase ad space there. In stark contrast, with a massive user base and state-of-the-art ad platform, YouTube makes for the best platform for running video adverts.
In fact, you also get access to a 'YouTube Advertising Expert' on a daily ad spend of $10 or more.
6. Player customization options
Another key metric to compare Vimeo and YouTube is customizability.
Owing to their plethora of handy customization options including hex customization, Vimeo leaves YouTube way behind. If you're on Vimeo Business and Pro accounts, you can even include a custom player logo.
Also, if you need to modify the default customization options, know that it is a cinch on Vimeo. And the best part is that all the modifications made by you will automatically reflect in all previously embedded videos without you needing to fiddle with the code.
Unlike Vimeo which allows you to replace a video without losing out on stats, YouTube requires you to delete the video and upload a new one from scratch.
7. Copyright
YouTube marketing yields amazing results for your business provided you do not breach copyrights. It is extremely strict when it comes to using music and images in your videos. If you include copyrighted material without getting consent from the maker, the platform is equipped with advanced technology to detect and disable such material as soon as you upload your video.
Unlike YouTube, Vimeo doesn't disable the sections using copyrighted material. This is a downside of using Vimeo as it also increases the risk of your copyrighted material being used by anyone without your consent.
8. Analytics
As a marketer and content creator, analytics are indispensable to you.
Both YouTube and Vimeo offer streamlined analytics to help you know if you are headed in the right direction. From likes to comments, shares, viewers' geographical data, and views; both platforms offer access to key analytics data to you.
Still, YouTube goes the extra mile and renders detailed insights including sources, gender, and devices used by your target audience. Here a noteworthy feature offered by YouTube is- clickable hotspots or annotations.
You can add annotations at the top of your player for seamless and value-added interaction.
9. Video and audio quality
The significance of audio and video quality cannot be undermined as it can upset the whole apple cart regardless of how amazingly created and out-of-the-world your content is.
Both in terms of audio and video quality, Vimeo beats YouTube. It supports 320 Kbps. If you are looking for crisp and clear audio and video quality, you are recommended to choose Vimeo over YouTube which tends to distort the audio and video quality upon upload.
Vimeo or YouTube: Who is the Winner?
Choosing the right video-sharing platform is the first step toward achieving your video marketing goals. If you are wondering which platform you must choose to share your videos, you must take into account your overall objective(s).
Content creators looking to expand their reach to connect with niche audiences should consider using Vimeo, while those with extensive reliance on search optimization or advertisements must create and promote their YouTube channel. At the end of the day, both platforms are just tools with pros and cons and as a content creator, you must leverage their advantages by creating a robust Vimeo or YouTube marketing strategy.