What is social media audit and how to conduct it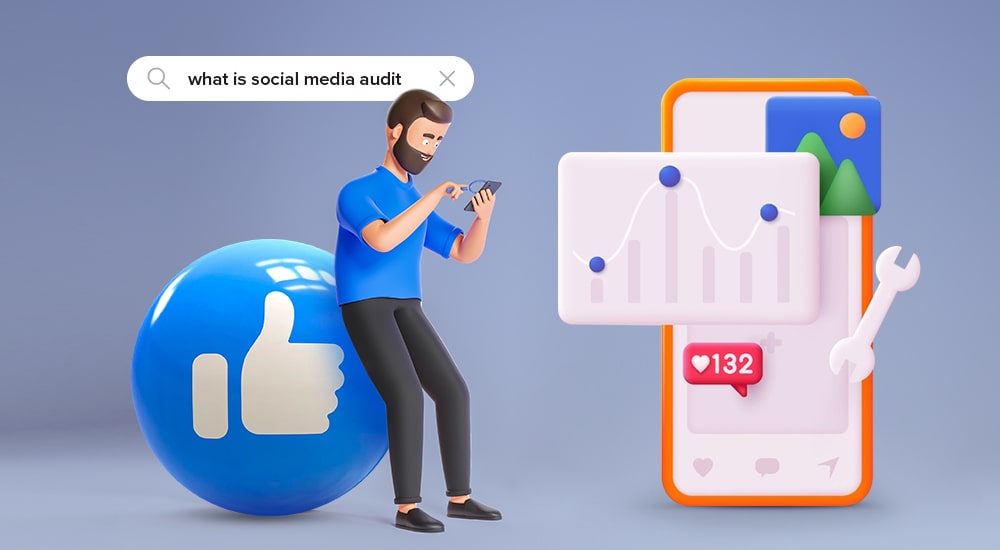 Social media audit is done to keep a check on your social media activities. This audit helps understand what is working for you in the digital space and what is not. Any social media marketing agency would vouch for the same. Social media is dynamic and we all try our best to stay updated but that is not enough.
We must analyse our metrics and understand what is benefitting us, what needs to be stopped and what can work even better. This is exactly what a social media audit tells us.
A lot of effort goes into building and executing a social media marketing strategy for a brand. Knowing if it is working is crucial for the process and the people involved. This is where conducting a social media audit helps. Let's take a look at the steps involved in conducting a social media audit.
1. Have a look at the engagement metrics
Check the audience growth rate – Select your desired platform and choose a reporting period. Check how many followers have joined during the given period of time. The difference in the number of followers at the beginning of the reporting period and at the end will give you your audience growth for that time period and you can calculate the rate accordingly.
Social media conversion rate – This refers to the number of visitors on your website who perform the action that you want them to. The most convenient way to calculate this is to track the Call-To-Action link.
ROI Data – This is the most crucial data. From the day you start social media marketing you must know whether all the time, effort and money are giving results or not. Is there brand awareness being garnered, and is there a steady growth in sales? Is your social media able to convert customers? Track the available data from all the social media platforms you are present on.
Channel reports – Every channel provides important information. You can either manually sit and analyse the given data, have an overview of the performance or use social media analytics tools that would do the job for you.
Once, you have had a look at the important metrics you focus on the king, the content.
2. See what kind of content is working for you
You or your social media marketing agency have the available performance data of each channel and each post within that channel. Find what is attracting the audience the most. Posts that are performing the best, which ads are showing the most leads and conversions.
The next step is to find similarities in posts that are performing well on one platform or find similarities that are performing well across platforms. This comes with a disclaimer, keep originality intact, and do not make monotonous content in this pursuit.
Take time to also understand where reach is better and where reach is not up to the mark. For a brand's social media marketing to be successful, reach is something that cannot be compromised. The lesser screens you reach, there is the lesson the platform is trying to teach.
When you have identified what kind of content that you put up is giving you gains, get to working with that information.
3. Set goals to navigate
After having analysed all the channels and the post that you are putting out you will have a fair idea of what is and what isn't working. So start making realistic goals that are beneficial to your brand. To align with the social media marketing strategy, goals should be all-inclusive. This means there must be goals for engagement, brand awareness, traffic for websites and an increase in followers.
There will be platforms for which all you have to do is maintain consistency and they will deliver, for others you will have to set stricter goals and put in more effort. When we talk about Instagram, Facebook, Twitter and Youtube all of the goals for these major platforms need to be carefully reviewed since these are the places you spend a lot on for producing content as well as pushing ads.
When you have set your goals, it is time to integrate them in your social media marketing plan.
4. Planning
Having a solid plan of action is what all the points in your strategy boil down to. Have a plan in place of how you are going to move forward after gaining an overview of every channel's performance.
While conducting the audit, keep in mind all the data you are reviewing as a social media marketing agency or a business owner is to improve performance and ultimately make a plan.
Don't be too consumed in auditing your social media, that the reason for conducting the same is lost. Getting into too much detail and over analysing is what we do not want to do at this point.
Lastly, use all the information you have garnered to customise your approach and bring in a balance in your marketing strategy.
5. Balance the platforms
Do not hesitate when it comes to trying different strategies . A social media audit will give you crucial insights into what has been working for you and where the efforts are going in vain. You are at full liberty to experiment with your brand but you need to have clarity while executing when it comes to social media marketing.
Having a social media checklist will make the process simpler. Refer to this list whenever you have a task to carry out.
1. A list of all of your social media accounts ( and passwords if you keep forgetting them)
2. A template to help you with the social media audit
3. The right social media tools. Here are a few to begin with-
Sprout Social
Zoho Social
Unmetric
HootSuite
Sociality.io
4. Monitor the key metrics
5. Establish goals
6. Keep future plans and goals in mind
Make sure that after the social media audit you have a clear idea of all the channels and the attention you are giving each of them. In most cases, the larger platforms take the thunder and the smaller ones remain underutilised shadowed by assumptions about their potential. Take a step towards understanding which platform has a higher potential for your brand. Try not to skip platforms, a comprehensive presence is what is going to benefit you now and in the long run.
Look out for a social media marketing agency that can help you conduct a social media audit. From using social media audit tools to creating a step-by-step plan for conducting an audit, this agency should assist you. Come up with a template just to ease your work.
Takeaways from the social media audit will help you build a stronger social media strategy and instantly help point out the direction all your resources need to be channelised. Social media has become the pulse of branding and when you have a great grip on the pulse your brand health is only going to excel.