Journey of Packaging From 'Conservation' to 'Communication'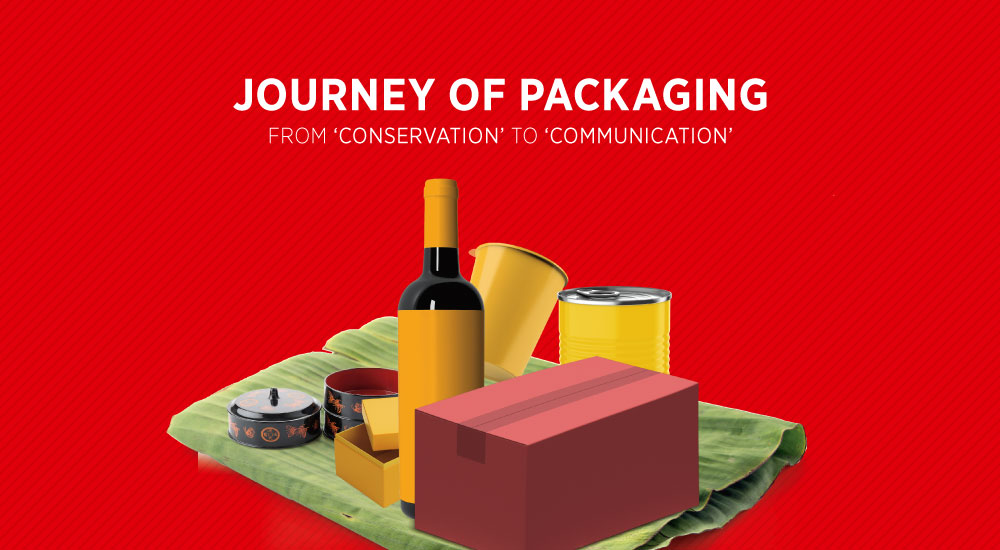 This is an exciting era of packaging. It has evolved a lot, right from just being the medium of preservation of goods to becoming the first silent salesman of the organization.
In this infographic, we have attempted to vividly present the history of packaging along with discussing the various parameters that modern-day packaging takes into consideration to strike the right chord with its target audience.
Do you know that packaging design employs various neuro-marketing tactics that impact the subconscious mind of the consumers? Well, then this infographic will unravel amazing information that will help you create an interactive packaging design.

Share this Image On Your Site
[litmus imgSrc="https://www.litmusbranding.com/blog/wp-content/uploads/2018/06/journey-of-packaging-from-conservation-to-communication-1.jpg" imgTitle="Journey of packaging from conservation to communication" imgAlt="Ultimate Journey of Packaging: From Conservation to Communication" aBefore="Courtesy of: " aHref="https://www.litmusbranding.com/blog/blog/journey-of-packaging-from-conservation-to-communication/" aText="Litmus Branding" ]
'Mastering the Unboxing Experience' is a new age term. Earlier, the concept of packaging was just confined to the preservation and the protection of goods. However, in this digital era, packaging is the first impression of your product that speaks loud of your brand sitting on the shelf or on an online platform.
Objectives of Packaging
Traditional
Modern
Containing
Communicating
Protecting
Promoting
Preserving
Transacting
150 Years of Evolution in Packaging
| Primitive Man Used | When Civilizations Developed | Industrial Revolution |
| --- | --- | --- |
| 1. Tree Leaves | 1. Fabrics | 1. Molded Glass |
| 2. Lotus Leaves | 2. Ceramics | 2. Cardboard Boxes |
| 3. Bamboo | 3. Pottery | 3. Metal Cans |
| 4. Gourds | 4. Metals | 4. Cellophane |
| 5. Coconut Shells | 5. Wood ware, Lacquerware, Jade ware | |
| 6. Animal Skin | 6. Certain types of Paper | |
Today's Era
Die-cut Display Containers
Types of Plastics
Shrink wrapped trays
Modified Cases
Other Fibreboard
Eco-friendly/Sustainable Packaging
Eye-tracking studies show that consumers on an average read only SEVEN WORDS in an entire shopping trip. Hence the packaging should answer 3 Ws about your product:
What is the product?
What are the functions of the product?
What value does it add to a customer's life?
Did You Know?
Businesses have reported a 30% increase in consumer interest when those businesses show a strong attention to packaging.
52% of people around the world make purchase decisions partially due to packaging that shows a brand making a positive, social and environmental impact.
64% of consumers are sometimes drawn to, and buy, a product off a shelf without prior knowledge of it.
In this Era, Packaging Influences the Subconscious Mind
Packaging design should incorporate neuro-marketing tactics like biomotive triggers that motivates the consumers to take an action before the conscious brain can respond. This can be achieved by applying these 5 rules:
Go Minimalist
Simplistic designs are gaining more popularity these days. Apple applies this principle to communicate strongly its purpose, convey the brand message in an instant& eliminate confusion and friction from the decision-making process.
Shelf Shout
Make use of distinctive colors & attractive shapes that makes your brand stands out from the competition. Nescafe is one such brand that with its enticing design, shape and color makes a delicious statement on the shelf.
Emotional Engagement
Through interesting illustration and stories, packaging should give consumers a taste of forgotten stories. Paperboat clearly plays on the nostalgic psychology of the consumer with its sleek look, unconventional bold fonts and mischievous content.
Iconic Assets
The best packaging is one that creates a series of memorable visual assets of which one or the other element is found in every marketing communication. For an instance, Coca-Cola has-the agitated red, the dynamic contour wave, the iconic bottle shape and the logo typography. These assets are so memorable that they instantly helps one to connect with the brand.
Brand Memory
The packaging design should be such that one can easily recall the elements and color. When one talks about Amul Butter, the first thing that strikes the mind is its mascot, the hand drawn picture of a girl dressed in polka dotted frock with blue hair and a half pony tied up. This distinctive feature gives the brand a unique identity.
Packaging- The Ever-Evolving Phenomenon
Every year, packaging design witnesses a creative transformation. Designers delve deeper into consumer's psychology to come up with the innovative packaging design that strikes the right chord with the audience. The paradigm shift in the consumer's choice too has been observed by their preference for products that has unique designs and with which they can emotionally relate to.