Who says there's no innovation in print advertising?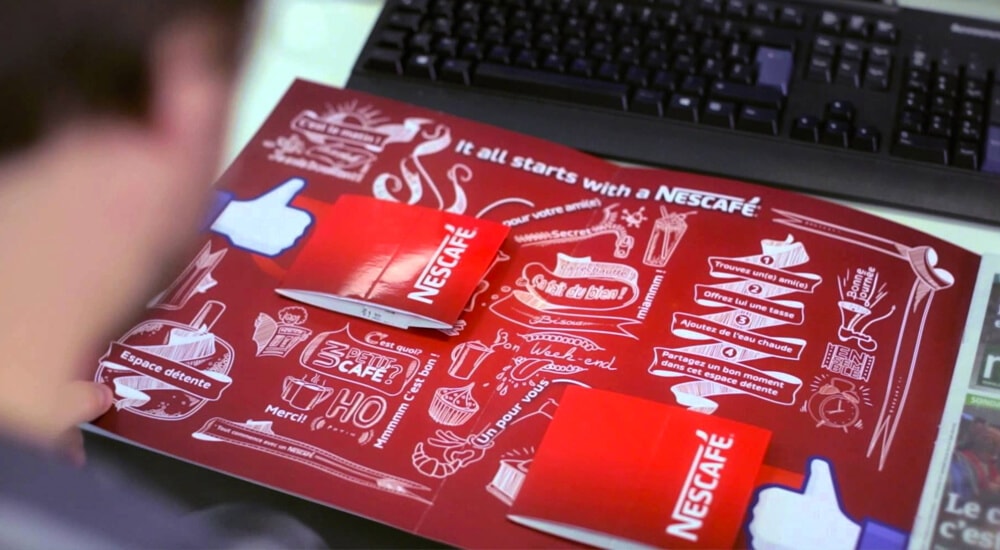 "Print might be considered as a passive medium;
But if it is put before the right people at the right time, it can create wonders"
It is nothing like waking up to the smell of fresh coffee or maybe mangoes…
Still better… what if you were given coupons to shop, the first thing in the morning?
Cool isn't it?
Your Brand can do this to your consumer through print advertising!
In case you thought there was no scope for innovation in print advertising, you are totally wrong. With the kind of challenges the digital world is bringing in, print advertising is becoming more and more innovative across industries, brands, newspapers and magazines. Print has confidently accepted the challenge of digital media, to become interactive.
As a Brand you can reach out to your consumers, first thing in the morning through print advertisements. If your advertisement is powerful enough to engage and even enthrall your readers, you are sure to retain their share of mind, the entire day. For categories such as Luxury, Real Estate, Auto, Retail, Durables and Service, Print still happens to be the preferred medium of advertising.
During the recent years, you must have noticed the multisensory experiences that print advertisements deliver. A Newspaper that smells of coffee, making you want to buy that coffee and drink it, almost instantly. A coupon or a gift voucher attached that might have lured you to go to the store right away and claim your gift. A shampoo sachet or a moisturizer sachet that you found glued to the newspaper, inviting you to use it immediately. The kind of innovations that print advertising is coming up is amazing.
More and more brands have started experimenting with different sizes, shapes, placements and technologies to come up with print ads that provoke action from consumers. A few examples can be seen below:
In an effort to promote its instant coffee, Nescafe decided to include two foldable paper mugs with some coffee powder in each, in a few branded newspapers. All that the Readers had to do was add some hot water to these cups and enjoy the taste of their morning coffee. The gesture for sure appealed to many, increasing the sales of the instant coffee right away.
Volkswagen decided to announce the arrival of its perfectly engineered car, the Vento through a voice message that would be played by a light-sensitive chip, attached to the last page of the newspaper. The message played as soon as the readers opened the page. The importance that the Brand gives to innovation was clearly reflected in the ad, which increased the inquiries by at least 200%. About 12% of its annual sales target was achieved by Vento in just one day.
Bru Gold wanted consumers to experience the aroma of their fine coffee, before they bought it. They therefore sprayed a special perfume of Bru Gold on to a few newspapers, so that the readers could smell the coffee while reading the News Paper. For sure it lured many to go buy Bru Gold and enjoy its taste, the very same day.
The aim behind the Zest Sedan print ad of Tata Motors was only one – To drive the consumers to their dealerships. Along with a 4-page advertorial supplement, there was a transparent packet that was stuck to the newspaper. This packet contained a car key that was uniquely bar-coded. Readers had to go to their nearest dealer and match this bar code to stand a chance to actually win a Tata Zest. By kindling the desire in the minds of the consumers to own a car, the car-key ad created an increased footfall at most dealerships in town.
While promoting their 3D range of tiles, Kajaria Ceramics decided to create a print advertisement that would give the newspaper readers a sense of how innovative their tiles were. The ad was actually a 3D image that came with 3D glasses that were stuck on to the ad. The Reader had to wear the 3D glasses and view the ad to get a real life 3D experience instantly.
Apart from Bru, Hide & Seek and Hul's Coffee Brand, Johnson & Johnson was also one Brand to try out 'smellvertisement,' by liberally scenting a full-page newspaper ad with its baby powder. The smell would have compelled many consumers to buy the baby powder, whether they actually had babies at home, or not.
International Print Innovations
Print innovations have been implemented by many brands internationally too. It was only last year that Nivea came up with a print ad in Brazil through which you could charge your phone. It included a solar panel that was wafer-thin along with a phone plug, so as to promote the new Nivea sun line of skincare products.
A mosquito repellant Brand in Sri Lanka mixed its mosquito repellent along with the ink that was used to print the newspaper, in order to create a mosquito repelling newspaper.
The use of cutting-edge technology in print advertising can in fact arrest its decline quite effectively, if used in an innovative way. It all depends on the power of your imagination and how you apply technology to transform your idea into reality.
Many Brands and Newspapers have been performing beyond expectations to come up with creative, humorous, playful as well as thought-provoking solutions. Not only do they maintain a distinctive visual style, they also introduce their readers to another dimension, while interacting with them on a sensory and tactile level that is very unique to print.
You can gain 100% share of your reader's minds through print innovation. Reading newspaper while having a cup of tea or coffee first thing in the morning, is a ritual for many. If you cannot come up with something unusual, there is no way you can get noticed.