Brainstorming – A Vital Tool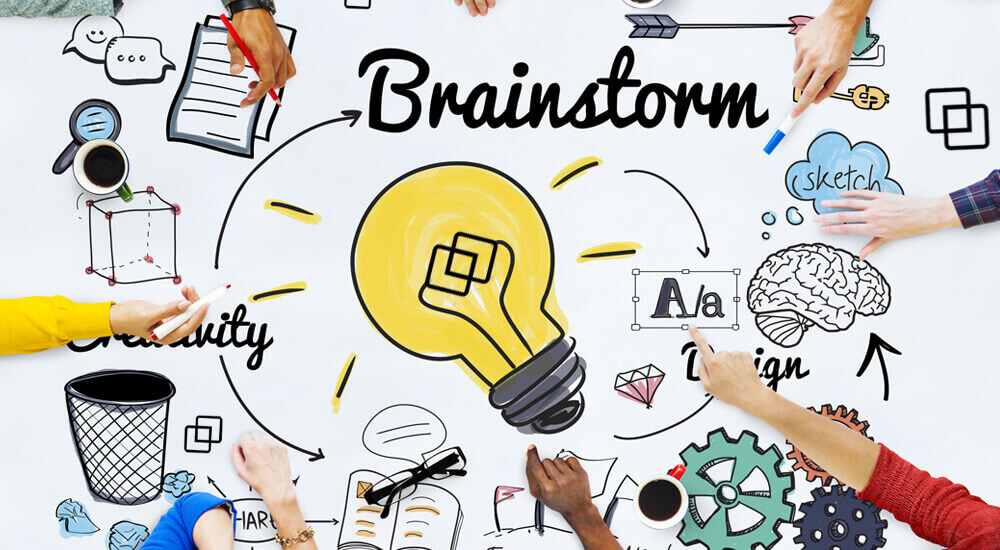 Ever felt totally drained out of ideas?
It can happen; and especially when you need those ideas badly. Many of us get stuck whenever we want to create something better. It could be a better campaign, a better strategy to increase sales or even a new project.
It seems almost impossible to overcome that creative block.
And what when your job needs you to churn these ideas on a regular basis? You will sure feel like hitting the wall.
So, it's not easy to come up with new and fresh ideas every once in a while. But there is a way – Brainstorming.
It was Walt Disney, the American Film Maker who introduced brainstorming. This was a vital tool that helped him come up with creative concepts for his company. He broke the process into three stages that were based on three characters – The Dreamer, The Realist and the Spoiler. He went one step further and made space for three rooms so as to help him shift his thinking strategies.
The Dreamer was to fantasize and come up with fantastic ideas, no matter how absurd they seemed. These ideas were absolutely raw with no filters, whatsoever.
The job of the realist was to re-examine these ideas and then work on their practicality. He had to only figure out how they could be accomplished.
The spoiler was to critically evaluate these ideas by shooting holes into them.
The focus was always on one stage at a time. The ideas that survived worked wonders for the company.
That was the time when there were no technological tools to strengthen the process of brainstorming. Yet the ideas flowed freely, exploring the human mind to its maximum potential.
Today, you have some of the fantastic applications that can help you optimize your brainstorming process. All that you need to do is kick your brain into gear and keep those ideas flowing.
Here are a few things you can do to make your brainstorming sessions successful:
Be open to ideas
Brainstorming is more about quantity and less about quality. You would need as many ideas as possible. The only way to get them is by being open. Do away with the filter for a while. Let the ideas flow.
It may not happen within a closed conference room, where your team members sit in the fear of being judged. You may have to get way. You will have to create an atmosphere that helps people break free from their traditional mindsets. Think outside digital and Bring passion into your project.
All that you need to do is state the problem that needs to be solved and encourage people to share their ideas. As far as possible eliminate anchoring.
Write them all down
It doesn't matter how absurd the ideas may seem to you, it is important to write each one of them down. In fact it would be better if you can ask the participants to write their ideas down. To make it spontaneous you may even give them a time limit.This way they won't get time to filter their ideas. The result – each idea that you get would be fresh and unique.
Categorize them
Once you have a whole database of ideas your next step would be to sort them down. This will introduce a structure in your session, while helping you organized the information that you have gathered from your team members. This process can help in filtering out the bad ideas, while giving rise to better ones.
Evaluate each idea
You may have to create a checklist in order to evaluate the ideas. This should ideally contain factors such as feasibility, cost-effectiveness, research needed, and time taken and so on. Find out which of these ideas solve the problem in the best way possible. Short list a few of them and get them ready for the final review.
Set up a poll
Although there may be many ways to solve a problem, there is always a best way. It is your job to find out this best way at the end of a brainstorming session. The easiest way to do this is to set up a poll and ask your team members to select what they think is the best of the shortlisted ways to solve the specified problem. This should lead you to that one solution that you are looking for.
Brainstorming is no more about making your team members physically gather in a room and share thoughts. Technology has changed the way it works. In today's global workplace with virtual teams and mobile workers, it becomes very important to use hi-tech collaboration and mind-mapping tools, to make your brain storming sessions successful.
Using Technology in Brainstorming
Everyone today use internet-enabled smart devices to communicate. As a result many popular tools have come up to help people share their ideas and collaborate virtually. Some of these include:
Google Apps for Work – This allows filing, editing and sharing of group work with those who are on the go. The work can easily be viewed by your team members on their preferred devices, be it laptops, tablets or smart phones.
Google's Hangouts – This is one of the best options for conference calls and meetings. It can connect about 15 people at once. It offers options to share screens as well as presentations, through smart devices.
Mind mapping apps–These successfully replace the low-tech whiteboards which continue to play a major role in brain storming sessions.Apps like Mindnode, Xmind, Mindjet, Coggle and Freemind make it easy for the users to visualize concepts and uncover new ideas. They come with iCloud and Dropbox support which means you can take your mindmap wherever you go.
Focusing on what you are trying to achieve is the key to a successful brainstorming session. The idea is to make it as interesting as possible to motivate the participants to contribute to the best of their abilities. Make them feel important by letting them know what their contribution means to you. Announce a reward for the best idea or the loudest contributor. Keep improvising on your techniques. You will definitely gather terrific ideas that will take your business towards great heights of success.