Bag It. It's Festival Time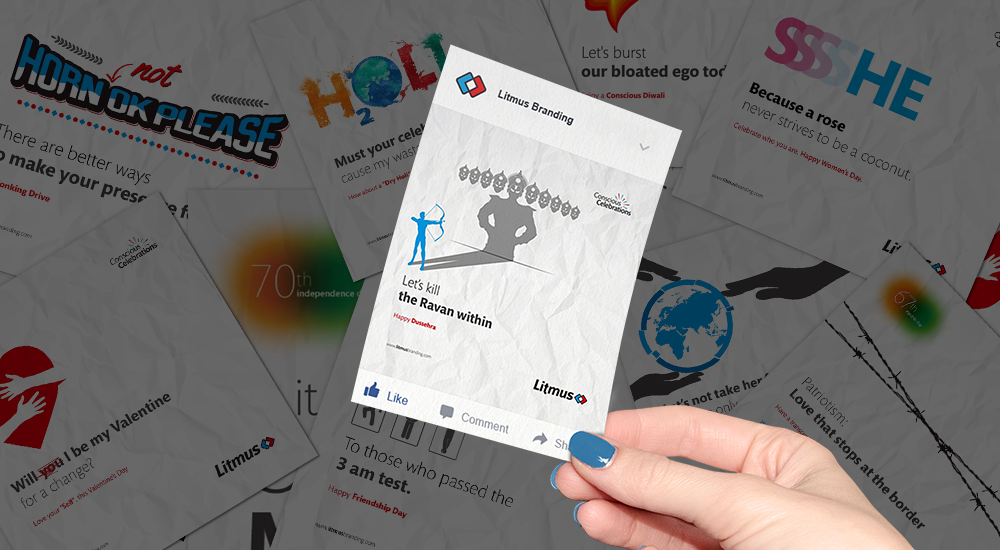 For several companies, festivals are the right time to make an emotional pitch
Festivals or holiday season is the time when emotions run their full course. This is the time for marketers to strike the right chord, as most purchase decisions, whether online or offline are after all, emotion-driven.
Take for instance, an android smartphone brand like Oppo F9. What could it say during a run-up to a festival like Diwali, which would stride the right chord? It couldn't possibly say anything remarkable different from competition, so it the brand decided to expand the definition of gifting during festivals to "giving a new life to someone" and throughout the emotion-overloaded ad film, the adoptive daughter, who's received this gift is taking to her 'mother' on Oppo F9 Pro.
Notably, the phone isn't the star cast here. It's a mere accessory that's easy to oversee, but not the central idea that delivers the emotion home in a powerful, poignant manner. The strategy of incidentally embedding the product in an emotional sequence works, and somewhere down the narrative, the readers forget they are watching an ad, not a slice of someone's life. The purpose for the brand is thus served.
And, sometimes, when there is already so much clutter and din out there, the less said is the best. In fact, brands can use the occasion to drive home some socially relevant messages. This purpose can easily be achieved with the creation of a simple, clever gif, like the one posed by Airtel, against noise pollution, Urban Tree, against bird frights from Diwali crackers, Wink and Starbucks' cute twinkling lights on the paper cup!
As simple and effective as Litmus Branding's Creative Consciousness series that seeks to prod the consumer more than greet him/her during a festival. A case in point was the Dussehra creative that has been going viral with so many celebrities – Sunil Groveron #Twitter, Suniel Shettyon #Instagram and #Twitter, Ravish Kumaron #Facebook, Irrfan Khanon #Facebook, among others endorsing the powerful communication "Let's kill the Ravana within!"
[wonderplugin_slider id="1″]
The message resonated with the audience and it went viral. When people begin to claim a message as their own, that's a true compliment to the brand strategy.
Ola's Children's Day campaign was likewise different and a refreshing way of greeting their little riders.The brand used the hashtag #ThereforYou to promote this campaign and the images of children, late for school, dressed in their 'fancy dresses' left stranded on the road by their school buses, must surely have touched many-a-parental hearts.
Such campaigns do have a precedent in the West as well.
TD Bank had this brilliant idea. The occasion was Thanksgiving Day. The brand randomly picked 24 people over 24 days from among 24 communities, and asked them what they would do to #MakeTodayMatter. People came up with a variety of ideas, and in order to realize those ideas, the bank gave each of those 24 men and women $30,000 to spend on 24 other people in 24 communities across the US and Canada to spend as they deemed fit, and filmed the cheer it brought in the lives of the recipients.
Now if that isn't a powerful mission-fulfilling brand strategy – what can be? For the record, the video received over 3.5 million hits as it rolled out across media channels.
The idea is to cut through the clutter. If you don't do something different with your holiday/festival campaign – it will be lost in the deluge. Nobody would care to stop, read, listen or view. All that advertising effort wasted.
Remember emotions must be the key element in your festival campaign. Pull at the heart strings of the overwrought consumers, who are ready to feel and experience, when there is already magic in the air, and they are vulnerable.
Tell a heart-warming story through your campaign. Don't talk about your product. They will get the message, eventually. Use real people for real emotions. Ordinary people, not actors on hire. Make sure, whoever visits your physical or web store, blog or social media pages knows that you are in the festival mood and ready to celebrate with them.
This is a great opportunity not just to pump out your sales, but also to connect with your consumer. This is a time when people are usually happy and relaxing with their families – they are willing to buy in.
So just get into the act and pipe up. Christmas and New Year are around the corner.