5 secrets: How to use packaging design to create a successful business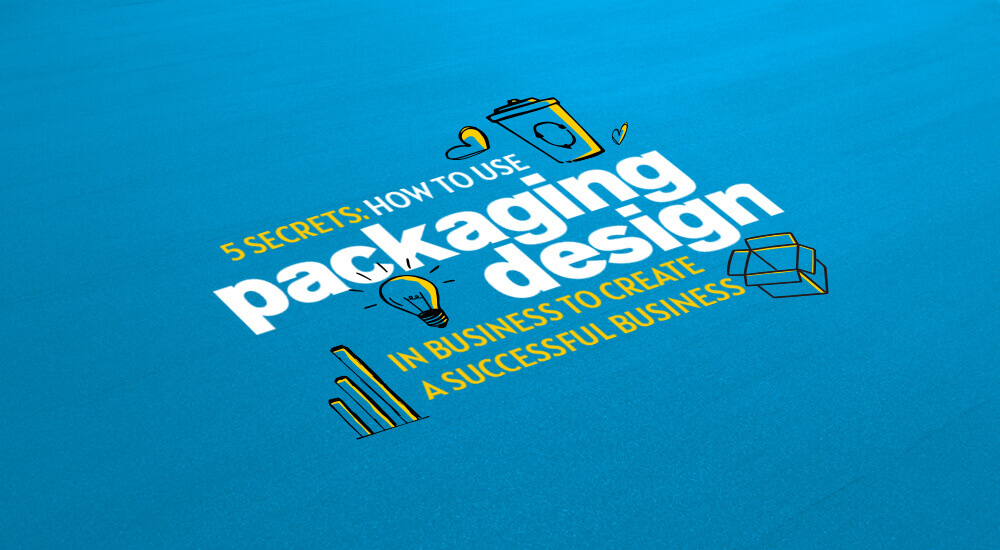 Everyone says don't judge a book by its cover but when it comes to buying new products almost everyone does exactly that. Consumers judge a product by the package it comes wrapped in and make their buying decision in less than a sixth of a minute. So product packaging matters. It matters a lot. The question is how to ensure that your package is the one that gets picked every time – it is the one inviting enough to drive consumer buying decisions?
If you want this to happen, here are 5 things you should consider in your packaging design decisions:
Keep it Simple
If you are still wondering about the importance of packaging design try this:
Name three questions that any consumer will ask when they look at a brand new product on a supermarket shelf. They are:
What is this product for?
Who made it?
Why should I buy it?
If your packaging can answer the first two questions within the first four seconds of looking, you stand a 50% chance that the consumer will put it in his cart. If you can answer the third one, the chances increase manifold.
Your packaging should tell the consumer the What, Who, and Why of any product clearly and simply.
Simple and clear is the rule of the thumb for product packaging. The millennial consumer has a short attention span. He frequently sees products from afar and often has no chance to pick up the package and examine it closely. So if information about the product is apparent from afar he can make a snap decision.
Rule #1: The product name, its utility, and your brand name. should be readily apparent on your product package.
Be Honest
The marketing industry has long been criticized for overrating products and making false claims. Creative packaging is partly to blame. Designers can sometimes get carried away and mislead consumers albeit unintentionally. Marketers are now realizing that being simple and honest is far more important than hard-selling because that way you get long term loyal customers who will not only stay with the brand but attract new consumers as well. Misleading consumers – even unknowingly – and ultimately disappointing them can and does backfire by damaging the brand image.
Honesty in packaging, advertisement and other marketing collaterals backed by a good product or service brings far better results. People are happy to buy simple products at a reasonable price as long as they know what it is and how it will help them.
Rule #2 – Give the product a face-lift by all means but in a way that is honest and lets the consumer know what he is buying.
Be Authentic
"Me too" is not a new concept. Once an idea or invention has been launched millions of copycats swarm the market with similar products confusing the consumer. But if your original product gives the consumer the satisfaction he desires, he will come back to you without so much as a glance at others. Oh, they might give one or two a shot because they are cheaper but soon they'll be back for the real thing. With that said, it's important to be different too. After all, the product package must stand out in the crowd on a supermarket shelf.
Rule #3 – Be bold be different be genuine.
Make it Pop
Making a package design attractive does not necessarily mean that it must be intricate, spectacular, dashing, or even bold. A simple white lily stands out in a bouquet of red and yellow roses. Simplicity can sometimes attract more attention than the most complex and colourful design. This is something packaging designers must test before implementing.
Remember that consumers never view products in isolation. Also, they view your package from a distance among a host of others that are similar if not the same. The key takeaway here to make the design different. The neither means abject simplicity nor does it advocate profound boldness. Different simply means different.
Rule #4 – Being different takes priority over other elements of package design
Be Sustainable
Have you ever had goods delivered with the toothpaste squished out of the tube? Have you ever cursed the product because you find yourself hunting for a tin opener every time you want a drink?
The importance of packaging design cannot be denied but this does not that you should sacrifice other elements. Package design is as much about what's inside as it is about what's outside. As a package designer, you should pay heed to what product the package will carry and how far it is likely to travel so that you can design it in a way that keeps the product safe inside. Packaging material is important too. For instance, if you are designing for foodstuff you should be careful that the food inside does not react to the chemicals in your packaging.
This type of practical approach to packaging is oft-overlooked when considering packaging design importance. While all the elements described above are important, practicality and sustainability are perhaps more important.
Rule #5 – Make sure your package is strong, practical and sustainable.
Packaging design is an emerging industry that is fast gaining traction because of the large number of start-ups coming up. Given the extent of digitization, the package is sometimes the way a consumer first becomes aware of a new product even before seeing advertisements about a new brand. Package designers must therefore pay close attention to both creative packaging and practicality.
Litmus Branding, one of the top packaging design companies in India is here to help you design and clothe your products in the most optimum way possible keeping in mind all aspects of packaging. Call or write to us for more details. You can drop a line at hi@localhost or call us on +91 99984 12378‬.