What's Whatsapp Marketing?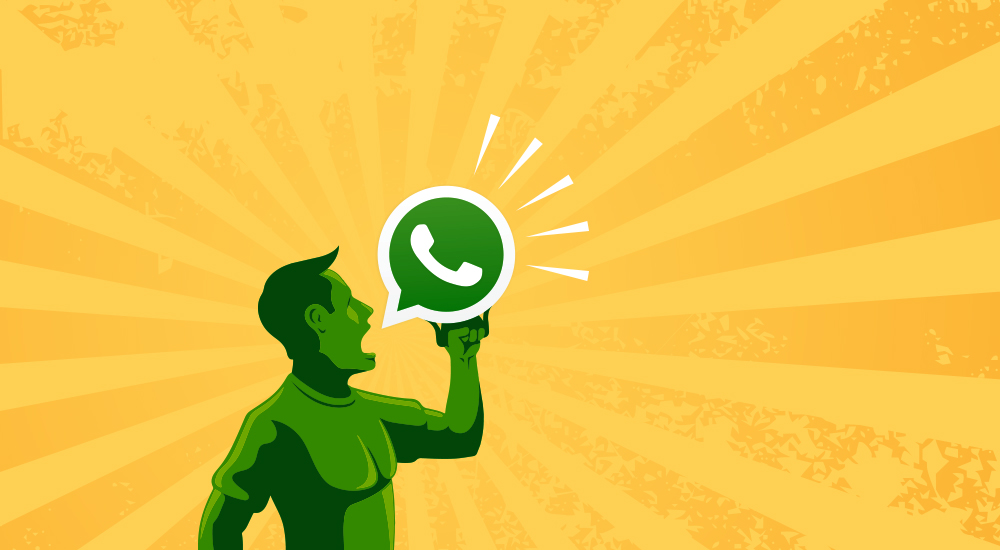 It unfolds when M-commerce paves way to W-commerce
Mahadev is a vegetable vendor in Mumbai.
Not too long ago, he used to take orders on his cell phone from nearby, residential societies and deliver the fresh veggies at the caller's doorstep. However these days, he takes pictures of his fresh produce and 'Whatsapp's' these to his saved contact list. Customers respond by 'whatsapping' their orders for the day!
You can kiss goodbye to a sophisticated e-commerce store front; a payment gateway.
As a free messenger service, Whatsapp offers all this and more on its mobile marketplace. It's currently the most effective, small business marketing platform (B2B and B2C) between a groups of users.
Meanwhile, Whatsapp is also playing a big role in getting users to buy data plans and expanding internet on their smart phones. The SMS-based marketing is working and how!
– With a user base staggering at 900 million, WhatsApp is adding one million users per day
– 70% of these users are active on a daily basis
– Whatsapp is the only app that has No Ads, No Games and No Gimmicks. It gives you 100% pure messaging experience.
– Whatsapp spent absolutely no money on user acquisition, PR or marketing
No wonder whatsapp is so popular among small business owners as one of the best tools for mobile marketing today!
Whatsapp become a viral way of sending messages across. The ability to send across messages in the form of text, images, videos and audios is what makes it such an exciting medium to communicate.
A lot can happen on Whatsapp
– Businesses that have a smaller customer base find it easier to use Whatsapp to promote and sell their luxury and premium products and even offer after-sales services.
– Brands such as Armani, Cartier, Corneliani and Diesel see Whatsapp as the best platform to reach out to the Indian consumers.
– In Africa, several e-commerce websites like Jumia are making use of Whatsapp to interact with their clientele and keep them updated about their promotions, deals and discounts
– At least one of every five companies in Brazil use Whatsapp for advertising and marketing.
– With more than 70 million Indians using Whatsapp on a daily basis, many e-commerce companies such as Jabong.com use this app to gain more customers. Brands such as Red FM, Colgate, Honda, Cartier and TOI have been using Whatsapp for promoting their high decibel multi-media campaigns for quite some time now.
– A few brands like Nordic Kandie, Heel & Buckle and Corneliani and Reliance have been using WhatsApp to maintain relationships with their rich clientele by consistently sharing images, brand films, videos and various other promotional materials.
Recently, Sony DADC made use of Twitter and Facebook to promote their Whatsapp Campaign.
Campaigns that had a dream run on Whatsapp:
HomeShop18's Caturday Sales Campaign:
MindShift Interactive India recently launched HomeShop18's campaign called #ShoppingMakesMeHappy on Whatsapp. Apart from providing offers to its consumers, it also used Whatsapp to spread happiness among them through amusing memes and entertaining jokes about the father-son duo, Billy and Sunny (the mascots of HomeShop18). The microsite of HomeShop18 launched a campaign called Caturday Sales which offered subscriptions to receive entertaining memes as well as updates on exciting daily and weekly offers via WhataApp. The campaign was such a huge hit that about 200,000 people signed up to receive different kinds of content from this microsite.
The Liquor Ticker of Café TC:
Café TC, A Delhi based lounge, came up with an ad ticker on WhatsApp called Liquor Ticker. The Status of Café TC was changed into a running ticker and the profile pic was transformed into ever-changing GIFs so as to display various types of content including its brand new logo, new menu and many offers. The users were supposed to add Café TC in their contact list, capture screenshots of the offers that they liked and then avail them at the bar. Without really interrupting the conversations of the customers, the campaign managed to capture the attention of the consumers, which made it a super-duper success. It helped in increasing the sales of the lounge by 28%, while the enquiries went up by 117%.
Other clever uses of the free-to-use mobile messenger:
– Sending price lists to customers
– Sending photographs of products, before and after shipping
– Generating Leads
– Managing Customer Service
If you have a team or an expert in place to handle this platform, and your target audience is clearly defined, Whatsapp can be a great platform to multiple sales and expand your reach, revenue and visibility.
Ready to jump on the brandwagon?