Keeping Tabs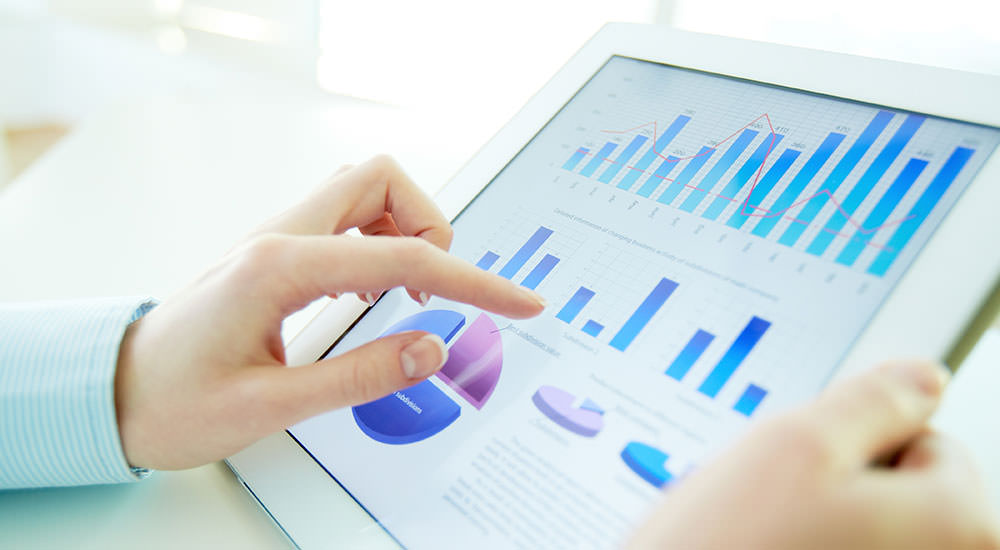 ….On your spends on marketing
The first question we ask a new client is, "Can you please lay your budget on the table?"
And 99% of the time comes the reply, "We don't have the foggiest idea?"
The client knows that he needs to spend to make his brand known, but usually does not have any clue where, how and how much to spend.
Sound familiar?
It's the typical chicken and egg dilemma. All eggs can't be put in one basket – what if the basket falls? 'How much would be enough?" kind of a decision is even more critical for startups with limited capital access. Therefore, every marketing buck must earn the maximum bang, or its money gone down the drain. After going through this rather lengthy blog, hopefully you would be able to make better decisions to achieve optimal returns on your investment.
Nearly $600 billion is spent each year globally on advertising, with $187 billion spent annually in the US. Out of that 28% is spent on digital marketing (web design, social media and mobile) and the largest share goes to TV (42% in 2015) and the balance 30% usually gets split between print, radio, outdoor and other media channels.
An average business spends around 3%-11% on its advertising annually, and as it grows, the spend grows. For some businesses, this may still appear like a big chunk, so they take help of a media buyer to identify potentially high-return channels and allocate funds, accordingly.
Last year (2014), a survey by a leading digital marketing research outfit (CMO), respondents reported on what marketing activities generated the best ROI.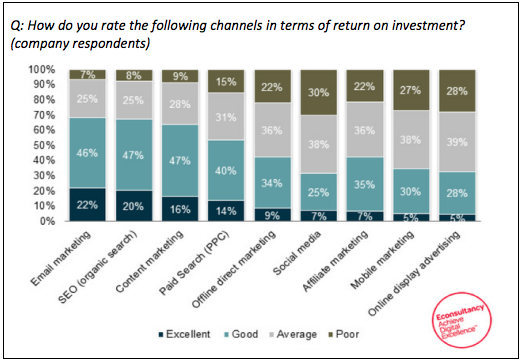 The results indicate that marketing technologies and automation often prove more effective when used in combination with email marketing, organic search, and content marketing. The chart below, from 2015, provides insight about the emerging use of marketing automation and content marketing.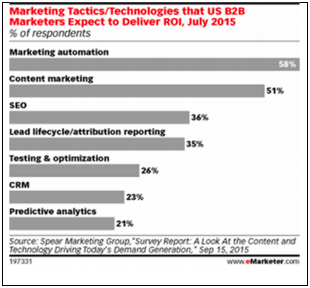 Old rules of thumb have it that the amount you spend on marketing per year should range anywhere from 1 percent to 10 percent of sales, or possibly more, depending on factors, such as:
    How old is your business? (If no one has heard of it yet, you should probably spend more.)
    What industry are you in? (Study how much your competitors are spending.)
    How much can you really afford to spend without burning a hole in your pocket? (Digital marketing is more cost-effective than traditional media)
Bear in mind that some of the most essential marketing tools today are also the most cost-effective, such as your website, social networking sites like LinkedIn Facebook, and Twitter. Start small, and when you see the results coming, scale up gradually.
Who spends more?
The following chart will give you an idea: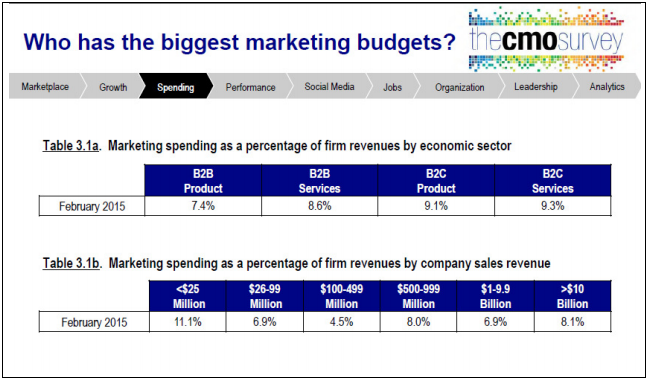 Apparently, B2B budgets have increased to the 7-9% range
    While B2C budgets are hovering around the 9% mark
The bottom line is – there is no hard and fast rules to reaching your marketing goals, but if you go the easy and measured way, you will end up spending your money wisely.
Any questions?
Shoot to us.