Brands – we're listening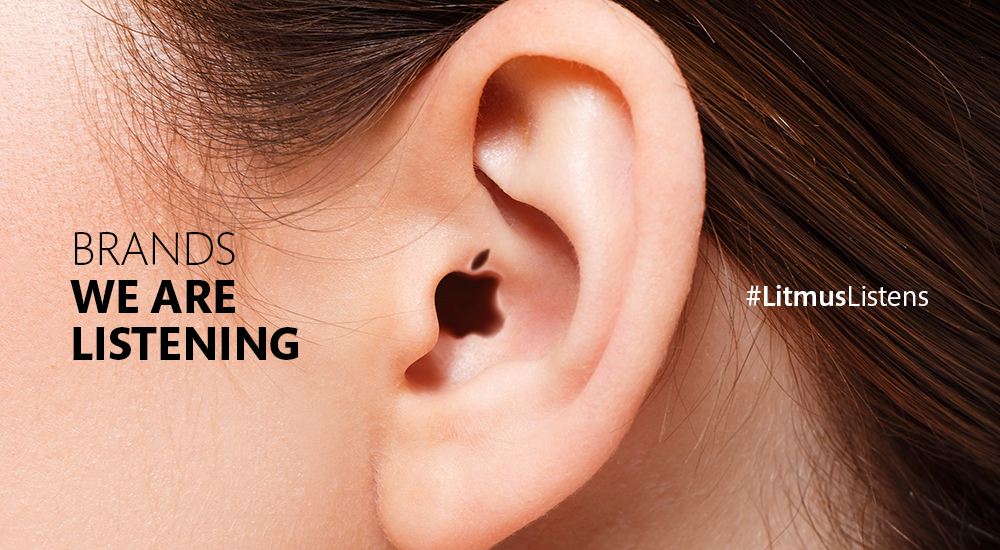 Have there been days when you missed out on something because you weren't paying attention? Of course you have, everyone has.
We?
Well, we have perfected the art of listening.
As funny as it may sound, it, in every absolute manner, is true. We have an unwavering commitment towards listening. Each and every one of us has their ears wide open. Thus for every client, minimum 20 ears are already open trying to grasp every possible piece of information as they could. We aren't involved in mere hearing, we are carefully and closely listening to everything they has to say and discuss, be it in regards to the work or anything in general. We follow the philosophy of talking, listening, and bonding. Mr. Piyush Pandey rightfully stated in his book 'Pandemonium, "find the human behind the client. Once we see each other as human beings, it becomes the start of an enduring relationship. It allows us to understand limitations, positions and points of view, and prevents us from passing uninformed judgements". That is exactly what we also aim, we look towards establishing a healthy relationship.
Just as any other organization we also collect, analyze, and act on the brief and we do the same for the constructive feedback, but the only difference is we put our efforts to listen to our clients. It helps us understand what is important to the client, providing us with opportunities to offer branding services with effective communication strategy that sells. Advertising legendaries are repeating this for centuries — the magic of clear communication can do wonders, we intend to keep the standards consonantly high. After all, we are in the business to engage and communicate. We aren't saying this just for the sake of it, our works speaks for us.
Recently we worked for Haldiram's Nagpur, one of the most prominent names in the domain of Indian Food Industry for over 80 years, for their CSR branding. They have an established brand identity and are known to be the best in terms of sweets and snacks but they wanted to position themselves more than just another savory brand. They had indulged in numerous CSR activities like supporting the Indian farmers by taking direct procurement from them, helping in terms of land and cultivation improvement, promoting the agenda of 'go-green' and more—which essentially required a positioning strategy that resembles the brand tone. We went back and forth on the brief and understood the requirement thoroughly. After sessions of brainstorming, we focused on the takeaways and crafted a copy-based strategy that garners the real effect of their social undertakings. We took an approach to communicate with their target audience in way that their values, beliefs and their selfless thought along with their CSR activities are also conveyed. What better medium exits than the brand's package itself. Little by little it all came together and what finally we had in hand was a new package for three different price segments so that it reaches everyone. We are working on expanding the reach by incorporating this new brand avatar in their rest of sub-brands as well. Stay tuned for the case study soon to come on our website.
It was one of the most challenging projects that we thoroughly enjoyed working on. We could not have come up with anything great if we wouldn't have understood their sentiment behind the CSR activities they do. So other than talking about promoting them, we had long discussions on what all they have actually done, where they have helped and the process it involved. They used to talk and talk and talk about things they have been doing for years and we listened. That's where the magic began.
Clients will stick to those who can decipher their expectations, wants and thoughts from the very conversations. One of the biggest compliments we have received from our clients is them calling us a good listener. We actively listen, we take part in the conversation, we exchange ideas and opinions, and educate them about the transparent process we follow.
Our commitment towards listening, in itself, is completely egalitarian in nature. We listen to all the brands—the brands we work with, the brands we don't work with, the small ones and the legendary big ones—everyone, and that's what makes us who we are.
You can also judge our listening skills; all you have to do is to pick up the phone. We are closer than you think and extremely easier to talk to. Plus, our coffee is great as well, so we can chat up over one.