Whatte Idea, Sirji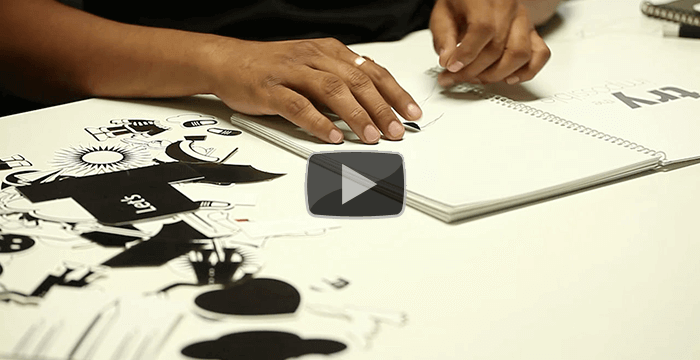 If it doesn't click, it's not an idea
I've never been a big fan of big ideas.
For me, small is beautiful. Big surprises come in small bundles – like the mischievous smile on a dimpled face of a toddler.
Therefore, when our copywriter, Radhika Sachdev presented us with three dozen taglines for Litmus's new branding, nothing clicked, until one day, while Hiren and I were grabbing a byte (pun intended) in office, a cell snapped in my business partner's head – "We love your company" – Kapil, what do you think of that line?" he nudged and everything started to swim in slow motion before our eyes, before it fell in place, all at once.
An idea is born
After so many false starts, and three days of agonizing brain-wracking, we finally were beginning to see glimmers of an idea emerging – and from that moment on, the journey in search of a brand proposition that best articulated our commitment to our clients, became a little less arduous.
We got on the phone to speak to our copywriter again (She operates from Mumbai), not knowing what brief to hand her except a line that clicked in our minds, but when she sounded as charged-up as Hiren and I, our confidence got a leg-up! She reverted with her concept a few days later. I remember I was on my way up to our office and couldn't resist the temptation of reading the attachment on my small cell phone screen – and the words – "we make your brand simpler" – leapt off the screen and made their way straight into my heart.
A video is born
Our copywriter had put words on the pulse of what we do and how passionately we do it. Before that she'd sent dozen-odd catchphrases but none cut ice – at best they sounded cute; at worst, contrived and in our hearts, Hiren and I knew we were still not there, not yet.
The Litmus philosophy has always been to break all boundaries and explore the creative heart of all things intriguing, even in the most mundane of things. We've always felt that's what creativity is about and managed to do path-breaking work with that philosophy in mind.
All these years, simplicity has worked magic for us. A no-frills, no-airs workaholic, I've always found Brand Charlie Chaplin one of the most simple, powerful brands that can be reduced two or three visual elements – a hat, a bushy mustache. I suspect that on the day of the shoot, Charlie, the devious fellow that he is, conspired to help us a little by lending us an appropriate stencil for each line that our copywriter gave us, so when we were finally done, we felt so indebted to Charlie we assigned him a permanent corner on our video.
I was also clear and convinced that since we were striking a very nostalgic and wishful note in the video, it had to be shot in stark black and white – no room for color, not in this video.
Lights, Camera, Action
The shoot took a whole day's work. We entrusted the job to our talented photographer, Raju Pathak ("Rajuji" to us) who along with his 21-year-old understudy; his equally talented daughter, Jignasha went around arranging the props, the spiral notepad (my idea of a 'book of life') and the laser-cut stencils, string and other key elements in place, while I lent my male hand and Jignasha her female hand to the video. Incidentally, our office boy had also auditioned for the modelling part, but I won, hands down 🙂
The first bump on the road came when we thought we had managed to capture everything on camera – assembling those disparate elements was a tedious task in itself – Rajuji chimed in, "Gosh! I forgot to turn on the camera!" A curse escaped my lips, before we called 'cut' and started afresh and guess what – this time, the electricity conked off and we were back to square one!
The third time, we got lucky but it was almost midnight when we finished the editing in Photoshop. I couldn't leave office because I was dying to see the final results. The energy in the room was palpable and a little tense, but when we were finally done, the best response came from the office boy – he gave us a standing ovation!
I wanted to whistle and let off some steam!!!
A score is born
We knew the idea jelled. The only missing element now was the background score – it had to be as tall and evocative of Litmus's brand philosophy as the emotions captured in the video. We had listened to so many tracks but finally zeroed in on something extremely offbeat and ordered it from a studio in USA. The guy there searched his archives, found it and promptly mailed it to us, with the rights.
My experience with this video has made one thing clear – the TRIZ model that I had read about but never clearly understood before. Developed by a patent examiner, Genrich Altshuller, the Russian scientist figured out that a solution to a vexing problem often stares us in the face but we don't know it!
Hiren and I must have combed through at least 350 websites of brands we both loved and admired. We must have patiently sat and watched at least 25 videos and listened to just as many tracks – but when it finally came together, as it was meant to, it took barely a second to know that we've stumbled on we were looking for!
Isn't life a little complex and crazy?
That's why our jobs as brand communicators is to make brands a little simpler.