What to Post on Facebook: 11 Creative and Engaging Ideas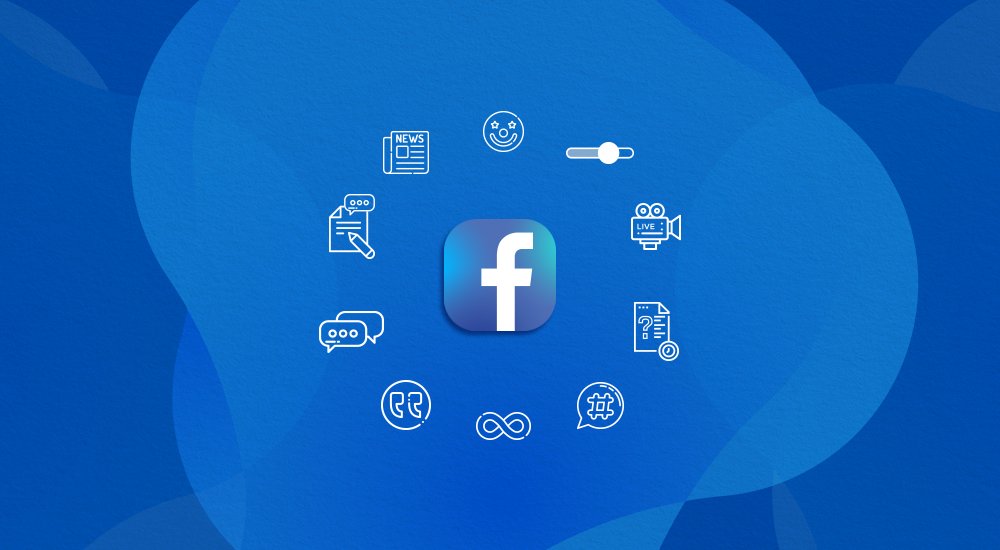 These are trade secrets that no social media marketing services in India are going to reveal to you.
If you already run a Facebook page for your business, you would know the importance of cultivating a large fan following. A carefully-crafter social media strategy should effectively look for innovative ways of engaging your target customers and business prospects. This is something no social media marketing agency in India is going to give out to you on a platter.
Among all social media app, Facebook still has the world's largest user base — some over 270 million Facebook users in India alone, making it the leading country in terms of Facebook audience size, according to available statistics.
This begs the question – how to use this swelling tribe to engage with your brand. How to grab the interest of an attention-deficient FB audience that is being virtually pulled in all directions? What creative to post for get more engagement?
Visual content is always most popular and we know the reason why. Videos are the fastest growing ad format on the internet and again, we know the reason why, so you might as well use it more images and videos than text-only communication.
Here are examples galore of Facebook posts to help you out with this. Again these are clever tips that no social media marketing services is ever going to share with you.
1. Post poll
Successful #Facebook pages incorporate polls and contests into their social media strategy. This is indeed the technique used most effectively by Econsultancy, the social agency behind #Coca-Cola and #Starbucks.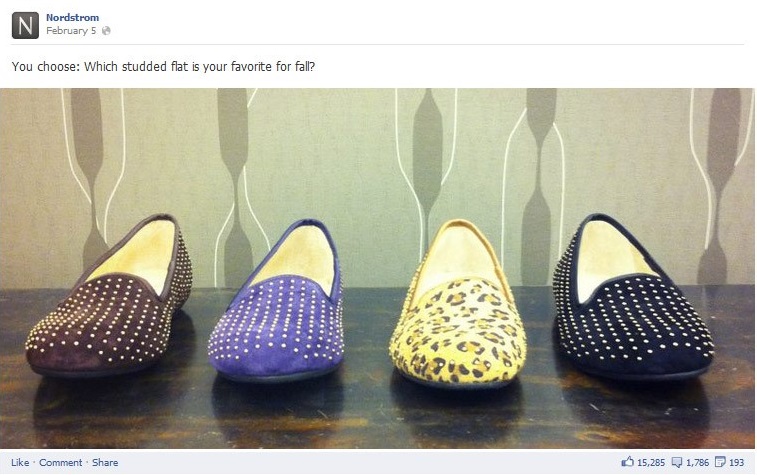 Instead of just posting images of your new product line, why can instead post a poser – which one is their favourite? It's so easy to instantly create a poll on Facebook and ask people to vote for their favourite. Post it to a group, on your wall, to your story, or as the admin or editor of an FB page. Then once when you have a collection of responses, all you have to do is quickly do your Maths and announce the results in another post – what fun! You could even announce a gift to the one who gives the best/first answer to your contest/quiz and just sit back and watch how the youngsters just lap it up! You'll surely have them by the ears/eyes, even if social media marketing services are not going to reveal these trade secrets to you.
In the process, you will also collect some authentic customer data, which is always a big advantage with the social media, it can leave a huge digital imprint that you can later process and draw some insights from, such as who is interested in your business? Who responded to your contents? What are the demographics of the respondents?
Here is another great example of a Facebook poll: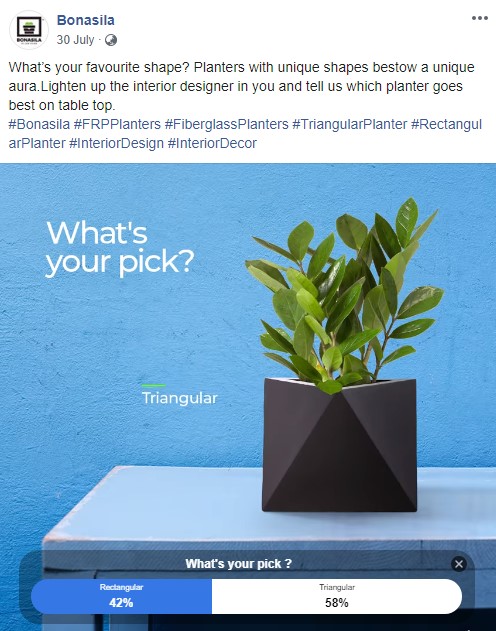 2. Inspire them with quotes
Litmusbranding.com does this very often: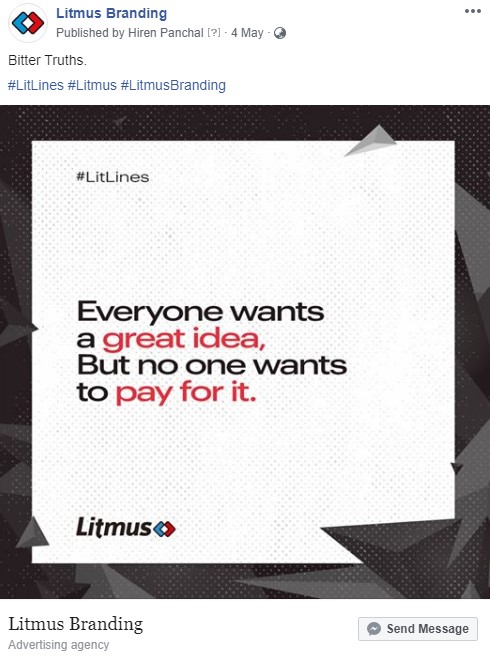 This technique used by nearly all social media marketing agencies works with all audience segments, regardless of age, gender or occupation. Only don't cut-paste from BrainyQuote, that's too lazy. Instead cook up something more authentic and funky. You will find a lot of inspiration on Pinterest, such as: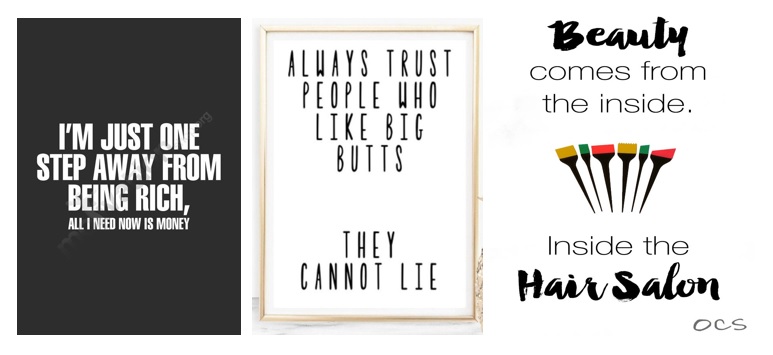 3. Talk to them
Changing you logo? Mooting a new tagline? Going for a shop front revamp? Re-designing your website? These are all great opportunities to go crowdsourcing. Solicit their attention and help. It will flatter them. Ask them to help you make the crucial decision. It will tickle and amuse them no end.
Here's how Litmusbranding.com involves readers by seeking their opinion on taglines: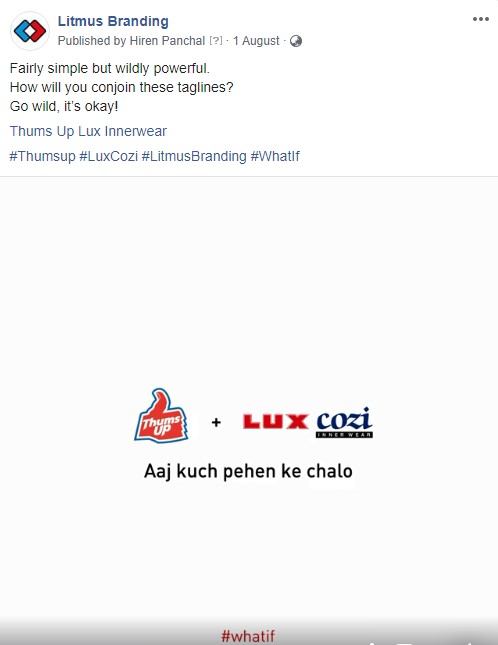 4. Quiz them silly
These days it's so easy for any social media marketing service to come up with a mock quiz with a little bit of help from Google and QuizMonkey. Quizzes are fun engagements that elicit quick responses.
A great example of an interactive quiz.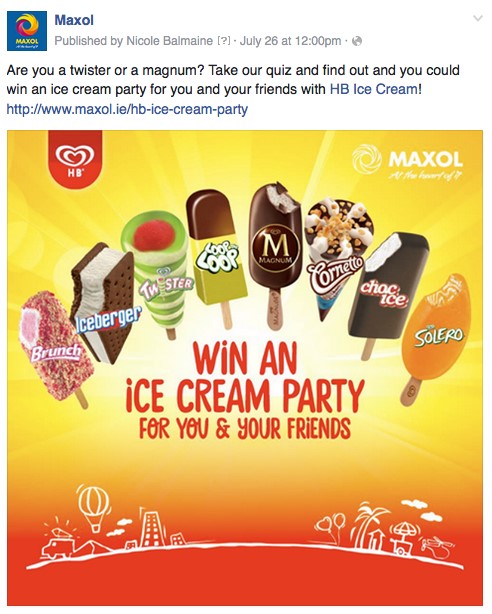 "The ultimate goal is to provide your followers with something they can relate to," advises one social media marketing service in India.
5. Plug in News
It's a very good FB tactic used by social media marketing agencies in India for local businesses, and especially to strike up B2B conversations. You could also gain more visibility in the Newsfeed. Organise, take part, create and post Facebook Events, such as webinars, Live Q&A's, auctions and online sales or even a virtual launch party for a new cloth or shoe line!
6. Share Industry News
This will definitely establish you as an authority in your specific domain and win you a lot of respect, trust and credibility from your peers and potential business associates, recommends one well-known social media marketing service in India.
7. Live Videos
Would you believe it – this inspiring video had Dove soap net close to half a million views and thousands of likes, comments and shares, even though the brand is hardly mentioned in the videos. But what is imminently watchable is that they are telling an engaging story.
Watch it here – https://www.facebook.com/pg/DoveIndia/videos/
According to Facebook, live videos get an average of 6x as many interactions as regular videos!
Some are a few ideas for your live footage, suggested by one social media marketing service – product demos; behind the scenes footage; a product launch or an impromptu ramp walk.
8. Behind the Scenes
People love prying into other people's secrets; how stuff works and what goes into the makings of a video or a promotional film – all the sweat, action and bloomers too! Corporates can use this insight to their advantage on FB. Show them the real face of your company, recommends one well-known social media marketing agency in India.
Here's a good example of Agilent, an American science research and development company that uses its Facebook page to tell their B2B stories. They brand their images, and make them eye-catching. For instance, they featured their longest-serving employee with then-and-now photos – see how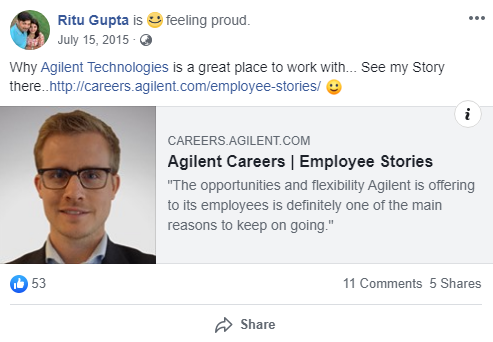 9. Rub their funny bone
Everybody likes a good laugh. Just don't overdo it. Make sure that the humour is relevant to your audience.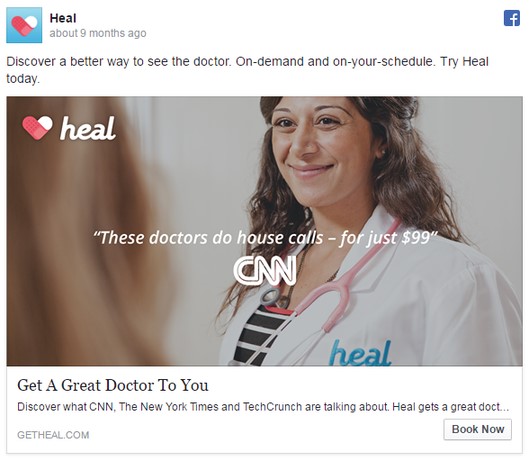 Teaser ads are equally good, such as these, recommend social media marketing services: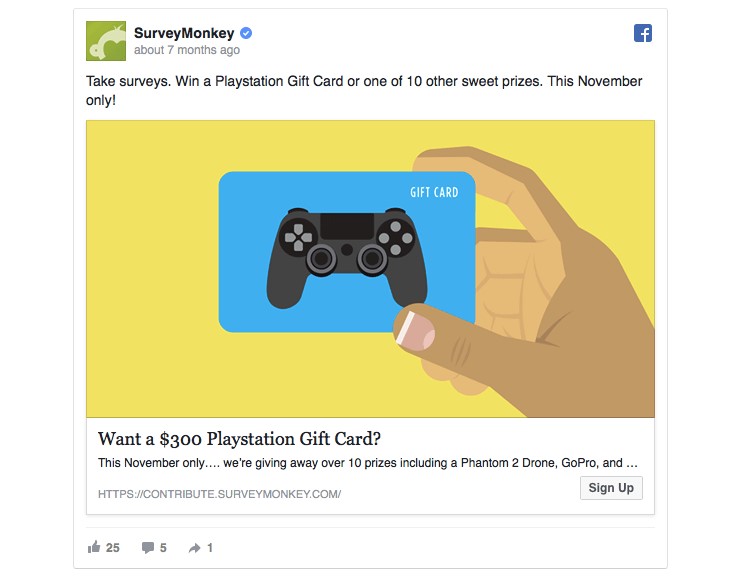 10. Tell your brand story
Consumers love stories!
Think Nestle's Maggi stories.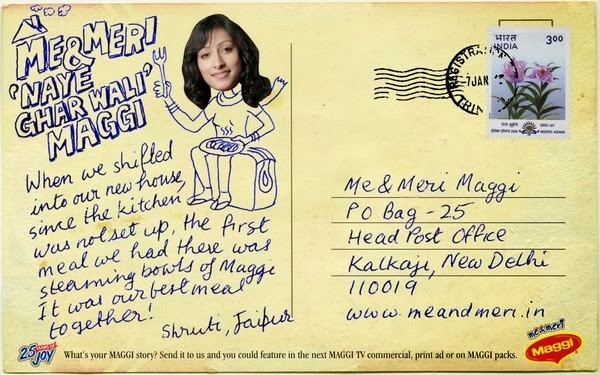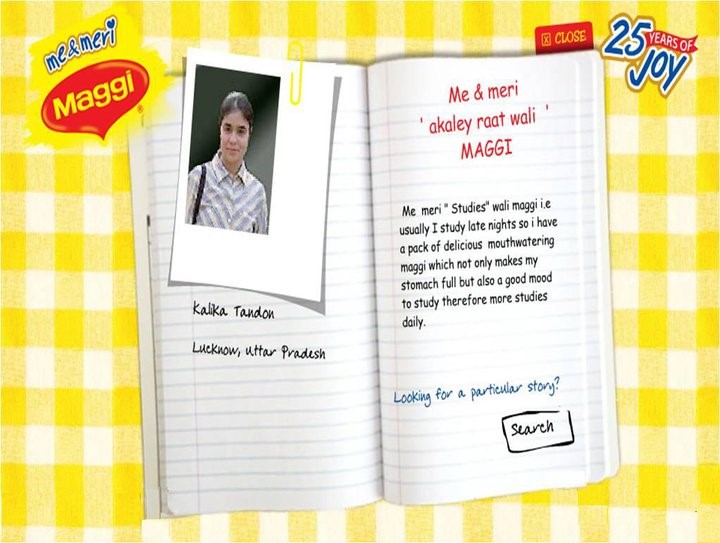 Brand stories enable you to connect with your audience at a very person; in this case astronomical level, observes one social media marketing agency.
11. Use Hashtags
No brand can possibly beat Oreo at its use of mouth-watering images, recipes and creative use of hashtags. The OOTD hashtag for Outfit Of The Day – is extremely popular, observes a social media marketing agency.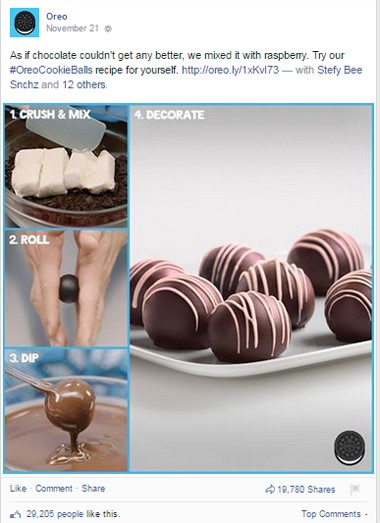 Above All, Be Consistent
This is probably one of the most important, non-spelled out social media strategy. Sound true to your brand. Don't fib or fool, as the consumer out there is very smart – he/she can easily tell. Be salient. The rest, trust us will come easy.