The Latest in Branding & Marketing – Top Ten Trends 2017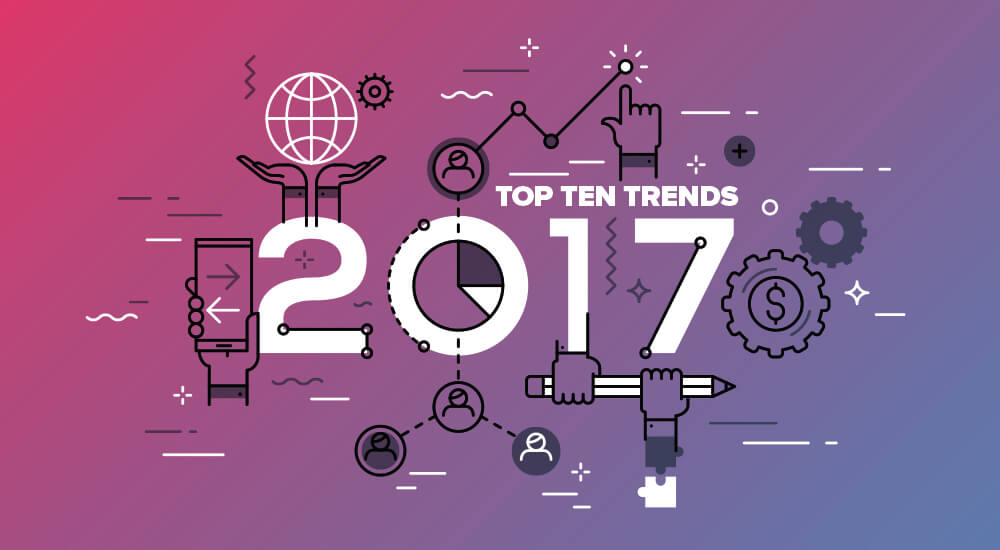 Is your company prepared to take on the challenges of 2017?
Don't think so? Then you must take a peek at the Top Ten Marketing and Branding Trends for 2017.
Trend #1: Data Analytics is the way to go
With more and more people doing all their activities online, it is very important to start analyzing and predicting the digital behavior of your target audience. If your company hasn't started using advance analytics yet, it is high time you start doing so.
You can derive all your cognitive insights based on your advanced analytics.
You have no idea how much data you can find about your target audience in the digital world. With the right technology to crush these numbers, you should be able to predict your consumers' behavior before they even think of taking an action.
This should help you in taking the right decisions to work on the kind of experiences you want your customers to have in future.
You can use these advanced analytics to offer your customers customized content in terms of offers and messages.
Trend #2: GPS-based SEO to overtake keywords
With mobile search volume exceeding that of desktop, GPS based Search Engine Optimization is going to overtake keywords. If you are still working at finding relevant keywords in your niche and inserting them in your content, it is time you started refining  your SEO tactics based on the GPS co-ordinates of mobile devices.
Integrating with Google maps will help you become visible to those that are close-by to your location, in real time, thereby improving your chances of conversions.
Trend #3: Content Marketing to outshine Traditional Advertising
Many businesses have already made the shift from traditional advertising to content marketing, with many more jumping on to the band wagon every day. With more and more businesses understanding the importance of content marketing, only written content through blogs, articles, web content and eBooks will not be able to take up there on the SERPs.
You will have to be more creative about your content marketing strategies. The key is to stick to a niche, include more videos and visual content and focus on consistent engagement.
Trend #4: Authenticity – the name of the game
Intense digital noise that comes from too much of hype and over-published content turns down consumers from engaging with brands online. It is authenticity of brands that consumers look forward to. Inauthentic marketing campaigns are inexcusable whatever may be the size of the brand.
Instead of taking advantage of shortcuts in marketing and branding, Brands should come up with creatives that will help establish their identity in the best way. It is not a good idea to go with standard template designs that makes it difficult for people to differentiate your website from the others.
Trend #5: Going the 'Phygital' Way
Although there are many that shop online, there are people who would like to do their research online but visit the retail stores to purchase their products. The retail industry has come up with an excellent solution for such needs – The Phygital experience.
While bridging the gap between the physical and digital worlds, the phygital experience helps the customers to engage at the right time and at the right place. Such experiences help in positioning the Brands in both online as well as offline environments.
Trend #6: The Rule of the Chatbots
Many brands have started using chatbots that talk to people via voice or text. Introduced through Facebook's new messenger platform in April 2016, these chatbots make it easier for customers to shop and place their orders while they are chatting up with their friends. Converged along with messaging platforms and powerful AIs they can help consumers to have friendly interactions with machines.
Different personalities and tones of chatbots can be used to create different levels of brand experiences. Not just with customers, but brands are soon going to make use of chatbots to engage with their employees too.
Trend #7: Retailers to put consumers in the mood
More and more retail stores are now using elements such as music, digital signage, scent and pathways to create customized in-store retail experiences. It is about creating a particular mood that will create unique buying experiences and trigger positive responses.
Trend #8: Minimalistic Packaging Design
It is very important to keep things simple, be it logos, graphics, colors or even packaging. In today's world where consumers have hardly any time to spend on shopping, easy-to-find packaging with clear messages can help them make instant decisions with regard to purchases. By making it easier for the consumers to remember and recognize brands these minimalistic packaging designs can take brands to greater heights of success.
Trend #9: Marketing to Establish Emotional Connections
Many Brands like Coca Cola, Oreo and Red bull have started coming up with marketing campaigns that help them establish emotional connections with their customers. Without promoting their products these Brands make it psychologically compelling to the consumers to buy their products.
Trend #10: Being There on Social Media
With the significance of social media increasing in the world of marketing, Brands have to be present in every channel where their target audience is present – Facebook, LinkedIn, Blog, Website, YouTube or any other channel.
Yes it was Facebook that dominated the world of digital advertising in 2016. But 2017 is going to give rise to a new network that has already started generating a whole lot of attention from the biggies – Snapchat. Being an image sharing social network, Snapchat does not let your content live forever. It makes it disappear after a while, bringing with it a sense of excitement and urgency.
Not all of these trends are absolutely new. Many of them have already been adopted by most brands. This only means that they will always remain ahead of the game at all times. If you want to jump this band wagon, all that you need to do is anticipate trends that the market demands and adopt them as quickly as possible.
Change has been and will always be the name of the game.