Peers – We're Listening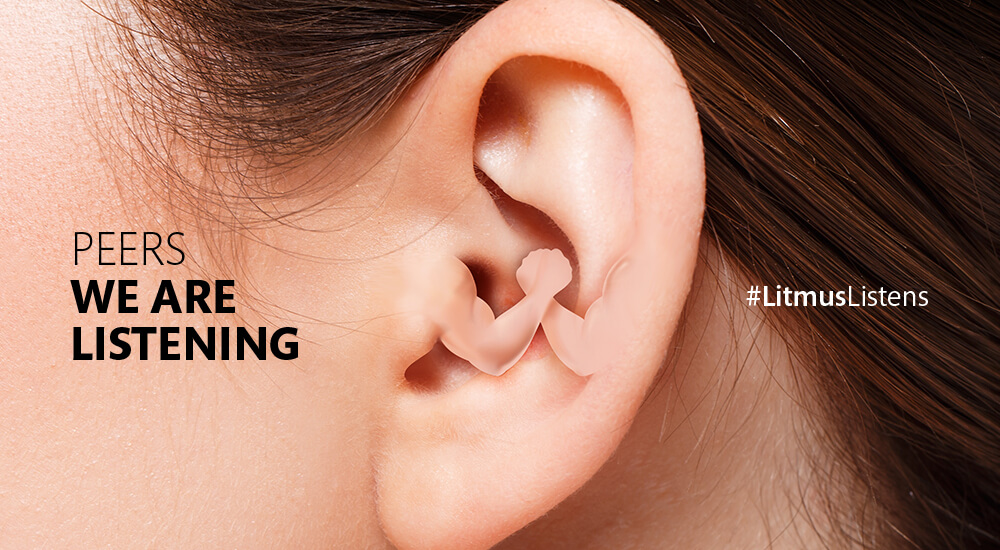 Competition is an innate and inherent part of almost every business segment out there, and advertising is no different. In fact, it is one of the most competitive segments of every business. The second step towards formulating any marketing strategy is to know what the competitor brand is doing or has done, first being—understanding the brand itself.
We believe that business monitoring can be extremely insightful than mere industry awareness. As marketers, it is our primary job to keep up with what others are doing so that we know what needs to be avoided and what demands our attention.
Take for example the marketing war between BMW and Audi. Their so-called 'Chess' game of advertisement went viral across the world. The war started on hoardings and ended on hoarding only.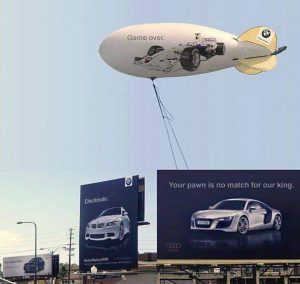 If Audi would have had printed an amazingly creative ad in a newspaper rather than publishing it on the hoarding next to BMW's ad, we would not know that they are actually trying to compete/or give back to the ad published by BMW. Thus, it is not only about the strategy or the creative, the promotion medium or the marketing channels are equally crucial.
Keeping a tab on the commercialization efforts of your competitive brands or even the subsidiaries of the same brand can uncover powerful information about the industry advancements and even about the customers as well. Sometimes it even reveals what your audience is hooked on and what your competitors are doing for the same. It makes you understand your position and also helps you chart out a refreshing marketing strategy.
We, at Litmus, have a tendency of closely listening to our fellow advertising agencies, be it big or small. Our quest for listening doesn't end here. Instead, we keep close tabs on the competitors of the brands we work with.
The first step to formulate any strategy for any brand requires comprehensive research. A very important part of that research is competitor analysis.
Understanding and following them is important as it will help us big time to create a plan that penetrates to the fullest.  After all, the foundation of every strategy is to avoid what has already been executed, either by your competitor or by yourself. We followed this philosophy in one of our greatest projects of all times, IIM Udaipur.
IIM, expanding its institution base, introduced three new IIMs in 2011 at Udaipur, Trichy, and Kashipur. We got an opportunity to brand IIM Udaipur and that is where our peers listening skills were put to use. Every IIM is subjected to an identity that co-relates with the respective city it belongs to. For example, IIM Ahmedabad is known as 'IIMA', so on and so forth. Similarly, we had to claim the 'IIMU' title with a unique brand identity element.
We were constantly monitoring the other two IIMs that ventured along with Udaipur and closely analyzed the existing IIMs branding legacy. After numerous sessions of brainstorming, we crafted an element that was originally inspired from the Chevron pattern rooted in the IIM Udaipur logo. We followed the rule of having a consistent brand identity. Just as the logo encapsulates the IIMU's mission, the forward thrust of the chevron in the 'U' reflects the essence of the values and culture of IIMU.
[wonderplugin_slider id="2″]
Later, the same chevron pattern was prolifically adapted in their brochure, reports, and marketing collaterals. Including this modern design paradigm with an approach that was based on the dynamism of user experience, we also revamped the IIMU website which sets it apart as a distinct entity from IIM Trichy and IIM Kashipur on the World Wide Web. Not once throughout our brand building process did we stopped listening to the peers of IIMU.
Liked we said, we are listening in every direction to every agency and brand out there. We are upgrading ourselves daily in order to achieve our vision of becoming a renowned global branding company. Our listening skills have made us come this far and we are pretty confident about moving towards a futuristic growth.
Wish to know what we discovered by closely listening to others?
Let's have a detailed discussion and find out ways of utilizing our listening capabilities to the best of your results. When we'll listen to you, we'll also have ears listening to your peers. So you don't have to worry about what's happening out there.  We've got you covered. All you have to do is to pick up your phone and call us. We are closer than you think.