Manufacturers: How You can Create a Unique Brand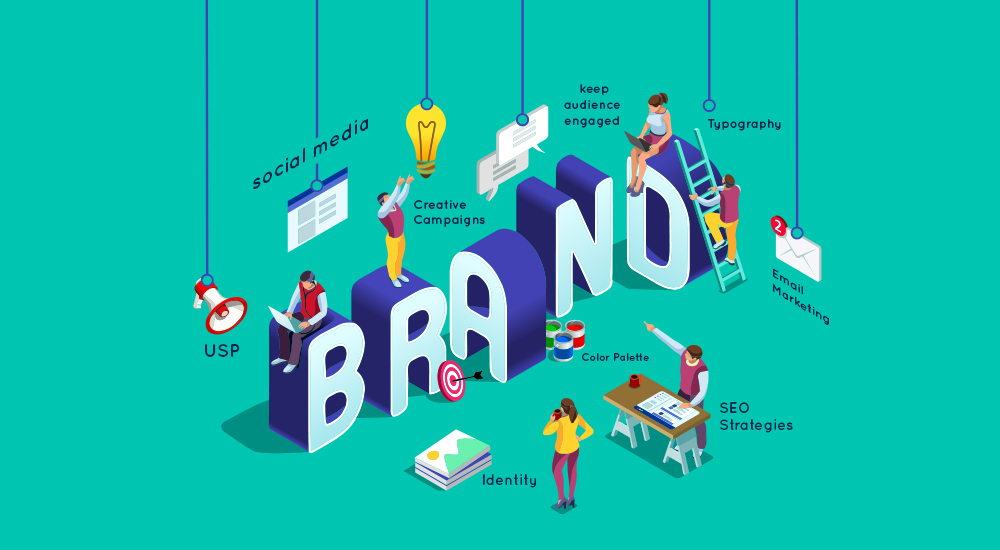 In a marketplace that is constantly cluttered with brands fighting against each other, it can be almost impossible to establish an edge, unless you have established yourself as a unique brand;and to do this it is very important that you understand how to create a brand identity.
Establishing a brand identity is similar to creating a human identity. It includes the personality traits, the quirks and the various everyday behaviors that define your brand. Apart from setting you apart from your competitors, a brand identity also helps you connect with your target audience and establish strong long-term relationships with them.
Here are a few steps that you need to follow while establishing your unique brand identity…
Determine your Unique Selling Proposition
Before you go on to understand how to create a unique brand it is important that you determine your Unique Selling Proposition (USP) – the one that tells your customers why they should choose you over your competitors. The answers to a couple of questions should give you your USP…
What are the features and benefits that are unique to the product or service that I offer?
Which is that emotional need that is being fulfilled by my product or service?
What are the aspects of my product or service that my competitors cannot imitate?
Are there any phrases that describe my unique product or service perfectly?
How do I answer the primary question of my consumers – 'what is in it for me?'
If you are still not clear about your USP here are a few examples…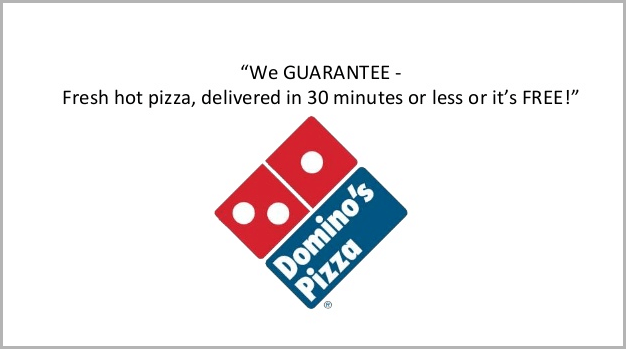 Source: https://www.marketingresults.com.au/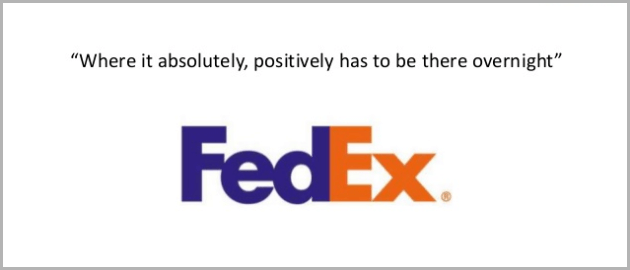 Source: https://www.marketingresults.com.au/
It is your USP that defines your position in the market – something that makes your product or service unique and desirable in the eyes of your consumers – a promise that you make to your customers, which you have to deliver.
It doesn't matter how many advertising gimmicks you adopt, your product will not sell until it is the best in the market. You have to think out of the box and adopt a few clever innovations in your design process, if you want to stand out.
User-inspired research and development has helped many companies in coming up with merchandise that their consumers have been waiting for.
One such innovation is the Intel Core M Processor. With 1.3 billion 14 nanometer transistors fitted into a dual-core, this product increases the power of a device while reducing cost. The low power consumption and low heat generation features of this product has helped many manufacturers do away with fans and produce the thinnest laptops available in the market.
Apple managed to increase its sales by a whopping 16.1 percent by including the Core M Processor in its new 12-inch Retina Macbook.
Source: https://img.newatlas.com
Define your brand personality
Assume your brand to be a person. Now make a list of adjectives that match with the character of your brand. Here are a few for you to choose from…
| | | | | | |
| --- | --- | --- | --- | --- | --- |
| Bold | Innovative | Caring | Helpful | Mature | Light-hearted |
| Serious | Calm | Rational | Adventurous | Luxurious | Witty |
| Imaginative | Humorous | Altruistic | Neat | Mysterious | Tough |
| Youthful | Elegant | Rugged | Dependable | Warm | Sexy |
| Friendly | Healthy | Powerful | Authoritative | Worldly | Relaxed |
| Quiet | Glamorous | Quirky | Strong | Old-fashioned | Intellectual |
| Whimsical | Sweet | Clever | Masculine | Cosmopolitan | Feisty |
| Feminine | Gentle | Stoic | Cooperative | Humble | Spiritual |
| Edgy | Energetic | Liberal | Conservative | Innocent | Rebellious |
Now depending on the characters that best describe the personality of your brand, determine your personality archetype. You can use the picture below to see where your brand belongs: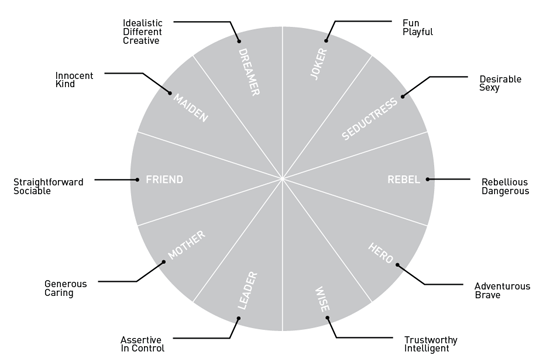 Source: http://www.finien.com
Once you determine the personality archetype of your brand, you should also get the main personality traits that define your brand. Based on these personality traits, you should be able to create your unique brand identity design and your brand atmosphere. Manufacturers should look to define their traits in terms of quality.
Create your Brand Identity
Now that you have determined your Unique Selling Proposition and defined your brand's personality, it is time to find out how to create a brand identity.  Let us start with designing the visual identity of your brand – your logo.The most important element of your brand identity is your logo. It is like the face of your business – a simple image that conveys the meaning of your brand to your target audience. The choice is up to you whether you want to use graphics, icons, typography, or a combination of any of these to design your logo. There are a few things you will have to keep in mind while designing your logo:
The Color Palette: Colors are a crucial part of your brand identity. Not only do they impact your reputation, they also influence the way your customers feel about your brand.
Different shades can invoke different kinds of psychological responses from your customers.
While blue represents loyalty, trust, professionalism, and confidence, orange color can make you seem fun and playful. Understanding the brand color psychology is important to determine the right colors that represent the main personality traits of your brand.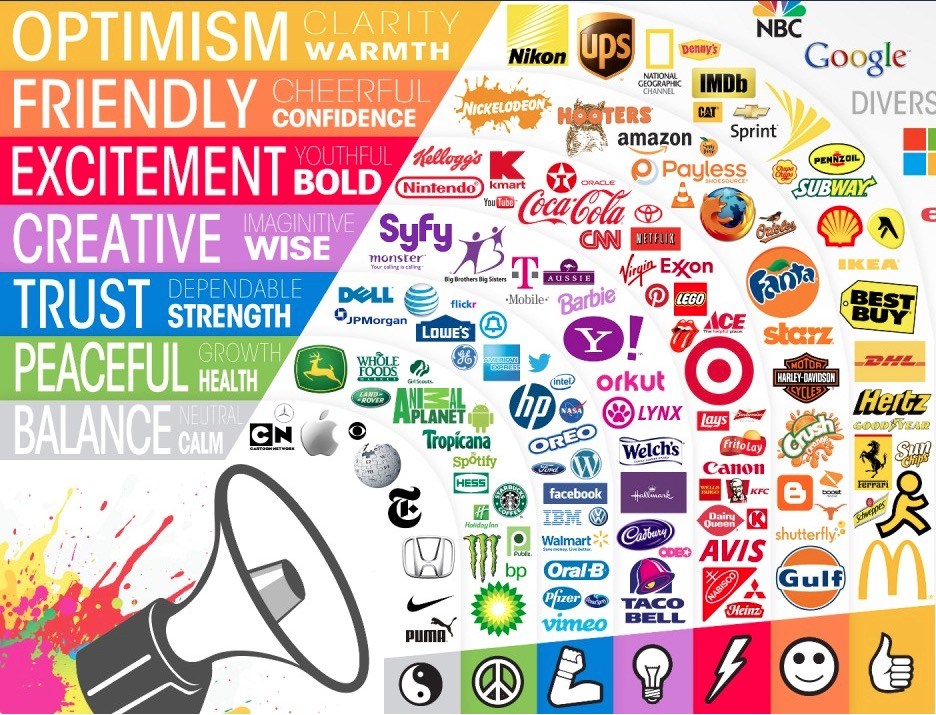 Source: https://i2.wp.com/
The Typography: After colors it is also important that you determine the right fonts for your brand. You have to choose a font or a collection of fonts depending upon what you want to be perceived as.

Source: https://blog.hubspot.com/
Consistency: Consistency is very important when establishing a powerful unique brand. You have to stick to your choice of colors and fonts with every communication that you have with your audience.
You will have to set out rules for establishing your brand identity and make sure everyone in your organization follows them. This is particularly important for product manufacturers, as branding starts from the factory.
Apart from focusing on the creative aspect, also make sure your brand identity is flexible enough to adapt to the changing expectations of your customers and the trends of the marketplace.
Recommended: Brand Color Psychology – the Art of Choosing Brand Colors
Increase your brand awareness
Now that you have created your brand identity it is time that you familiarize your target audience about your brand. Considering the unique preferences of your consumers it is important that you follow a multi-channel approach while increasing your brand awareness.Here are a few things you should try…
Research SEO strategies: 
The best way to make your consumers find you is through the search engines. Apart from looking for the right keywords, you should also look for some SEO strategies that will help you increase your visibility and establish you as the leader or authority in your industry.
Double-down on social media:
If you want to get directly in touch with your customers you will have to be where they are – the social media platforms.
If you are a B2B business you will do well by establishing your brand presence on LinkedIn. Else you could try Facebook or Instagram.
Apart from uploading your posts, you should also make sure you boost those posts through paid advertising. You can come up with events and innovative social media campaigns to engage with your audience.
You can use Twitter to publish news about your business and interact with audience who is already discussing things related to your business.
Digital Advertising:
If getting on the top result pages of Google is your goal, you have to invest in PPC advertising and display advertising. When compared to various other forms of advertising, these are cost-effective and maximize your ROI.
Outdoor and Newspaper Advertising:
The only way to attract the attention of local audience is through outdoor advertising and newspaper advertising techniques. Although you may have to put in some money the kind of visibility that these techniques can give you is beyond words.
Remarketing Campaigns:
Remarketing is a good way to connect with the audience who has already used your service or purchased your products. It involves strategic placing of your ads while your customers browse through Google or partner websites.
While increasing brand awareness, this will also help you maintain your connection with your target audience.
Influencer Marketing:
Identifying individuals who can influence your target audience and orienting your marketing activities around these influencers can help you create brand awareness, increase visibility, and also build trust for your brand among your target audience.
Email Marketing:
Sending emails to your prospects and customers based on their personal preferences and shopping behaviors can help you in not only building brand awareness but also in increasing your conversions.
As per research you can earn an average return of $38 for every $1 that you spend on email marketing.
Press Release:
An authentic way to create brand awareness is by sending press releases to newspapers and magazines that reach out to your target audience. Coming through the mouth of the media, this tactic can help you boost your trust and credibility in the industry.
Partner with other Brands:
Partnering with an established brand could be a great way to build your brand awareness. Also known as co-branding, this could be a great way to break into new markets, and create win-win situations for all players in the game.
Create Infographic:
Infographics are a great way to transform your boring information into a memorable image that captures the attention of your audience.
Apart from providing information and increasing brand awareness, infographics can also motivate your target audience to take the action that you want them to.
Recommended: 6 Valid Reasons Why Branding Is Important for Start-ups
Keep your audience engaged
You can boost your brand lift by more than 300% by engaging with your audience. Audience engagement is more about quality than quantity. If you want to keep your audience engaged you will have to…
Know where they are (which social media platforms)
Understand what they are looking for
Make conscious efforts to offer them what they want, in the way that they prefer
Do your best to be up-to-date with the latest market trends and accommodate the demands of your industry
Be consistent and reliable in your communications, showing in every interaction that you are a brand that cares for its customers
Make your engagements interactive and attend to consumer responses without any delay
There are many more things you need to discover while learning how to create a unique brand. A branding agency should be able to take care of all these aspects for you without you having to put any efforts. All that you need to do is do some research and identify the best branding agency that can understand your requirements and create a perfect identity for your brand.
If you are offering a quality-enhanced, innovative product, winning the trust of your target consumer, through strong branding, should not pose a challenge.