Improve customer retention ratio by using reliable strategies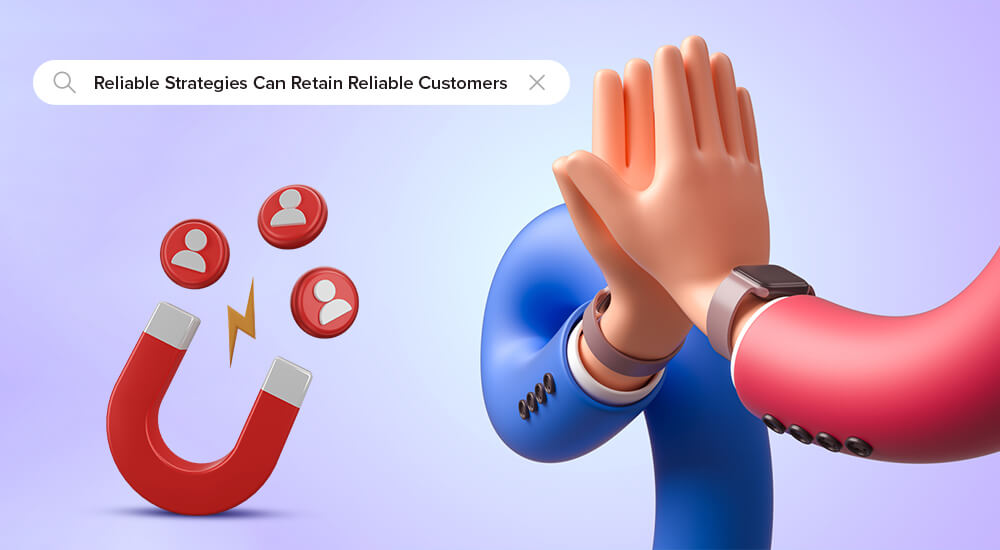 Winning new customers is exciting, and necessary—for growing a business. It's the only way to survive in the early days of a company. However, as your business grows, relying too heavily on customer acquisition can drain resources and limit the growth of a company. This may appear counterintuitive, but you must also focus on your existing customers, who already know and like your company. Once your company has gained traction in the market, customer retention strategies can produce returns that far outweigh the best sales channel or lead-generation system.
Whether you're a seasoned business owner or just starting out, learning about customer retention and how to retain customers is critical. Building a loyal customer base is a wise long-term business move, so customer retention is critical.
You've probably heard it before. It is less expensive to get repeat customers than it is to find new ones. It's true for many businesses, especially in the crowded e-commerce arena, where the cost of clicks and conversions always seems to rise. This is customer retention science.
When was the last time you looked for ways to re-engage customers and entice them to return? If you have yet to market to current customers, now is a good time to develop a cohesive customer retention strategy, which can include both a digital strategy and a traditional marketing strategy.
Benefits of Customer Retention
Customer retention is your brand's ability to keep customers coming back for repeat purchases over a period of time. Retaining a customer's business indicates that a company's product, service, or brand is appealing enough to an existing customer to keep them instead of switching to a competitor.
Having a customer retention strategy in place is a smart way to cut costs because it is less expensive to retain customers than to acquire new ones.
If small businesses want to achieve long-term growth, then they should implement several retention strategies. You don't need to spend a lot of money on marketing if you have a customer retention strategy in place. All you have to do is please your current customers and strengthen your customer relationships, and they will continue to return.
So, here are 10 easy-to-implement customer retention strategies:
1) Make use of CRM software
Customer retention is supported and enabled by the right customer relationship management (CRM) software, which allows you to track customer behaviour over time. It can tell you about customer purchasing habits and product usage, as well as notify you when they stop purchasing from your company. You can also track customer service interactions to better understand their issues and frustrations.
These key customer behaviour variables are red flags that you are about to lose a customer, allowing you to intervene and potentially save the account. Once you understand your customers' behaviour patterns, you can determine whether you're on the right track or if your customer experience strategies need to be revamped.
CRM aids in customer retention by:
Creating a customer journey map
Enabling you to customize offers and correspondence
Providing a centralized customer information database
Keeping track of information such as purchase history, customer feedback, and returns
Keeping track of customer interactions with your support team
CRM reports that display real-time data insights
2) Keep a calendar of customer communications
Track how long it has been since an existing customer has interacted with your company to avoid losing customers. With promotional offers, you can re-engage inactive customers. You can also celebrate anniversaries such as birthdays or get ahead of subscription expiration dates. You can also try sending newsletters through email to keep your brand fresh in the minds of your potential and current customers.
3) Implement a customer education program
Give your customers the information and tips they need to succeed. Your customer education program can be centred on your product or service, or it can include additional information. A company that delivers hair colour, for example, would provide detailed instructions on selecting and applying hair colour. They may also include sections on homemade remedies for dry or overtreated hair as well as how to keep your hair healthy.
4) Keep your promises
Consistency fosters trust. Who doesn't like people or brands that stand strong on their promises? So, always deliver what you promised.
5) Accept mistakes
After only one negative experience, up to half of customers will abandon a company. Every company makes mistakes. When they do occur, it is critical to address them as soon as possible to demonstrate to customers that their business is valued.
6) Give more
A positive experience is remembered and appreciated by customers. Events, contests, and active customer communities are all ways to add value.
7) Gather and distribute positive feedback and testimonials
Social proof is an effective persuader. Customers believe online reviews just as much as they believe recommendations from friends and family. Furthermore, soliciting feedback can aid in the establishment of an emotional connection.
8) Recognize and reward customer loyalty
Customer loyalty programs encourage people who already buy from your company to do so again. Customers may be enticed to spend more money at your establishment if they receive benefits in exchange.
9) Collaborate with relevant brands to cross-promote
If your company has multiple related brands, you can also cross-sell. A customer who is interested in something you provided is likely to be interested in a product from a related brand, and contacting them is simple.
10) Create an online community
Creating an online community can help you engage your customers and increase customer retention. A digital marketing strategy can help you create this community. An online brand community brings businesses and customers together, resulting in a variety of advantages, including the following:
Space for discussion: A brand community creates an exclusive space for discussing your brand, products, or industry. Users can ask and answer questions from other members, resulting in rich discussions.
A platform for event promotion: The brand can share events, contests, and other content to increase engagement.
Engaged community: A brand community promotes user-generated content, increases brand loyalty, and lowers marketing costs through word-of-mouth marketing.
Know when to prioritize customer acquisition over customer retention
While it has been shown that retention is more profitable than acquisition in general, it may not always be the best strategy. Although retention has many advantages, you must consider how applicable it is to your business. Look at two primary factors to determine how much your company should focus on one or the other:
Your current incoming sales volume
The number of times your product or service is purchased again.
Customer retention strategies allow you to spend less while earning more.
Many customers are overwhelmed by constant advertising and seemingly limitless options. When your business positions itself as a trusted and reliable resource that delivers on its promises, your customers will not give a second thought to returning. Customer retention strategies do more than just increase your customers' lifetime value. They create a win-win situation in which your company provides an exceptional experience and your customers benefit from doing business with you.
How Litmus Branding can help you
Customer retention is the foundation of any brand's growth. The more customers who return for more, the more likely you are to meet your business objectives. But keep in mind that customer retention does not happen overnight, and you will need an expert in this.
Litmus Branding is a 360-degree digital marketing agency. We have a team of experts that can help you boost your business. A quick discussion with us can also give you ideas and strategies that will help you retain your customers.