Branding within the Budget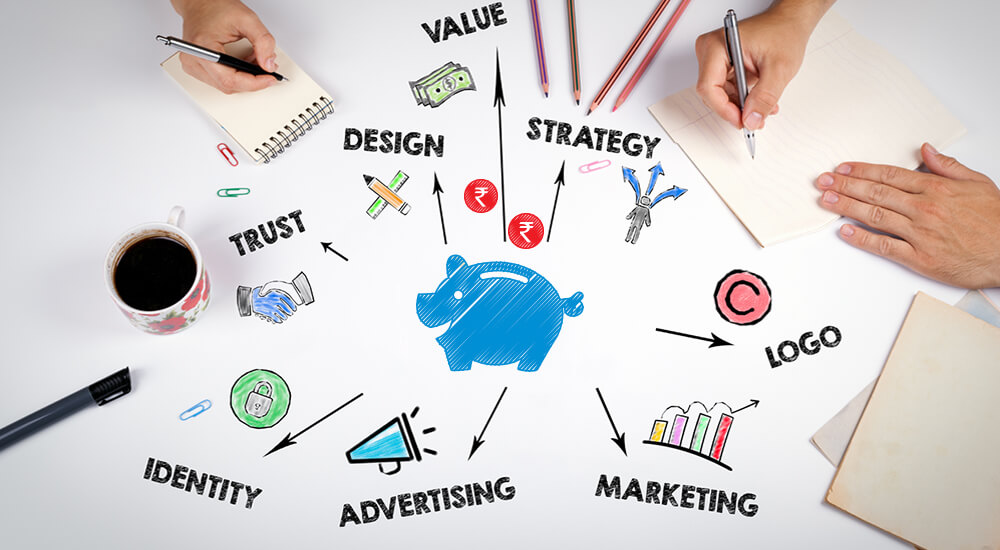 Branding is not something that is meant only for the corporate powerhouse. In this day of social media, not just companies but individuals also can benefit from establishing their brands.
Good branding is something that gives your business a strong visual identity. It makes your customers understand what your business represents.
Most businesses understand branding to be a method of choosing a name for a business or selecting a particular design or color for your logo. It is neither.
Branding is something that ties up everything together – your company name… the colors of your logo… the fonts that you use…the copies that you upload on your website. It offers consistency and helps you stand apart from your competitors.
Branding is not what you tell others about your business. It is how your customers perceive you.
No matter how good your business is, it is of no use if no one can find or remember it.
There are two questions you need to answer if you want to achieve success in your business:
Is your product something that people want, even if it comes at a price?
Can you reach the people who wish to purchase your product?
People start businesses mostly because they are competent and capable. They may be experts in their fields. They might know the industry inside out. They may even be able to supply the exact product that the people want. However, the challenge is always about reaching the right people.
So, how then do you promote your business?
The answer is quite simple – It is by adopting the right branding strategies.
Yes, the biggies do spend a lot on advertising and branding. However, it is at the small companies that the real innovations in branding are happening.
Their concepts are quirky and their experiments, daring.
They are not beholden to their shareholders or executive boards.
They are not like those big businesses that have multiple decision makers.
They do not have to restrict themselves to specific ideas and guidelines, so as to keep their brands consistent.
They are more open. They explore new creative directions. Their ideas are very unique and they move much faster when it comes to implementing them.
Their budgets are limited when it comes to branding and marketing. This makes them hunt for options that will attract business.
If you are one of those small businesses who are looking for such ways, here are a few ideas that can help. These can help promote your businesses, while enabling you to save money.
Set your goal and your budget
Keeping it simple and realistic is the key when it comes to setting your goal for branding. Consider your resources, keep in mind your limitations and only then take this step.
Pay to play
It is not always possible to get optimal results through organic search engine optimization. Eventually you will have to pay to play. However, make sure you do your research well before entering into the game.
Capitalize on the local offerings of Google
Targeting the local market is the best way to attract business. Google has simplified this for you through its local offerings. It is up to you to make the best use of this.
Focus on one social channel
Social media networks are growing by the day and every once in a while you see a new channel being introduced. Instead of establishing your presence on all of them, it is always better to concentrate on one. Make sure that's where your target audience is.
Email Marketing
Email marketing is probably the most cost-effective way to reach out to the target audience directly. You can even personalize your emails based on the requirements and preferences of your prospects.
This is one thing that everyone does. However, what they don't understand is that the content that they publish needs to be fresh, original and engaging enough to keep their audience connected all the time.
Keyword Research
It is through search phrases that your customers find your business. You will be able to look for these search phrases only by doing a thorough keyword research. Once you do this, choose the ones that are absolutely relevant to your business. This way, you can drive the right traffic to your website.
Share your knowledge
You don't get to lose anything by sharing your knowledge with your target audience. In fact you would be gaining. You will be establishing yourself as an authority in the industry, while offering useful information to your audience.
Conduct surveys, listen and learn
Unless you know what your audience wants, you will not be able to meet their needs or expectations. Conducting surveys, listening to them and learning from their conversations are the only things that will take you towards the right path.
Apart from the above, another very effective marketing strategy that you can target is networking. You can use platforms like LinkedIn to connect with everyone whom you know. Help and get helped should be your motto, while networking.
For instance, let us suppose you are a car dealer. Let us say there is a certain auto detailer who owns a repair shop down your road. You can actually partner with this guy to improve your business. All that you need to do is keep his business cards and flyers with you. You can keep giving these to your clients, whenever they are in need of someone who can repair their vehicles.
In return, the auto detailer will start referring his clients to you, whenever they want to buy, sell or exchange their vehicles. He will keep your business cards and flyers with him and give them to his clients, whenever they are in need.
Networking might start with exchanging business cards. But this is how it works. It is always "You scratch my back and I will scratch yours."
These steps can help you market your business effectively even if you are working with a small budget. Yes, you will need a fantastic product. But you won't be able to reach your goal if you do not have the determination to succeed.
That said don't just blindly dive in there because the rest are doing so. Be alert, find out what works for you, seek expert advice and then take your step.  After all you have neither the money nor the time to waste by getting things wrong.