Bling! Bling! Buzz! Buzz!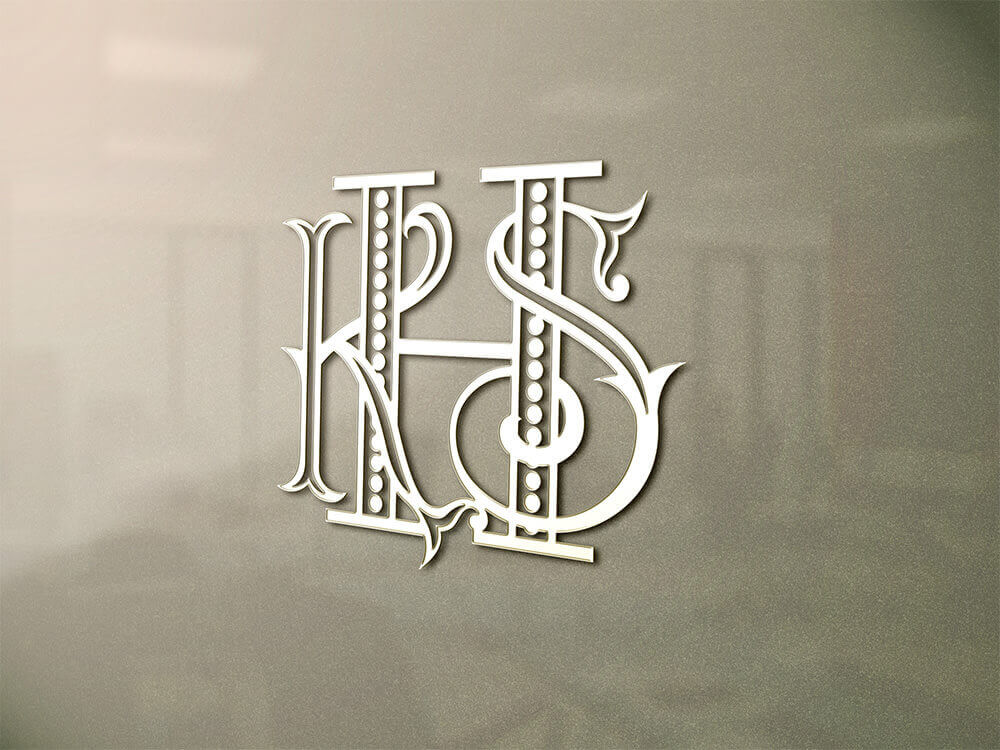 Monograms can be a great branding tool for establishing personal or product heritage
Think monograms and the images that flash to mind are of upper-crust lineage, rustling gowns, gloved hands, silver cutlery, hushed tones, and Mozart's symphony playing in the backdrop, tiptoeing butlers, click-heel decorum and fine living!
These images have been carefully preserved by generations of true-blue royals and men and women of distinguished pedigree. Count among these celebrities, society ladies, aristocrats, and rock stars, whose personal paraphernalia – scarves, jewelry, bags and sunglasses – often come under the hammer and fetch fortunes for the heirs, only because they bear monogrammed identities.
Fans and followers never feel swamped with the bling. On the contrary, they are quick to lap it up – that's the kind of personal power that comes vested in these artifacts. Originally, monograms were used as Royal signatures, say an H for Henry VIII of England. The Romans and Greeks used coins embossed with their name initials. In the Middle Ages, artists started substituting monograms for their signature.
The wealthy took to monograms in the 19th century – books, stationary, cigarette cases, lighters, the family silver, towels, bottles and shirts took on personalised identities, and owning this stuff became a matter of pride; a declaration of your lineage. Later men of letters started using monograms as personal logos – TSE for T.S. Eliot, RLS for Robert Louis Stevenson, FDR for Franklin Delano Roosevelt, JFK, RFK, EMK for the Kennedy brothers and so on.
Picking up the trend, linen manufacturers, owners of heritage properties and designers started using monograms in their brand identities to set themselves apart from competition. Take for instance, the new corporate identity for The Leela Palaces, Hotels and Resorts. In the business for almost 25 years, they wanted to get aggressive on their expansion plans. The hospitality group plans to double its portfolio in the next four years, adding four new luxury hotels and two branded Leela Residences to their basket.
Developed by Landor Associates in Paris, Rare Medium in Atlanta, and renowned Indian calligrapher, Satya Rajpurohit, Leela Group's new identity captures the opulence of a luxury chain in traditional Indian calligraphy. In a design world replete with corporate logos, this strikes as an elegant way to make a mark.
The Leela logo in that sense isn't about a particular symbol or icon. Not even its resemblance to a peacock, the country's national bird. It's is matter of asserting their heritage and strong positioning in a sector that is gradually being usurped by foreign players.
In a marketplace a flush with non-differentiated brands, where a brand's unique cultural space is almost eroded, monograms give us the opportunity to re-establish our individuality.
Litmus seized this opportunity for Julia B, a leading bed linen designer in New York City. We've designed a whole bunch of vintage-inspired designs that her customers can pick from her database and have them embossed on their personalised linen at the click of a mouse.
If monograms are making a purposeful comeback, it's not without reason. Whether you are a small or large business dealing in embroidered linens or embossed stationery, a monogram could be the perfect ways to stand out in the clutter, but only if you have a brand history in the first place to share with your customers. Monograms smack of age and like the wine in the cellar, the longer you have been in the market, the stronger could be your claim to a monogrammed identity.