Best WordPress SEO Plugins for 2018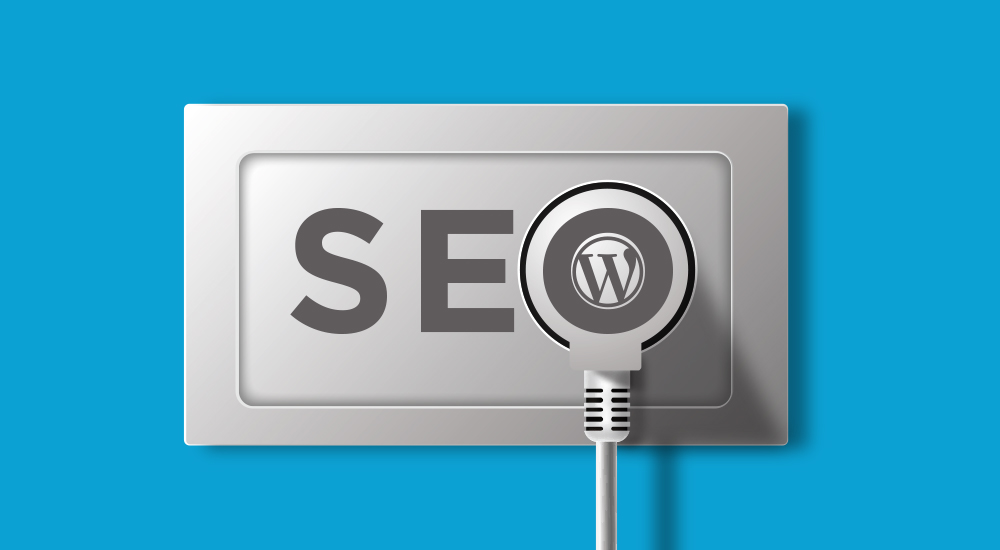 Do you actually understand the concept of SEO? Even if you don't there is no way you can ignore its significance.
SEO or Search Engine Optimization can improve the visibility of your website and make it rank high on Google.
Thankfully WordPress has many SEO plugins that help many website owners turn their websites into SEO powerhouses. Depending on your SEO requirements and goals, you can choose the best free SEO plugins for WordPress.
To make it easier for you, we have compiled a list of such SEO plugins for WordPress that can improve the overall SEO standing of your website in 2018:
Yoast SEO
One best SEO plugin for WordPress, which is most-used and most-popular, is the Yoast SEO. With a 4.7 average star rating, thousands of reviews and 4.5 million downloads, Yoast SEO WordPress Plugin helps you take care of every technical aspect of SEO. Let us find out how it works: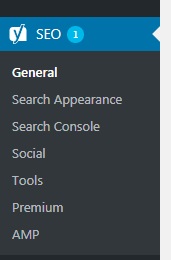 1) General: By clicking on this you will be able to control the features that you wish to use with the Yoast SEO plugin. This is the screen that you will see when you click on the 'General' link: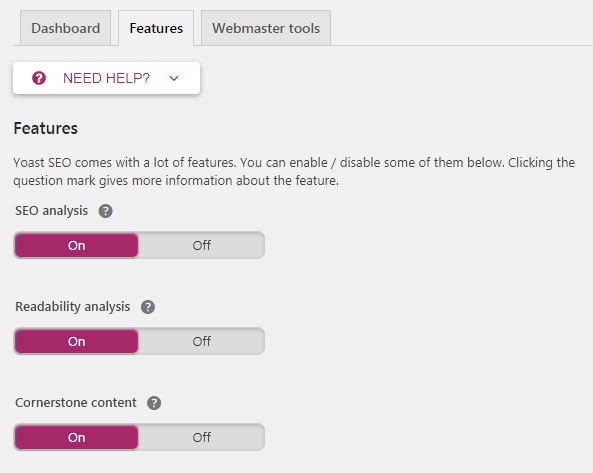 2) Search Appearance: This can help you work on the title aspect of your webpage. To select 'Title Separator,' you will have to click on the 'General' tab in the search appearance window.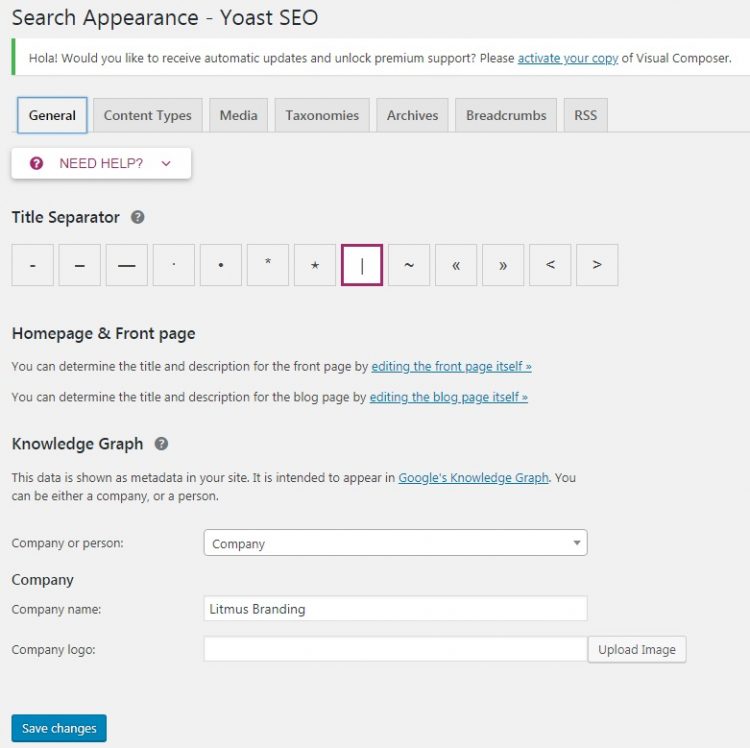 You can also change the status of content types and add script to Title template to display the desired title format on your webpage.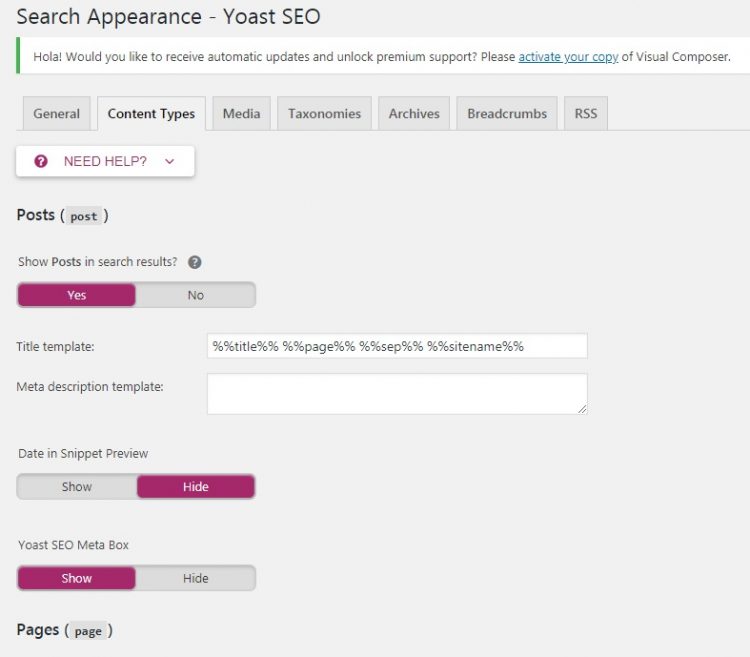 Further, you can also control the pages that you want your users to see, when they visit your website. Just click on the 'Archives' tab and 'Enable' the pages that you want to display. You can also decide whether or not you want these web pages to be shown in the search results.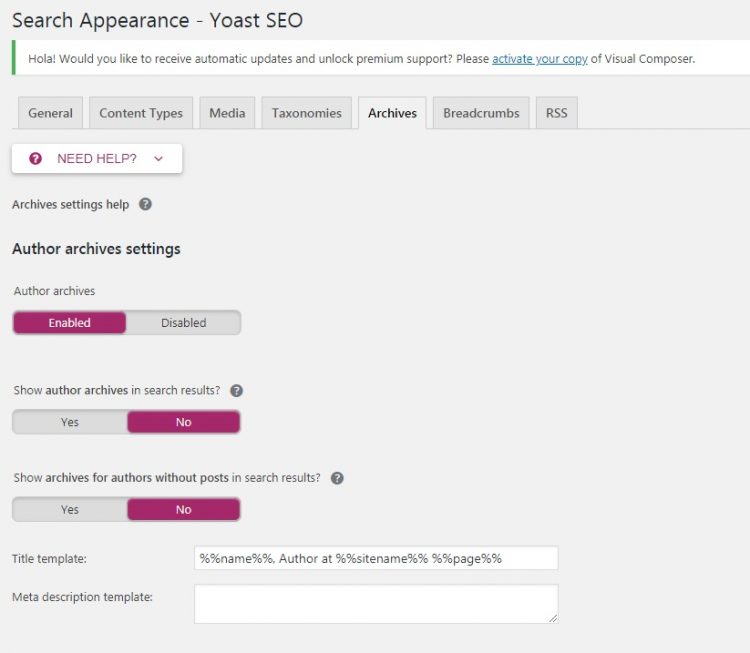 Key Features of Yoast SEO
Using the snippet preview you can see how your post or page would look in the search results
Yoast SEO makes available canonical link elements everywhere on your website.
Advanced XML sitemaps feature to create XML sitemaps automatically and then inform the search engines of their existence.
Facebook Open Graph to connect SEO with social media.
Easy navigation for both search engines and users.
Built by SEO experts and having a variety of features, this plugin is a must-have if you have a word press website.
All in One SEO Pack
All in One SEO Pack is another best free SEO plugin for WordPress that can be used to optimize not just the posts and pages of your website, but also other content such as FAQs, products and testimonials. The best part about this? It is easy and it works out of the box for beginners. With advanced features and an API for developers, this SEO plugin provides everything you would need, to optimize your website for the search engines.
Key Features:
Bad Bot Blocker to prevent harmful bots from decreasing the speed of the website.
Option to manually edit files like .htaccess and robots.txt
Option to import or export your settings and share them with other sites
More control on the way in which search spiders may navigate your site.
Closer integration with social media channels by adding Open Graph to your site
Video Sitemap to create and manage Video XML Sitemaps and submit them to search engines. (This feature is available on paid version only)
Broken link checker
Broken or dead links can be dangerous for your SERP rankings. They can get your site penalized by Google.
If you want to generate more search engine traffic, you should first think of fixing all the broken and dead links on your site.
The easiest way to do this is by using Broken Link Checker, the best free SEO plugin for WordPress.
The plugin monitors your site thoroughly by checking your posts, comments, and various other types of content for missing images, broken links, and dead links, if any.
You will be able to edit the website links directly from the plugin page. You can find and filter the links as per your requirements. You can even choose to get notifications about broken links through the dashboard or on your email id.
SEO Squirrly
Another best free SEO plugin for WordPress is SEO Squirrly which helps even those who have no idea about Search Engine Optimization.
The best thing about this plugin is that it helps you create interesting, high-quality content for your readers that is not just optimized for the search engines, but also human-friendly.
That's not all. You can also monitor your content marketing strategy using the SEO audit tool available on the website. You could even improve your SEO statistics through weekly reports that the website generates for you.
SEO Optimized Images
Apart from content you should also optimize your images using title tags and alt tags if you want to generate search traffic for your website.
The SEO optimized images plugin can do it for you automatically. It inserts search-engine-friendly title and alt attributes dynamically to your images to optimize them for Google image search and help you get more visitors.
All you need to do is install SEO optimized images and type in the keywords you want to rank for. Everything else will be handled for you, by the plugin.
Key Features:
Efficient inclusion of SEO-friendly attributes to Title and alt tags of images
Automatic optimization of alt and Title tags of your images without changing database
Easy return to previous version of the site
Easy to include image name, post title, and post category in the title and alt attributes of your images
All in One Schema Rich Snippets
Showing up on Google Search Engine Result Pages may not be enough to generate traffic to your website. You may also require more click-through rates.
The All in one schema rich snippets plugin can help boost your clicks by helping you show rich snippets on your Google Results.
Rich snippet refers to a short summary of your web page that includes your star ratings, images, and author photo.
You can see these in your Google search results when you type in the relevant keywords. So, when it comes to getting good rich snippets based on your targeted keywords, the All in One Schema Rich Snippets is truly the best SEO plugin for WordPress.
AMP for WP (Free) – Technical
With more and more people using their mobiles to do their internet searches, it is becoming increasingly important to own websites that are mobile-friendly.
You don't have to worry about spending lots of money on making your website responsive.
All you need to do is install this best free SEO plugin for WordPress called AMP for WP. By adding in accelerated mobile pages functionality, this plugin helps your website go mobile within just a few clicks.
Key Features:
AMP Plugins Manager to help you disable specific plugin functionality only in AMP version
Customer AMP Editor to help you override your content only in AMP
Page Break / Next Page (Pagination) Support
Contact Form 7 Support
Genesis SEO support
Structured Data Options
Disqus comments support
Facebook Comments support
Facebook Instant Articles Support
Google Tag Manager Support
Google Analytics support
Drag & Drop Page Builder
Star Ratings
Page, Category & Tags Support
Option to turn on or turn off support for AMP pages and posts
Yoast SEO and other SEO plugin support on AMP pages
4 different designs for AMP
First ever plugin to offer Google AdSense (AMP-AD) support with four ad slots.
Unlimited color scheme
User-friendly theme options panel
Active development and Great Support
Woo Commerce and Widgets
Breadcrumb support
W3 Total Cache (Free/Paid) 
The loading speed of a website has a lot to do with search engine optimization.
Instead of breaking your head on this, you could install the W3 Total Cache plugin which will increase your site performance (through CDN integration) and reduce the download times, enhancing the SEO as well as the UX quotient of your website.
Key Features:
Compatible with shared hosting, dedicated servers / virtual private, and dedicated clusters/servers
Transparent CDN management with Media library, theme files and WordPress
SSL Support
Accelerated Mobile Pages support
Caching of fragments in memory or on disk
Caching of feeds on disk, CDN, or in memory
WordPress Ping Optimizer
Did you know that whenever you publish a new post on your website, WordPress starts pinging services automatically?
There is an internal mechanism that makes WordPress do that. However, the last thing you would need is to get penalized as scam for pinging these services excessively.
Your savior would be the WordPress ping optimizer, a plugin that helps you control excessive or unnecessary pinging.
Best WordPress Video Plugin
YouTube Showcase
Apart from content and images, you would also want to use videos to optimize your website for the search engines. One best WordPress Video Plugin that can help you do this is the YouTube Showcase.
Not only is this easy to use, it also helps you utilize custom post types for your videos by letting you add tags and categories to your videos.
Once you activate this WordPress video plugin, it will automatically setup your own beautiful video gallery page. So, your users can go through all your videos without having to leave your web page.
Key Features:
On-demand video embedding
40 to 65% increase in the page load speed
Advanced admin area for Video filtering
Option to establish connections between videos and display them on the video page
YourChannel
Apart from your marketing your content, you may also want to display your YouTube videos. YourChannel can help you do this, easy and fast.
Just type in your user ID or channel ID and the plugin will fetch all your videos for you, along with your channel's banner image and details about your subscribers, view counts, playlists, and uploads.
Using a simple short code you will also be able to showcase your channel on your WordPress posts or pages. You get to choose your thumbnail size, the play button settings, and the Meta data display.
Key Features:
Option to play videos in lightbox or inline
Option to display videos from a specific playlist
7 styles of video thumbnails
Best WordPress Newsletter Plugin
SendPress – A Newsletter Plugin
Almost every business today sends newsletters through email marketing.
If you want to do this but don't know where to start, you could try SendPress, one of the Best WordPress Newsletter Plugins.
You can use the features of this plugin to design your own templates and make changes to your newsletter.
Newsletter features:
Simple editor with code-free experience
Unlimited responsive newsletters along with tracking
Unlimited subscribers
Single as well as double opt-in
Customizable subscription page, widget, or custom form
Newsletters in text as well as Html versions
Option to sync WordPress roles with newsletter subscriber lists
Easy-to-use theme styler to customize newsletter templates
Tracking option for each and every email – the opens, the clicks, and the unsubscribes
Option to schedule the sending of newsletters
Compatible with Postman SMTP Mailer / Email log
Free to send with Gmail or your web host
Newsletter WordPress Plugin
Another WordPress Newsletter Plugin is the Newsletter.
Well-suited for building on lists, creating, sending, and monitoring your mails, this plugin comes with many features that make it easy to use.
With this in place, you should be able to send out your newsletters seamlessly and maybe even expand your marketing campaign.
MAIN FEATURES
Subscription spam check with domain/ip black lists, Akismet, captcha
GDPR ready
Responsive email Drag & Drop composer
Unlimited subscribers with statistics
Unlimited newsletter with tracking
Customizable subscription widget, page or custom form
WordPress User Registration seamless integration
Single And Double Opt-In plus privacy checkbox for EU laws compliance
Subscribers lists to fine-target your campaigns
PHP API and REST API for coders and integrations
SMTP-Ready
Customizable Themes
Newsletter with Html and Text message versions
All messages are fully translatable from Admin Panel (no .po/.mo)
Diagnostics Panel to check your blog mailing capability
Compatible with Postman, WP Mail SMTP, Easy WP SMTP, Easy SMTP Mail, WP Mail Bank
ALO EasyMail
Sending newsletters is of no use if they are not opened and acted upon. You may want to use ALO EasyMail, a SEO plugin for WordPress that makes it easier to collect and send emails.
Loaded with a wide range of features,this plugin also reports stats about newsletter open rate and click-through rates.No more will you have to make those monthly fee payments to plugins such as Aweber and MailChimp. You can create and manage your own mailing lists and maybe even manage your subscribes by installing ALO EasyMail.
Key features:
Option to select the recipients to whom the newsletter needs to be sent
Option to batch send using wp cron system
Simple way to write and send text and html newsletters
Options to collect, manage, import and export subscribers
Easy creation and managing of mailing lists
newsletter themes and placeholders
Option to manage capabilities
Debug tool
Multilingual
Bounce management option
Option to view sending report
SumoMe
List building is not the only function of this plugin. It offers a comprehensive marketing solution by increasing your social shares and follows, analyzing user behaviors, and helping you keep in touch with them.
Used by over 430,000 websites across the world, SumoMe is one of the best SEO plugins for WordPress that can do wonders to your website.
Key Features:
Share option to easily share your content on web or mobile
Heat Maps to see which option is getting (or not getting) maximum number of clicks
Welcome Mat with a full-screen call-to-action that shows up as soon as a visitor lands on your website
Scroll Box to find out how far the reader makes it down the screen.
Highlighter option to make it easy for you to click certain selected parts of your writing or tweet about your article
Smart Bar (floating bar that might appear at the top or bottom of your site) to encourage people to take the desired action
Image Sharer to share your images along with a link to your post, on Facebook, Pinterest, and Twitter
Icegram
If growing your subscriber list, engaging and converting your visitors and decreasing your bounce rates are your goals for digital marketing, the best thing to do would be to install the SEO plugin, Icegram.
If you are game for spending some money on this plugin, you could enjoy excellent features such as toast notifications, slide-in messages, common lead generators, and time delay.
Key Features:
Different types of messages
A variety of well-designed themes
Simple A/B testing
Option for advanced targeting
Offers actionable insights and reports
Exit intent mechanism
An average WordPress user is bound to get overwhelmed by the amount of knowledge there is to gain about SEO. But this doesn't actually mean that you have to quit optimizing your site for the search engines.
By installing your favorite the best SEO plugins for WordPress, you can practice SEO with full confidence.