A Shot in the Arm
Advertising for a Healthy Cause
Living healthy is amongst the priority list of many consumers these days. They are ever-hungry for information and research on 'healthy lifestyle.'
More and more Brands have started recognizing this need and are cashing in on the opportunity. They are making available, better products, resources and tools that help the consumers work towards adopting a healthy lifestyle.
Through Health-promoting ad campaigns many marketers are encouraging consumers to become health-conscious.
For Healthcare Marketers this is a huge opportunity to jump in and make that lasting impact on their consumers. The key behind this lies in adding value, demonstrating empathy and coming up with engaging campaigns that can help these marketers establish their Brand values.
A few examples of health marketing campaigns given below can drive in some inspiration to start work on such campaigns:
The "eCards for Health Campaign" launched by BCBS is a perfect example. Through these series of videos, the Brand offered helpful hints for a healthier lifestyle. Not only were these videos, educational, they were also entertaining, shareable and heartwarming.
These clips and videos were designed to reach the target audiences across multiple channels such as screensavers, eCards and healthy tips. The first one was a video about developing healthy lunch habits, while the second was all about the significance of hugging.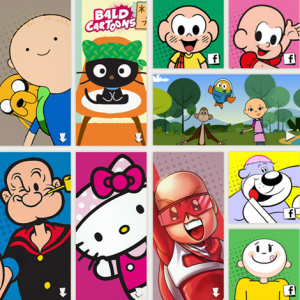 The Bald Cartoons Campaign that GRAACC hospital (The Pediatric Oncology Institute of Brazil) came up with, on the National Childhood Cancer Day was aimed towards changing the perception of people towards children suffering from cancer. Recognizing the prejudice that children with cancer had to fight with, apart from the disease itself, GRAAC came up with 40 favorite cartoon characters, all with shaved heads, so as to support kids suffering from cancer. The main message of this campaign was that bald kids could do everything that the other kids could. The Hospital also created a microsite especially for this campaign.
Cigna TTK Health Insurance came up with a health insurance ad campaign that emphasized the importance of health insurance with a touch of humor. This is about a character called Mr.Kartik Srinivas who is busy doing his head-stand exercise. A voice over speaks about this person who is 33 years old with a life insurance cover of 35 lakh rupees. However, his health insurance is only this head-stand exercise that he does every morning. While stressing on the importance of health insurance for everyone, the Brand assures to support its customers both during illness and wellness.
In its effort to promote its new device to help people with breathing disorders, Philips came up with an amazing film that included real-life stories. One of these was about a group of people with breathing disorders who came together to form a choir under the able leadership of Gareth Malone, the celebrity choirmaster.  Despite their problem they did give their live performance at the Apollo Theatre of New York.
To encourage women who do not check their breasts regularly for cancer, MACMA (an Argentinian Breast Cancer Charity) came up with its Manboobs Campaign through which it taught women how to identify breast cancer. It used man boobs for the purpose. Through this online campaign, MACMA figured out a way to reach out to women who do not check their breasts for cancer but for sure check their mobiles once every five minutes. Apart from attracting 193 million social media impressions, the campaign managed to generate $17 million in earned media.
The Quit Victoria's "Last Dance" ad is actually a plea that is chilling enough to make smokers quit smoking. It shows a young boy looking at his parents dancing in their living room. The father of the boy, who is wearing a breathing tube, struggles to get up from his bed and join his wife to dance to an acoustic version of Que Sera, Sera, despite his bad health condition. The tagline that the ad ends with says – "What will be, doesn't have to be."
Aids awareness is what GYT focuses on while giving out its messages. In its latest campaign, it tries to go against the traditional stigmatization that is associated with the HIV positive status. It uses the very word "positive" to come up with different ways to prevent STIs. The Phrases included are as follows…
"I'm positive that we talked about it before our first time" and "I'm positive I always have one (just in case)."
There are many more such health promoting ads that aim at creating awareness about many kinds of ailments, while providing information on how to prevent or control them. However, if you wish to jump onto the bandwagon, it pays to be aware of the latest marketing trends in health care marketing.
Social media is where you should be if you want your health promotion ad campaigns to be successful. Nothing can be as effective as social media to reach out to your target audience and maintain connection with them.
Here are a few tips that you can use while leveraging social media to promote your health promoting ad campaigns:
Make it a cause; not a message
Choose your social media platform wisely
Always use a hashtag for your campaign
Make your campaign share-worthy
Make it a point to use images in your campaign
Add in a touch of humor
Find out the likes, dislikes, beliefs and faiths of your audience and come up with a campaign that keeps them engaged
Amplify your campaign by involving industry leaders, celebrities and journalists
Social media can do a lot in promoting your campaign. However, this is only a part of your comprehensive program. You will have to integrate your social media strategy with the other reinforcing strategies to improve the visibility of your campaign.
Ultimately, it all depends on how effective your campaign is in engaging your audience, conveying the message and achieving the main objective behind it. To do this well, your focus will have to be on understanding the problems of your audience and providing the right solution through your campaign.
Keep trying until you get it right!