7 Must Know Email Personalization Practices for Your Business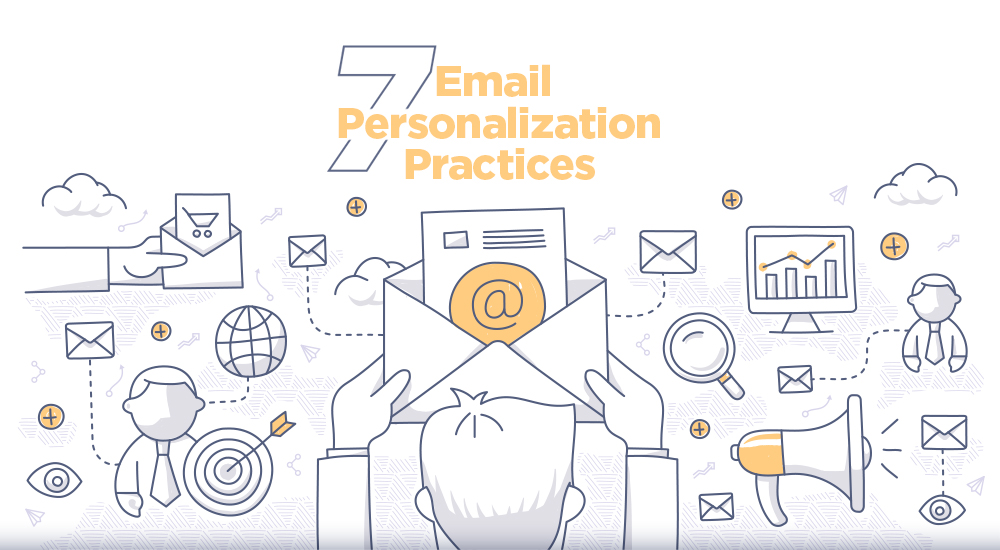 Email personalization is much more than putting a name into your email. It is a way to let your subscribers, – and potential customers – know you care for them.
Here are a few email personalization techniques that will drive conversions and sales.
Segmentation
Of all the email personalization best practices, segmentation is the first step. While it is important to target select market segments as a part of your overall marketing strategy, we are actually talking about grouping your target consumers based on their wants and desires. Of note here is that what a consumer desires and what he demands may be different. For instance, a consumer may desire a smart TV but ask for an LED or HD due to budget constraints.
Knowing how to personalize email, and leverage consumer data will help you create quality emails targeted at individual customers.
Individualized Emails
To drive conversions, you must show your target audience that you respect and care for them. Addressing them by name is just the first step. Pay close attention to who they are, where they work, their social status, and other details. A personalized subject line like – Open to see a collection just for you, can increase your open rates by more than 40% says Marketing Sherpa. Within your email, address their challenges, responsibilities, objectives, and pain points. Refer to their recent purchases – Amazon does this all the time; – and suggest specific products that you think they may interest them.
Such personalized emails will definitely up your CTR (Click Through Rate).
Recommended: Is email marketing dead?
Map to Behaviour
If you want your emails to be relevant, you should know what your target consumer wants. Mapping their online behaviour – on your website and elsewhere – will give you loads of information. For instance, you might send a fist-time website visitor a Welcome Email, which tells him a bit about your business and suggests what he should do next. Invite your target customer to participate in online events and remind him to sign up. Tapping birthdays, anniversaries, and other relevant dates to wish your customers is a nice personalized touch. Send an email after an event, reminding him to collect rewards, bonuses and so on.
Addressing consumer behaviour will ensure the customer returns to you repeatedly.
Email Design
Email design is the most discounted among all email personalization best practices. Remember though, that appearances matter and an appealing look is important. Images are doubtless an integral part of marketing emails but they cannot stand alone –your target consumer may have turned off Display Images. Moreover, large images not only take time to load, they are difficult to view on mobile devices. Adaptive and responsive marketing are email personalization techniques that marketers adopt to ensure that customers get a great experience. This means having different content for different devices – such as saying click for a laptop and tap for a mobile. It also means having relevant clickable content – both on the image as well as in text.
Clickable content makes it easier for target customers to respond to your suggestions – such as subscribing to your newsletter.
Integration
Branding and digital marketing efforts cannot be compartmentalized. It is important to integrate various campaigns to give your consumer a holistic experience. Link to your social media pages and give your targets another way to interact with your brand. Once you have conveyed your message, invite the reader to visit your blogs, website, landing pages, social media, and other locations. Select carefully where you would like to direct your target – dumping links within the email won't work. Direct target customers to where they would most like to go.
For instance, consumers who use Facebook the most would be most likely to visit your FB page. Conversely, professionals who use LinkedIn may not visit FB but would be happy to connect with you on LinkedIn – and if they can click directly in your email, they are more likely to respond through these channels.
Target customers are more likely to relate to your brand if they can quickly click through to their favourite place on the internet.
Recommended: 13 Tips for eye catching email subject lines
Personalized Landing Page
When you talk of integration, it is a good idea to personalize the space where you invite your customer. For instance, you might create a personalized landing space for a customer where you highlight all the items he is likely to purchase. Give the target customer a glimpse of what's in store. Then show him the benefits of the product or service and invite him to your website for pricing and purchase.
For the budget conscious, creating a single landing page for each consumer segment will lower marketing costs.
Action
Integrating marketing campaigns will increase open rate and CTR – but for those who simply visit the page and return, actionable content that will not cost them a penny will encourage them to respond. Examples of such content include wish lists and preference lists – where customers can share their desires and the price they are willing to pay to fulfil them.
Personalized emails are the latest trend in email marketing. In order to set up your email campaign, contact Litmus Branding now.